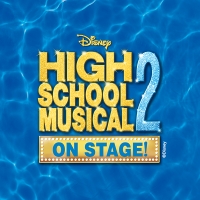 Disney's High School Musical 2
The summertime sequel to the smash hit Disney Channel musical is simply "fabulous."
Full Synopsis
Act One
It's the last day of junior year, and the East High gang can't wait to get the summer started. They anxiously watch the clock tick towards 3:00 PM, as they think about all the things they want this summer: summer jobs, money for college and, most of all, to have fun ("Countdown / What Time Is It"). Things have been smooth sailing for Troy and Gabriella since their star turn in Juliet & Romeo, but Sharpay vows to win Troy's heart this summer... by any means necessary. Ryan tries to remind her that she is supposed to be the "new" Sharpay who loves everyone and is loved by everyone in return, but she can't help reverting to her old self. With all of the Wildcats desperate for cash, Troy gets a surprise phone call that work has arrived.
At the Lava Springs Country Club, which is owned by the Evans family, Sharpay revels in her summer kingdom, surrounded by the club staff and her adoring Sharpettes ("Fabulous"). The celebration is cut short when not only Troy, but the entire Wildcats gang, shows up for duty. Sharpay had been hoping to get Tory on his own this summer, but now she has Gabriella to contend with. Meanwhile, she tells Zeke that they should take a break from each other; in the summer, everything changes. Sharpay tries to get the assistant club manager, Mr. Fulton, to fire everyone, except for Troy. However, he insists that, once she's had them hired, he can't just fire them; this is a place of business. She reminds him that her father has told him to do whatever she wants this summer, and he agrees – begrudgingly – to make life difficult for the Wildcats.
Mr. Fulton assigns the East High gang a series of tough jobs, starting with cleaning up the kitchen. When everyone is dejected that this summer is going to be much less fun than Troy promised, he reminds them that they're all in this together and, together, they can do anything ("Work This Out"). Troy and Gabriella sneak off for a romantic, private lunch on the golf course ("Picnic"). Sharpay spies on them and interrupts their fun by having Mr. Fulton turn the sprinklers on them. She is determined to get Troy.
In the dining room, Kelsi plays a song that she wrote for Troy and Gabriella to sing in the upcoming talent show ("You Are the Music in Me"). When the rest of the Wildcats join in, they decide to go for it and present the number in the show; as long as they're all in it together, they might even win the Star Dazzle Award.
Meanwhile, Sharpay arranges for Troy and Chad to caddy for her and Ryan. When they are out on the course, Sharpay mentions that her father is the head of the scholarship committee at the local college. She intimates that, if Troy sings with her in the talent show, he'll have a better shot at the scholarship. He declines because he's already singing with Gabriella, but Chad can tell that he is also thinking about the scholarship.
In the golf pro lounge, Fulton informs Troy that he's been promoted to junior golf pro, which comes with honorary membership status and an extreme makeover ("Fabulous – Reprise"). Sharpay once again tries to convince Troy that singing with her means getting a scholarship, and he reluctantly promises to sing with both her and Gabriella. Ryan chastises Sharpay for thinking only of herself, but she dismisses him. While Gabriella and her friends wait for Troy to show up for rehearsal – he's late again, and he missed dinner with Gabriella – Sharpay and Ryan rehearse their number with the Sharpettes ("Humuhumunukunukuapua'a"). Sharpay is off-key, but she blames everyone around her. When Troy finally shows up, Sharpay demands that he sing with her now.
Sharpay bribes Kelsi into letting Sharpay and Troy perform the song that Kelsi wrote for Troy and Gabriella. Sharpay says that, if Kelsi does this, Mr. Evans will produce her next musical. Ryan can't believe he – and their number – are being ousted for Troy. Gabriella and the gang can't believe Troy sold them out. Everyone breaks into a big fight, with Troy unable to control the chaos around him ("Act One Finale").
Act Two
During the second week at Lava Springs, Troy rehearses Kelsi's revamped song with Sharpay and the Sharpettes ("You Are The Music in Me – Rock Version"). Later, Gabriella finds Troy on the basketball court. He is getting ready to go practice with the University of Albuquerque basketball team. Gabriella confronts him about breaking all of his promises lately, and he finally apologizes. When Chad and Zeke show up and learn that Troy is going to practice with the Redhawks without them, they get very upset. The boys leave as Ryan enters. He and Gabriella have a heart-to-heart about the way Sharpay has treated him. Gabriella invites him to join them in the staff baseball game since they are short a player now that Troy has blown them off.
At the game, Chad is dubious of dancer, Ryan's, skills and allegiance. However, Ryan not only gets Chad to dance, but helps the Wildcats win the game ("I Don't Dance"). Troy shows up just in time to see his friends celebrating without him. Mr. Fulton gives Troy an encouraging, if baffling, pep talk. Now officially part of the team, Ryan teaches the gang a new number for the talent show ("Every Day – Rehearsal"). Sharpay is furious at him for competing against her and vows revenge. Ryan tries to warn Troy about Sharpay, but Troy rudely cuts him off.
Sharpay, feeling her Star Dazzle Award is under siege, directs Fulton to yank the employees from the talent show. Reluctantly, Fulton does. Sharpay basks in the glory of her power ("Fabulous – Sharpay's Triumph"). This is the last straw for Gabriella, though, who confronts Sharpay, quits her job and breaks up with Troy ("Gotta Go My Own Way"). Gutted, Troy goes out to the basketball court and tries to make sense of what is happening to his life ("Bet on It").
The talent show starts with a variety of stage acts. Backstage, Troy decides to set things straight. He gets his old job back from Fulton and tells Sharpay that, as an employee, he can't sing with her, apologizing to the Wildcats. Sharpay throws a tantrum and tries to fire Mr. Fulton, who finally stands up to her and tells her to pull it together. Mr. Fulton allows the employees to sing in the talent show.
Troy goes to see Sharpay, who is eating a plate full of delicious cookies that were mysteriously left in her dressing room. He tells her that he will sing with her now that the employees are allowed to sing, too. He wants to start keeping his promises. Sharpay finds out that the cookies are from Zeke and realizes she has been foolishly chasing after Troy when her guy was right in front of her. Sharpay gets Mr. Fulton and announcer boy, Jack Scott, to stall the show while she makes a few phone calls.
When Troy goes on stage to sing, Gabriella walks out. Sharpay has arranged the switch. Gabriella forgives him on stage as they sing. They bring Ryan and the rest of the Wildcats up on stage for the big number ("Every Day"). It's a success and Ryan wins the Star Dazzle Award. Now reconciled, the entire company celebrates the summer ("All for One").
Show History
Inspiration
High School Musical 2 is a stage adaptation of the Disney film of the same name, a direct sequel to High School Musical.  Bringing together the same cast and creative team from the first film, the action went outside the school to summer vacation at the local country club.  The premiere was seen by over 17.2 million viewers on the Disney Channel, making it the highest-rated Disney Channel movie of all time.
High School Musical collaborators, David Simpatico (Book) and Bryan Louiselle (Music Adaptation), reunited to bring another Kenny Ortega film to the stage.  Like their previous adaptation, they used the vast majority of plot from the original film, although they wrote some material to include the characters of Jack Scott (created in the first musical) and the "Sharpettes," back-up singers to Sharpay.  The stage version also includes the song "Humuhumunukunukuapua'a," which has been recorded and filmed in the original film but was cut in its original showing.
Productions
Disney Theatrical originally recruited seven high schools to serve as guinea pigs for their newest stage adaptation, High School Musical 2.  But, due to multiple changes to the script and score throughout the process, only two schools survived through the program.  Woodlands High School premiered the musical on May 18, 2008, while the Harrell Theatre in Tennessee was the first community theatre to perform it only a couple of months later on July 17.  After the rights were officially licensed in the fall, High School Musical 2 began to be performed around the country, including its West Coast premiere at Pacific Repertory Theatre's School of Dramatic Arts on January 15, 2009.  Other noteworthy venues include Atlanta's Theater of the Stars and North Shore Music Theatre.  The StageDaze Theatre Company also gave the musical its international premiere in the UK on April 6, 2009.
Cultural Influence
Like its theatrical predecessor, High School Musical 2 has spawned multiple versions for licensing.  Disney Theatrical created both a one-act version for middle school students (removing several songs and shortening the material to 70 minutes) and a junior version for elementary school and younger middle school students.
Critical Reaction
"Everything it ought to be... extremely well executed and actually a lot of fun. ...All things fabulous."
– The Stage
"Satisfactory production values... and energy"
– Variety
Connect
Billing
Book by

Songs by

Music Adapted, Arranged, and Produced by

Based on the Disney Channel Original Movie written by
Requirements
You must give the authors/creators billing credits, as specified in the Production Contract, in a conspicuous manner on the first page of credits in all programs and on houseboards, displays and in all other advertising announcements of any kind.
Percentages listed indicate required type size in relation to title size.
CREDITS:You shall use the following title and incorporate your credit above the title and otherwise comply with the size specifications on the title page of all playbills and programs, in all houseboards and displays and in all other advertising, press releases and any other promotional material, as follows:
The (Licensee)
Production of
Disney
HIGH SCHOOL MUSICAL 2
IN ADDITION TO THE ABOVE BILLING, on the title page of playbills and programs, and in houseboards and displays, the following credits shall also be included
Book by
DAVID SIMPATICO
Original Songs by
  Matthew Gerrard & Robbie Nevil, David N. Lawrence & Faye Greenberg,
Randy Petersen & Kevin Quinn, Bryan Louiselle,
Jamie Houston, Andy Dodd & Adam Watts,
Antonina Armato & Tim James
Music Adapted, Arranged and Produced by
Bryan Louiselle
Based on a Disney Channel Original Movie Written by
Peter Barsocchini
The billing to you must be in the form specified above, including the words "Production of" below your billing, which shall be visually contiguous with the title, all so that the audience is informed that you are the producer. Your billing shall be no less than 50% of the size of the logo or artwork title, as measured by the proportion of the average size of your name to the largest letter in the logo or artwork title.  The name "Disney" shall be no more than 33% of the title, as measured by the proportion of the size of the "D" in "Disney" to the size of the largest letters in the title, and in no event may you duplicate the the logo and title from the Disney Channel movie "High School Musical 2" (the "Movie"), although you separately license the right to use the stage license logo (the "License Logo").  If you do separately license the right to use the License Logo, then you shall duplicate such logo and billing credits exactly as provided, including the fonts.  The credits to the authors below the title need not appear in advertising and promotional material.  The size of the credit to the authors shall be no less than 50% of the regular title, and if there is no regular title, then no less than 20% of the logo or artwork title. A sample of appropriate billing size and placement is attached hereto for your reference (without constituting a grant of rights in the License Logo).
For professional licensees:  If you elect not to purchase the License Logo, then you shall submit your logo or artwork title for approval prior to any public use thereof.  All television and radio advertising, both the content and the media plan, shall be subject to the prior approval of MTI, in its sole discretion.
Video Warning
If you purchase a separate license to allow non-commercial video recording of this production, you must print the following in your program. ANY VIDEO RECORDING MADE OF THIS PERFORMANCE IS AUTHORIZED FOR PERSONAL, AT-HOME, NON-COMMERCIAL USE ONLY. THE SALE OR DISTRIBUTION OF SUCH RECORDING IS STRICTLY PROHIBITED UNDER FEDERAL COPYRIGHT LAW. If you do not purchase the separate license for video recording, you must print the following in your program. The videotaping or other video or audio recording of this production is strictly prohibited
Included Materials
| Item | Quantity Included |
| --- | --- |
| KEYBOARD1 - CONDUCTOR SCORE | 2 |
| LIBRETTO/VOCAL BOOK | 30 |
Production Resources
Resource
HOW DOES THE SHOW GO ON-10/CS
HOW DOES THE SHOW GO ON?
KEYBOARDTEK
LOGO PACK
LOGO PACK DIGITAL
LOGO TEES SIX-PACK ADULT LARGE
LOGO TEES SIX-PACK ADULT MEDIUM
LOGO TEES SIX-PACK ADULT SMALL
LOGO TEES SIX-PACK ADULT X-LARGE
LOGO TEES SIX-PACK ADULT XX-LARGE
LOGO TEES SIX-PACK CHILD LARGE
LOGO TEES SIX-PACK CHILD MEDIUM
LOGO TEES SIX-PACK CHILD SMALL
PERFORMANCE ACCOMPANIMENT RECORDING
PRODUCTIONPRO-DIGITAL SCRIPT/SCORE
REFERENCE RECORDING
REHEARSAL ACCOMPANIMENT RECORDING
SCENIC PROJECTIONS
SCENIC PROJECTIONS PRO
STAGE MANAGER SCRIPT
STAGE WRITE APPLICATION
VIDEO LICENSE
VIRTUAL STAGE MANAGER
STANDARD ORCHESTRATION
| Instrumentation | Doubling |
| --- | --- |
| DRUMS | |
| ELECTRIC BASS | |
| GUITAR | |
| GUITAR 2 | |
| KEYBOARD 2 | |
| PERCUSSION | |
| REED 1 | ALTO SAXOPHONE , BARITONE SAXOPHONE |
| SONG PACKET | |
| TROMBONE | |
| TRUMPET | |
| TRUMPET 2 | |