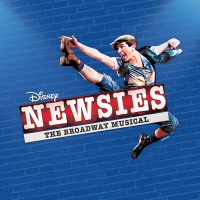 Stop the presses! This Disney film turned Tony-winning Broadway hit inspires everyone to fight for what's right and seize the day.
Full Synopsis
Act One
As Jack Kelly is savoring the last few moments of quiet before the sun rises, he shares with his best friend Crutchie his rooftop view of the city and his dream for a better life out West ("Santa Fe - Prologue"). At dawn, the newsies sing about their life and their work ("Carrying the Banner"), introducing this ramshackle group of young friends. They make their way to the distribution window for the World, where they pick up their daily stacks of papers to sell from Wiesel, who runs the window, and Morris and Oscar Delancey, goons who work for the World. Davey and Les, brothers trying to earn money for their family, meet the newsies and try to learn the ropes. Jack agrees to partner with the boys since Les's young age will help him sell more papers, although Davey is skeptical.
Meanwhile, Joseph Pulitzer, publisher of the World, expresses displeasure at the declining sales of his newspaper and vows to increase profits ("The Bottom Line"), even if it is at the expense of the newsies.
At the end of the day, it's clear that Les is a natural newsie. Before Jack and the brothers can part ways, a man appears and chases Jack. Davey and Les follow Jack's lead, running through the alleys of New York and finding safety in Medda's Theater. Jack introduces them to Medda Larkin, one of the Bowery's most famous performers. Jack explains that the man chasing them is named Snyder; he runs The Refuge, an orphanage that he keeps in squalid conditions and embezzles from. He's had it out for Jack ever since he escaped. Medda offers her theater as a safe haven, and they stay to watch her perform ("That's Rich").
During Medda's performance, Jack notices Katherine, a bright young reporter he had seen earlier that day. A smitten Jack makes several attempts to flirt with her, but Katherine, quick-witted and ever-professional, cleverly rebuffs him. While the Bowery Beauties perform their routine, Jack resorts to sketching a portrait of Katherine ("I Never Planned on You / Don't Come a-Knockin'"), and leaves it for her to find.
The next day, as the newsies gather at the distribution window, the boys are outraged to learn that Pulitzer has increased their price for newspapers - they can barely afford to eat as it is! Prompted by Davey, the newsies decide to form a union and strike ("The World Will Know").
After a successful first day of striking, newly elected union leader Jack Kelly assigns some kids to spread the word to newsies in other boroughs. Katherine arrives, hoping that the newsies will give her an exclusive for the Sun. Jack tells her to be at the distribution window the next morning; not only will the newsies prevent others from selling papers, but they plan to stop the delivery carts as well. He tells her that they all have a lot riding on her reporting skills, and Katherine gets to work writing her breakout article ("Watch What Happens").
The next day, Jack arrives to find that only a few kids have assembled to strike. He urges Davey to convince the small group not to back down. When scabs arrive to take the newsies' place, Jack asks them to stand in solidarity with all the city's exploited working children. The scabs throw down their papers, just in time for Katherine and her photographer to snap a victorious photo ("Seize the Day"). But soon the newsies engage in a fierce fight with the Delanceys, Wiesel, and the police. Snyder scares Jack away, but not before he watches the Delanceys take down Crutchie and carry him off to The Refuge. Reaching the temporary safety of his rooftop, Jack paces, feeling guilty about leading the kids into danger. He looks out over the city and longs to escape ("Santa Fe").
Act Two
Battered and bruised, the newsies lament the previous day's events at Jacobi's Deli. Amid rumors that Jack was captured, several newsies wonder where he is. Katherine arrives with a copy of the story she published in the Sun, complete with a front-page picture of the newsies. Ecstatically, they thank her and celebrate their - and Katherine's - fame ("King of New York"). Meanwhile, Crutchie writes a letter to Jack from The Refuge expressing that he feels no ill will toward Jack and urging the newsies to stick together ("Letter from The Refuge").
Davey, Les, and Katherine find Jack back at Medda's Theater and try to convince him to come back to the fight. Jack refuses, saying that they can't win against a man as powerful as Pulitzer. The three convince Jack that theirs is a fight worth fighting ("Watch What Happens - Reprise"); Jack finally agrees, and the kids plan a rally.
Discovering Katherine's story, Pulitzer furiously resolves to take down Jack. Just then, a cocky Jack arrives to announce the newsies' rally. Pulitzer assures Jack that no paper will cover it - and if it's not in the press, it never happened. He then reveals Katherine, exposing her as his daughter, and Snyder, who emerges from the shadows. Pulitzer offers Jack a choice: get sent to The Refuge or renounce the strike and leave New York with pockets full of cash. The Delanceys escort Jack to the cellar, where an old printing press rests, to ponder his decision ("The Bottom Line - Reprise").
That evening, Brooklyn newsies cross the bridge with Spot Conlon, their leader, to join newsies from every borough at Medda's theater for the rally ("Brooklyn's Here"). Davey gives an inspiring speech, riling up the newsies about their progress. However, Jack appears and tells them to go back to work because they are no match for Pulitzer. Jack accepts his payoff money at the door and exits quickly.
On his rooftop, Jack finds Katherine looking through his drawings of The Refuge's bleak conditions. He snatches them from her and they argue fiercely until she kisses him. Katherine shares her plan to have the newsies distribute an article which quotes Jack on the exploitation of working kids and calls for a citywide strike. Before heading to the old printing press Jack recently discovered, they share their hope in each other ("Something to Believe In").
With the help of Katherine and her well-connected friends, Darcy and Bill, the newsies sneak into Pulitzer's cellar to print their paper ("Once and for All"). The kids distribute the pamphlet all over the city.
Pulitzer's office is flooded with angry calls from every corner of New York. Having read the Newsies Banner, Pulitzer is furious at the kids' attempt to thwart him. Jack, Davey, and Spot show up ("Seize the Day - Reprise") to personally deliver the news and say that the kids are willing to make a compromise. Pulitzer refuses to back down until Governor Roosevelt appears with Katherine and Jack's drawings of The Refuge. Alone, Jack and Pulitzer come to an agreement they can both live with - the price increase is reduced by half, and publishers will buy back any unsold papers. The strike is over!
Outside, Jack announces the end of the strike. Crutchie appears amid the jubilation, followed by a handcuffed Snyder. Despite his dreams for Santa Fe, Jack realizes that the newsies are his family and Katherine gives him something to believe in - so he's staying put for now ("Finale Ultimo").
Show History
Inspiration
On July 20, 1899, the newsboys of New York City refused to sell Joseph Pulitzer's New York World and William Randolph Hearst's New York Journal to protest the higher prices that they were charged for newspapers. Their strike, which lasted nearly two weeks before it was resolved through a historic compromise, was a harbinger for child labor reforms in the twentieth century.
To pay tribute to the newsboys' story, The Walt Disney Company premiered Newsies on April 10, 1992. The live-action musical feature was written by Bob Tzudiker and Noni White, and directed by Kenny Ortega, with songs by Alan Menken and Jack Feldman. After receiving generally poor reviews, the movie quickly disappeared from theatres.
On October 14, 1992, Disney released Newsies on VHS and Beta home video. The movie premiered on the Disney Channel as part of a "Free Spring Preview" on March 28, 1993. In the following years, home viewing and the advent of the Internet spawned a passionate fan base.
Productions
Due to overwhelming requests to license a live-stage version of Newsies, Disney Theatrical Productions put the title into development. Harvey Fierstein joined the project as bookwriter in 2009, and Menken and Feldman complemented their original film score with several new songs. Developmental readings took place in New York City in 2010.
On September 25, 2011, a test production of Newsies: The Musical opened at Paper Mill Playhouse in Millburn, New Jersey; it was directed by Jeff Calhoun and choreographed by Christopher Gattelli. Positive critical and "Fansie" responses opened unexpected doors.
Newsies began previews of a limited Broadway run at the Nederlander Theatre on March 15, 2012, and opened on March 29. After the show sold out its initial twelve weeks and a ten-week extension, Disney announced an open-ended run on May 16, 2012. The musical earned eight 2012 Tony Award nominations and won for Best Original Score and Best Choreography.
Newsies ran for 1,004 performances on Broadway, playing to over 1.2 million audience members before closing on August 24, 2014. Preparations began immediately for a North American tour, which opened in Schenectady, New York, on October 11, 2014. The tour played over 784 performances to over 1.5 million audience members before closing on October 2, 2016, in Austin, Texas.
Critical Reaction
"Like the publishers of successful tabloids throughout history, the team behind Newsies knows exactly what it's selling. And it presents the full range of its merchandise early and brazenly... keep coming at us in full-speed-ahead phalanxes, fortified by every step in a Broadway-by-the-numbers dance book."
– The New York Times
"Stop the presses! Disney has produced a winning, high-energy musical for family audiences that doesn't include a single flying witch, talking animal, or dancing teacup."
– Entertainment Weekly
"A cheerfully old-fashioned mix of a stirring story with a catchy score."
– NJ.com
"Rousing songs by Alan Menken and Jack Feldman, high-energy dance numbers, an appealing cast and an uplifting story make this reconceived version one of Disney Theatrical's most entertaining new properties in years... Newsies adheres to a time-honored Disney tradition of inspirational storytelling in the best possible sense."
– Hollywood Reporter
"[A] barnstorming, four-alarm delight. ...Not since Wicked has there been a big-tent, family-friendly Broadway musical that gets so much so right. ...The Alan Menken-Jack Feldman score pleasingly blends music-hall orchestral swing and power pop, and Feldman's lyrics are more graceful than you'd expect from a show aimed primarily at tweens. Harvey Fierstein's book brims with sass and big-hearted sympathy for the underdog. ...Old-fashioned book musicals with pluck, brains and heart are so rare these days; when you see one as blissfully fun as Newsies, it belongs on the front page in 72-point type."
– TimeOut New York
"Newsies delivers with wit and heart, stick-in-your-head melodies and dazzlingly athletic choreography."
– USA Today
"There are lots of musicals that inspire and stimulate. Only one makes you want to rush outside to buy a newspaper, join a union and hug someone from the Occupational Safety and Health Administration. ...Fierstein has nicely built into the plucky David-versus-Goliath story a romance – something the film didn't really have – between Jack, the leader of the strikers, and Katherine, a reporter with a hidden past who is desperate to leave fluffy features and cover hard news."
– The Huffington Post
"Sparked by a star-making performance from Jeremy Jordan, a tunefully friendly score from Alan Menken and Jack Feldman, and high-leaping choreography by Christopher Gattelli, Newsies is Disney's happiest outing since The Lion King. ...Librettist Harvey Fierstein, too, has punched up his joke book, providing a breezy if simplistic framework."
– Variety
Tony® Award
2012
-
Scenic Design of a Musical,
Nominee
(Sven Ortel, Tobin Ost)
2012
-
Best Actor in a Musical,
Nominee
(Jeremy Jordan)
2012
-
Best Musical,
Nominee
(Newsies)
2012
-
Book Of A Musical,
Nominee
(Harvey Fierstein)
2012
-
Choreography,
Winner
(Christopher Gattelli)
2012
-
Direction Of A Musical,
Nominee
(Jeff Calhoun)
2012
-
Orchestrations,
Nominee
(Daniel Troob)
2012
-
Original Score,
Winner
(Jack Feldman, Alan Menken)
Connect
Billing
Music by

Lyrics by

Book by
Based on the Disney film written by Bob Tzudiker and Noni White.
Requirements
You must give the authors/creators billing credits, as specified in the Production Contract, in a conspicuous manner on the first page of credits in all programs and on houseboards, displays and in all other advertising announcements of any kind.
Percentages listed indicate required type size in relation to title size.
The (Licensee)
Production of
Disney's
NEWSIES
Music by

ALAN MENKEN

Lyrics by

JACK FELDMAN

Book by

HARVEY FIERSTEIN
Based on the Disney Film written by Bob Tzudiker and Noni White
Originally produced on Broadway by
Disney Theatrical Productions
The following credits shall be included in the program on the title page, and shall be no less than 40% of the regular title, and if there is no regular title, then no less than 16% of the logo or artwork title, and in all events 80% of the size of the credit to the authors:
Orchestrations by Danny Troob
Incidental Music & Vocal Arrangements by Michael Kosarin
Dance Arrangements by Mark Hummel
The billing to you must be in the form specified above, including the words "Production of" below your billing, which shall be visually contiguous with the title, all so that the audience is informed that you are the producer. Your billing shall be no less than 50% of the size of the logo or artwork title, as measured by the proportion of the average size of your name to the largest letter in the logo or artwork title. The name "Disney's" shall be in plain type font, shall be no more than 33% of the title, as measured by the proportion of the size of the "D" in "Disney" to the size of the largest letters in the title, and in no event may you duplicate the Broadway logo or title nor the logo and the title from the Disney film "Newsies" (the "Film"), although, you separately may license the right to use the stage license logo (the "License Logo"). If Disney shall provide a License Logo to License, then Licensee shall use such logo exactly as provided, including fonts. If you elect not to purchase the License Logo, than you shall submit your logo or artwork title for approval by Disney prior to any public use thereof. The size of the credit to the Authors and to Disney Theatrical Productions shall be on a single line and no less than 50% of the regular title, and if there is no regular title, then no less than 20% of the logo or artwork title. The size of the credit to the authors, Bob Tzudiker and Noni White shall be no less than 75% of the size of the Authors.
SHORTFORM BILLING FOR LEAFLETS AND CLASSIFIED ADVERTISEMENTS
(Point sizes must be in same proportion as set forth for full billing above):
The (Licensee's)
Production of
Disney's
NEWSIES
A Musical based on the Disney Film
The following credits shall be included in the program on the title page, and shall be no less than 40% of the regular title, and if there is no regular title, then no less than 16% of the logo or artwork title, and in all events 80% of the size of the credit to the authors:
Orchestrations by Danny Troob
Incidental Music and Vocal Arrangements by Michael Kosarin
Dance Arrangements by Mark Hummel
Video Warning
In accordance with the Performance License, you MUST include the following warning in all programs and in a pre-show announcement:
ANY VIDEO AND/OR AUDIO RECORDING OF THIS PRODUCTION IS STRICTLY PROHIBITED.

If you purchase a video license to allow non-commercial video recording of this production, then you MUST include the following warning in all programs and in a pre-show announcement:
ANY VIDEO RECORDING MADE OF THIS PERFORMANCE IS AUTHORIZED FOR PERSONAL, AT-HOME, NON-COMMERCIAL USE ONLY. THE SALE OR DISTRIBUTION OF SUCH RECORDING IS STRICTLY PROHIBITED UNDER FEDERAL COPYRIGHT LAW.
Included Materials
| Item | Quantity Included |
| --- | --- |
| LIBRETTO/VOCAL BOOK | 32 |
| PIANO CONDUCTOR'S SCORE | 1 |
| PRODUCTION HANDBOOK DIGITAL | 1 |
| SONG PACKET | 1 |
Production Resources
Resource
"NEWSIES" CAP (PACK OF SIX)
CUSTOMIZABLE SHOW POSTER
CUSTOMIZABLE SHOW POSTERS
FULL SCORE VOL. 1 OF 4
FULL SCORE VOL. 2 OF 4
FULL SCORE VOL. 3 OF 4
FULL SCORE VOL. 4 OF 4
HOW DOES THE SHOW GO ON-10/CS
HOW DOES THE SHOW GO ON?
KEYBOARD PATCH SOLUTIONS
KEYBOARDTEK
LOGO PACK DIGITAL
LOGO TEES SIX-PACK ADULT LARGE
LOGO TEES SIX-PACK ADULT MEDIUM
LOGO TEES SIX-PACK ADULT SMALL
LOGO TEES SIX-PACK ADULT X-LARGE
LOGO TEES SIX-PACK ADULT XX-LARGE
LOGO TEES SIX-PACK CHILD LARGE
LOGO TEES SIX-PACK CHILD MEDIUM
LOGO TEES SIX-PACK CHILD SMALL
MARKETING TOOL KIT
ORCHEXTRA
PERFORMANCE ACCOMPANIMENT RECORDING
PRODUCTIONPRO
REFERENCE RECORDING
REHEARSAL ACCOMPANIMENT RECORDING
SCENIC PROJECTIONS
SCENIC PROJECTIONS PRO
SCENIC PROJECTIONS-ANIMATED
SCENIC PROJECTIONS-STILL
STAGE WRITE APPLICATION
TRANSPOSITIONS-ON-DEMAND
VIDEO LICENSE
STANDARD ORCHESTRATION
| Instrumentation | Doubling |
| --- | --- |
| BASS | ELECTRIC BASS |
| CELLO | |
| DRUMS | DRUM KIT , MARK TREE , SHAKER , TAMBOURINE , TRIANGLE , WOOD BLOCK |
| GUITAR | ARCHTOP , BANJO , ELECTRIC GUITAR , NYLON ACOUSTIC , SOLID BODY ELECTRIC , STEEL ACOUSTIC |
| KEYBOARD 1 | |
| KEYBOARD 2 | |
| PERCUSSION | BASS DRUM , BELL TREE , BONGOS , CABASA , CHIMES , CONGA , COWBELLS , FIELD DRUM , MARK TREE , MEDIUM SHAKER , MOUNTED CASTANETS , ORCHESTRA BELLS , PIATTI , PICCOLO SNARE DRUM , RATCHET , SIREN WHISTLE , SMALL TRIANGLE , SPLASH CYMBAL , SUSPENDED CYMBAL , TAM TAM , TAMBOURINE , TEMPLE BLOCK , TIMPANI , VIBRASLAP , WOOD BLOCKS , XYLOPHONE |
| REED 1 | ALTO SAXOPHONE , CLARINET , FLUTE , PICCOLO , SOPRANO SAXOPHONE |
| TROMBONE | BASS TROMBONE , TENOR TROMBONE |
| TRUMPET | FLUGELHORN , TRUMPET |
| VIOLIN | |