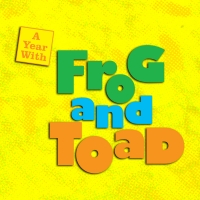 A Year with Frog and Toad TYA
Arnold Lobel's treasured characters hop from page to stage in a story of friendship and adventure. (One-Act Version)
Full Synopsis
The Birds have come back at the end of winter, ready for spring. They look in on Frog and Toad, still in hibernation in their respective beds and in their respective homes ("A Year with Frog and Toad"). While still asleep, Frog and Toad sing about their friendship and the new year ahead ("It's Spring"). Frog then wakes and decides to get his friend out of hibernation for the new year.
Once he's convinced it's spring, Toad decides that he wants to plant a garden. Frog gives him some seeds. Toad plants them but is very impatient that they grow quickly. He sits up all night with his seeds, feeling bad because he's yelled at them and worrying that the seeds are afraid to grow ("Seeds"). He sings for them. He dances for them. He plays the tuba. By morning, they have begun to grow.
Now that it's morning, Toad knows mail should be delivered. He is sad, however, because he never receives mail. Frog goes home to write Toad a letter. He asks Snail to deliver it for him ("The Letter").
Frog and Toad go to the pond for a swim. Toad is uncomfortable that Frog will see him in his bathing suit. ("Getta Load of Toad"). Frog promises not to look until Toad is in the water. Toad asks Frog to instruct Turtle to leave so she won't see him come out of the water. Instead, Turtle calls mouse and lizard over to look at Toad. Freezing, Toad must eventually leave the water ("Underwater Ballet"), and everyone gets a good look at Toad in his bathing suit.
Later, Toad brings lunch to Frog, but frog is not home. He's left a note that he wants to be left alone on the island. Toad worries that Frog is sad. He rides a log out to the island and accidentally falls in the water, getting all of their sandwiches wet. It turns out that Toad is not sad; he is happy – he just wanted time alone to think about how happy he really is ("Alone"). Together, they eat wet sandwiches.
Meanwhile, snail is still on his way to deliver Frog's letter to Toad ("The Letter – Reprise").
Frog and Toad are at Toad's home, preparing dinner. They make cookies intended for desert but can't stop eating them ("Cookies").
Frog has a kite, which Toad tries to help him fly. ("The Kite"). The birds laugh at their failed attempts. Finally the kite flies.
It's now the end of summer ("A Year with Frog and Toad"), and leaves cover the ground. Both Frog and Toad plan a surprise by secretly raking the other's yard ("He'll Never Know"). They clean one another's yard but, as soon as they leave, the squirrels come and mess up their neat piles of leaves. Neither ever finds out the good deed each has done for the other.
Frog and Toad visit at home on a dark and stormy night. Frog thinks it's a good night for a scary story ("Shivers"). He tells the tale of a young frog – presumably himself – who escapes the clutches of a Large Terrible Frog before he is eaten.
Meanwhile, Snail is still on the way to deliver Frog's letter to Toad.
It's now winter. Frog and Toad are on top of a hill and prepared to sled down it, despite Toad's fear ("Down the Hill"). On the way down, Frog accidentally falls off the sled. Toad continues down the hill but he takes the wrong path – the dangerous and bumpy path. When Toad reaches the bottom of the hill, he is so mad that Frog made him go sledding that he swears never to talk to Frog again. Snail arrives with Frog's letter to Toad. In the letter, Frog tells Toad how he can't be happy unless his friend, Toad, is happy. Toad decides to talk to Frog again. Snail, having delivered his first letter, is very proud ("I'm Coming out of My Shell").
It's now Christmas Eve. Toad is in his kitchen. He's terribly worried because Frog is late. He imagines all the terrible things that could have happened to Frog ("Toad to the Rescue"). Frog arrives. He's been wrapping Toad's present. Toad tells him how worried he's been ("Merry Almost Christmas").
Now back in hibernation, Frog and Toad are in their respective beds. It's almost spring again! The Birds sing ("Finale") as Frog and Toad get ready for another fun-filled year.
Show History
Inspiration
The story of A Year with Frog and Toad begins in 1970, when Arnold Lobel's classic book, Frog and Toad are Friends, was first published. Lobel received a Caldecott Honor award and went on to publish three additional volumes of Frog and Toad adventures. In 1973, Frog and Toad Together was named a Newbery Honor book, making Lobel one of only a handful of authors to have received honor citations from both of children's literature's highest awards.
In 2002, Adrianne Lobel, the author's daughter and a successful designer and producer in her own right, commissioned a musical based on her father's most beloved characters.
Productions
A Year with Frog and Toad, based on all four books in Arnold Lobel's Frog And Toad series, was first workshopped in 2000 at New York Stage and Film at Vassar College, with music by Robert Reale and book and lyrics by Willie Reale. Later, it premiered in full production on August 23, 2002, at the Children's Theatre Company in Minneapolis and ran through November 2, 2002.
The children's musical next moved Off-Broadway to the New Victory Theater, which specializes solely in family-oriented fare. After stellar reviews and a sold out run under the direction of David Petrarca with Daniel Pelzig s choreography, the show transferred to Broadway, where it opened at the Cort Theater on April 13, 2003, running for 73 performances and 15 previews before closing on June 15, 2003.
Following its New York success, A Year with Frog and Toad played a return engagement at the Children's Theatre Company of Minneapolis November 16 through December 31, 2004.
A Year with Frog and Toad has also had huge success regionally. With its appeal to a younger generation, it has enjoyed hit runs in Philadelphia, Austin, Portland and Chicago, just to name a few.
Cultural Influence
The original Broadway cast recording of A Year with Frog and Toad was released on April 6, 2004, by P.S. Classics.
Trivia
A Year with Frog and Toad was nominated for three Tony Awards, including Best Musical, Best Book of a Musical and Best Original Score.
The show was groundbreaking in that it brought professional children's theatre to the Broadway arena, sparking the interest of the age 3-to-10 set.
Actress Kate Reinders, who performed as part of the show in Minneapolis, is featured on the cast album while, on Broadway, Jennifer Gambatese plays the role Reinders originated.
Authors, Robert Reale and Willie Reale, are brothers.
Critical Reaction
"Anyone who cherishes musical theater and can beg or borrow a child from 4 up might be well advised to make a beeline for Times Square in search of tickets for A Year with Frog and Toad."
– New York Times
"Frog and Toad, a delight for young and old."
– Boston Globe
"Robert and Willie Reale solidly capture the essence and heart of Lobel s characters and stories. Robert Reale s music is infectious, colorful, and rich in melody and character whereas Willie Reale's lyrics are both witty and funny& provides plenty of fun and creativity for children and plenty of nostalgia and heart for the adults."
– Chicago Theatre Beat
"A fun evening, sure to entertain children and adults alike."
– TheatreMania
"Robert and Willie Reale's lively and appealingly old-fashioned musical numbers, which wouldn't sound out of place on a vaudeville stage or a 1940s radio show... therein lies their charm."
– Austin Chronicle
Connect
*****Written permission is required to reprint or reproduce Arnold Lobel's artwork from Frog and Toad and other HarperCollins Publishers books. If you wish to obtain permission, please fax or mail the following information to the Permissions Department at HarperCollins Publishers:
Photocopies of the art you would like to use
Performance dates
How/where the image will be used, including layouts
The number of programs, posters, postcards, etc. that will be printed and distributed
Your theatre's location and contact information, including fax, phone number, e-mail, and mailing address
PLEASE FAX INFORMATION TO: Permissions Department HarperCollins Children's Books 1350 Avenue of the Americas New York, NY 10019 Fax: (212) 261-6603
Billing
Based on the books by

Book and Lyrics by

Music by
Based on the books by Arnold Lobel.
Requirements
You must give the authors/creators billing credits, as specified in the Production Contract, in a conspicuous manner on the first page of credits in all programs and on houseboards, displays and in all other advertising announcements of any kind.
Percentages listed indicate required type size in relation to title size.
A YEAR WITH FROG AND TOAD
Music by

ROBERT REALE

Book and Lyrics by

WILLIE REALE
Based on the books by ARNOLD LOBEL
Originally presented on Broadway by
Bob Boyett, Adrianne Lobel, Michael Gardner,
Lawrence Horowitz and Roy Furman
World Premiere at The Children's Theatre Company
Minneapolis, Minnesota
The videotaping or other video or audio recording of this production is strictly prohibited
Included Materials
| Item | Quantity Included |
| --- | --- |
| LIBRETTO/VOCAL BOOK | 15 |
| PIANO CONDUCTOR'S SCORE | 2 |
| STUDY GUIDE | 1 |
| TYA PERFORMANCE TRACKS | 1 |
Production Resources
Resource
HOW DOES THE SHOW GO ON-10/CS
HOW DOES THE SHOW GO ON?
LOGO PACK
LOGO PACK DIGITAL
LOGO TEES SIX-PACK ADULT LARGE
LOGO TEES SIX-PACK ADULT MEDIUM
LOGO TEES SIX-PACK ADULT SMALL
LOGO TEES SIX-PACK ADULT X-LARGE
LOGO TEES SIX-PACK ADULT XX-LARGE
LOGO TEES SIX-PACK CHILD LARGE
LOGO TEES SIX-PACK CHILD MEDIUM
LOGO TEES SIX-PACK CHILD SMALL
PRODUCTIONPRO
STANDARD ORCHESTRATION
| Instrumentation | Doubling |
| --- | --- |
| BASS | BASS , TUBA |
| DRUMS | |
| GUITAR | |
| REED 1 | ALTO SAXOPHONE , Bb CLARINET , FLUTE , PICCOLO |
| REED 2 | ALTO FLUTE , Bb CLARINET , BASS CLARINET , FLUTE , TENOR SAXOPHONE |
| TROMBONE | |
| TRUMPET | PICCOLO TRUMPET , TRUMPET |