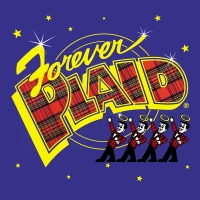 When four young singers are killed in a car crash, they posthumously take the stage for one final gig in this goofy, 1950s nostalgia trip.
Full Synopsis
Prologue:
Once upon a time, on February 9, 1964, a semi professional harmony group was on its way to its first big gig at the airport Hilton cocktail bar, Fusill-Lounge. While driving in a cherry-red 1954 Mercury convertible, the members were rehearsing their finale, "Love Is a Many-Splendored Thing." They were just getting to their favorite E flat diminished seventh chord, when they were slammed broadside by a school bus of eager Catholic teens from out of Harrisburg. The teens were on their way to witness the Beatles make their U.S. television debut on "The Ed Sullivan Show," and miraculously escaped, uninjured.
The harmony group, however, was killed instantly.
Act One
The setting is simple: four microphones, a piano and the bass. From the back of the house, we hear heavenly voices, chanting. Four men, carrying candles and dressed in white dinner jackets, walk through the audience, singing, "Deus Ex Plaid." Francis, the leader and most confident member of the group, leads them through the audience, "Holy Canoli! We're finally back on earth." While they're still technically dead, they have their voices and bodies... and dinner jackets. They talk to the audience, trying to figure out what year it is. More than twenty years! To fight the tension caused by twenty-plus years in limbo, they decide to sing. Sparky pipes in, "We could make the biggest comeback since Lazarus!"
"And now, for the first time on this or any other planet. Forever Plaid!" They sing, "Three Coins in the Fountain." As the song ends, Sparky addresses the audience, "We're Forever Plaid, and we're dead." He explains to the audience that, although they never got to do the show when they were alive, the stars have conspired with the expanding holes in the ozone layer to do the show now. They introduce themselves to the audience: in addition to Francis – who likes to be called Frankie – and Sparky, there's Smudge and Jinx. They also introduce the band. They finish the song and manage a sort of a segue into "This or That / Undecided."
They decide that they never sounded so good in life. Unfortunately, they never managed to pick up their new plaid tuxedoes, so they show a tuxedo catalog and ask the audience to "Think Plaid." Smudge dedicates the next song to anyone who's ever been to a prom. They sing "Moments to Remember:" "To see you here, we're deeply glad, / Deeply grateful and deeply plaid."
They decide that the choreography for the next number is too complicated while using real microphones, so they use what they used in rehearsal in the stock room of Smudge's family's plumbing supply company: plumber's helpers. They sing, "Crazy 'bout Ya Baby."
Jinx tells the audience, "We always wanted to be in l-lo-lo (He can't say 'love')." They explain that they were just too busy, what with Jinx's speech therapy and Audio-Visual Club. They sing, "No Not Much." At the end of the song, Jinx's nose starts to bleed, and Francis starts to wheeze; Smudge needs a Rolaids. While Jinx and Francis recover, Smudge, not used to doing the patter, does his best. He tells the story of how he used to hang around his parents' diner and wait for the jukebox lady. She would give him the old records, and that's how he came to love the old songs. They had always dreamed of making their own album.
Not knowing much about romance, the boys imagined that their beautiful Spanish teacher's first name was Perfidia, like the song of the same name. They sing "Perfidia."
Smudge tells the audience that Perfidia means "betrayal in love." Jinx hears the cue for his big number and hesitates. The others encourage him before they sing "Cry:" "If your sweetheart sends a letter of goodbye, / it's no secret you'll feel better if you cry." In addition to singing about men who love, they also sing about men who work... hard. They sing "Sixteen Tons / Chain Gang."
Of course, each of them had his day job: Smudge was in bathroom fixtures, Francis was in dental supplies, Jinx was in auto parts and Sparky... better dresses. They sing "The Catering Trail."
They managed to make it into the newspaper. Jinx reads a notice in the Wilkes-Barre Chronicle, announcing that, although the Bobby Darin concert was sold out, the Lady's Championship Bowling League had plenty of seats to hear the local singing group, Forever Plaid, at their next meeting. "This group's sound is to contemporary music as Formica is to marble."
Another newspaper headline reads, "Auto failure leaves star of Kraft Music Hall, Perry Como, stranded in town." With harmonies behind, they tell the tale of how Sparky, realizing that he was working on Perry Como's car, yanked out the carburetor. Then, he suggested to Mr. Como that he take in the Forever Plaid show while they waited for the car to be fixed. The performance started, but Sparky couldn't take the guilt. He stopped the show, revealed the carburetor and apologized to Mr. Como. In gratitude for Sparky's honesty, Mr. Como gave them his Golden Cardigan. Francis appears with a gold-colored Cardigan sweater on a red velvet pillow. They sing "Sing to Me, Mr. C" and "Catch a Falling Star."
Francis announces, "The Plaids go Calypso!" Christmas lights, strung around the theatre, illuminate as they sing "Dey-O" and "Kingston Market." They segue right into "Jamaica Farewell" and then sing "Matilda," with the audience singing along.
Francis announces that it's time for the musicians' union break. Sparky sits at the piano and plays "Heart and Soul," and they begin the song. The group takes volunteers from the audience to play the piano part and they sing the next verse.
Jinx tells how the only time his family wasn't squabbling was at 8:00 p.m. on Sunday nights, during "The Ed Sullivan Show." Francis chimes in, "Brought to you by the Lincoln-Mercury division of the Ford Motor Co. Introducing the new Mercury Monterey, featuring Merco-Matic drive." They sing "The Mercury Commercial." Smudge announces, "...the entire 'Ed Sullivan Shoe' in three minutes and eleven seconds." They sing "Lady of Spain" while they mime Groucho, spin plates, dance ballet, reviving José Jiménez and Topo Gigio.
They sing "Scotland the Brave." Francis reads the Oxford English Dictionary's definition of plaid as, "a cloth of woven fabric – traditionally worn over the left shoulder. This highlander material is comprised of a series of colorful squares and cross-barred patterns, signifying family and home." Suddenly, there's a burst of thunder and lightning. An usher brings in a big plaid box. They look inside, almost take the contents out, change their minds and then take the box offstage. From offstage, we hear Francis say, "We're finally like a real group."
The guys enter, now wearing plaid tuxedo jackets, and sing "Shangri-La / Rags to Riches," featuring a newly confident Smudge taking the solo. It's time for the finale, but Smudge doesn't want to go back: "Maybe if we don't finish the show, we can pick up where we left off." They wonder what it would be like if they had a second chance. Francis says, "Why not? We came back once, we can do it again.... A perfect chord. One perfect moment. That's all anyone has the right to ask for. And we had our share. Rehearsing in the stock room was our Madison Square Garden. Seating in the upholstered comfort of the Mercury was our Carnegie Hall. The opening of the Stroudsberg Sears was our 'Ed Sullivan Show.' And it was good, dammit! Excuse me. But it was good. Real good.... It's time to go. We touched our dream. So please, let's sing the last song, and go like Plaids."
They sing "Love Is a Many-Splendored Thing."
The curtain falls.
Show History
Inspiration


Stuart Ross wrote Forever Plaid as an homage to the close-harmony "guy groups" of the 1950s, like The Four Aces and The Four Freshmen. Ross also included four-part arrangements of famous solo songs from the 50s, such as "Chain Gang," "Sixteen Tons" and an entire medley dedicated to songs by Perry Como. He got the idea to kill his characters from a cabaret in Rochester, and the fact that the show was running in repertory with Nunsense generated the plot point of the busload of Catholic girls as a cause of death. When the musical was in its initial stages, however, producers urged him not to make the Plaids dead... although Ross brought back the gimmick when the show moved to New York.


Ross never intended for the show to be a nostalgic jukebox revue. Instead, he created the Plaids – a representation of the clean-cut mentality of the 50s – to show what would happen if people of that sensibility came into a modern-day world. He purposefully fleshed out each of the four Plaids to give the individual characters a personality and, ultimately, demonstrate to them what a wonderful life they had without stardom.


Productions


Forever Plaid, an Off-Broadway musical revue written by Stuart Ross, started its creative engagements at the Laurie Beechman Theatre, the American Stage Company and the Wisdom Bridge Theatre. It opened May 20, 1990, at Steve McGraw's on the Upper West Side. The original cast included Jason Graae, Stan Chandler, David Engel and Guy Stroman. The show played for more than four years in that cabaret theatre. Within two years of its New York run, various Forever Plaid companies sprung up, starting in San Diego and expanding from Boston to South Africa. These companies became as popular as the original production, with some running for even longer than the group in New York.
Cultural Influence
A filmed version of the musical was released in 2009 as a celebration of the show's twenty-year anniversary. Stuart Ross returned to direct, as did original Plaids, Stan Chandler and David Engel. David Hyde Pierce guest-starred as the narrator.
Trivia
The popularity of Forever Plaid gave rise to the production of two sequels. The Pasadena Playhouse premiered one of those sequels, Plaid Tidings, a holiday version of the original show with modified songs and story.
Critical Reaction
"Screamingly funny! Entirely enchanting, utterly entertaining, awesome! ...Will put a smile on your face, a hum in your throat and a tap to your feet."
– New York Post

"Letter-perfect! Sweet, funny and thoroughly amusing."
– The New York Times

"The laughter doesn't stop! ...Delightful, original and funny!"
– The Associated Press
Drama Desk Award
1990
-
Outstanding Musical Revue,
Nominee
(Forever Plaid)
1991
-
Outstanding Musical Revue,
Nominee
()
Connect
Billing
Written and Originally Directed and Choreographed by

Music by

Lyrics by

Musical Continuity Supervision and Arrangements by
Requirements
You must give the authors/creators billing credits, as specified in the Production Contract, in a conspicuous manner on the first page of credits in all programs and on houseboards, displays and in all other advertising announcements of any kind.
Percentages listed indicate required type size in relation to title size.
FOREVER PLAID
Written and Originally Directed and Choreographed by
STUART ROSS
Musical Continuity Supervision and Arrangements by
James Raitt
Originally Produced by
Gene Wolsk
The name of Stuart Ross shall be no less than 50% of the size of the title of the Play and in any event shall be no less than any other credit given. The name of James Raitt shall be 75% of the size of the credit accorded Stuart Ross.
Licensee further agrees to insert in each program of the Play the credit line for each of the compositions and also include the program notes as described in the accompanying Rider.
THE SONGS
ANNIVERSARY SONG
Written by Al Jolson and Saul Chaplin.  
©MCMXLVI Mood Music Co. Inc., New York New York.
Copyright renewed.  Worldwide Copyright Administrator:
Shapiro, Bernstein & Co., Inc. Used by permission.
CATCH A FALLING STAR
Written 
by Paul Vance and Lee Pockriss.
Used by permission of Emily Music Corp.
CHAIN GANG
Written by Sam Cooke.
Published by Abkco Music, Inc. Used by permission.
CRAZY 'BOUT YA BABY
Written 
by Pat Barret and Rudi Maugeri.
Used by permission of Wanessa Music Production, Co.
CRY
Written 
by Churchill Kohlman.
©MCMLI Shapiro, Bernstein & Co., Inc., New York, NY.
Copyright renewed. Used by permission.
DAY-O
Written 
by Erik Darling, Bob Carey and Alan Arkin.
Used by permission of Cherry Lane Music Publishing Co., Inc.
DREAM ALONG WITH ME
Written 
by Carl Sigman.
Used by permission of Major Songs Co.
GOTTA BE THIS OR THAT
Written 
by Sonny Skylar.
Used by permission of Music Sales Corporation (ASCAP),
copyright owner.
HEART AND SOUL
Written 
by Hoagy Carmichael and Frank Loesser.
Used by permission of Famous Music Corp.
JAMAICA FAREWELL
Written 
by Lord Burgess.
Used by permission of Cherry Lane Music Publishing Co., Inc.
KINGSTON MARKET
Written 
by Irving Burgie.
Used by permission of Cherry Lane Music Publishing Co., Inc.
LADY OF SPAIN
Written 
by Robert Hargreaves, Tolchard Evans,
Stanley J. Damerell and Henry Tilsley.
Used by Permission of Sam Fox Publishing Co., Inc.
LOVE IS A MANY SPLENDORED THING
Written 
by Paul Francis Webster and Sammy Fain.
Used by permission of EMI Miller Catalog Inc.
MAGIC MOMENTS
Written 
by Burt Bacharach and Hal David.
Used by permission of Famous Music Corp.
MATILDA
Written 
by Harry Thomas.
Used by permission of MCA Music Publishing, a division of MCA Inc.
MOMENTS TO REMEMBER
Written 
by Al Stillman and Robert Allen.
Used by permission of Larry Spier, Inc.
NO, NOT MUCH
Written 
by Al Stillman and Robert Allen.
Used by permission of Kitty Anne Music.
PAPA LOVES TO MAMBO
Written 
by Al Hoffman, Dick Mannning
and Bix Reichner.
© MCMLIV Shapiro, Bernstein & Co., Inc. New York, NY.
Used by permission.
PERFIDIA
Written 
by Milton Leeds and Alberto Dominguez.
Used by permission of Peer International Corp.
RAGS TO RICHES
Written 
by Richard Adler and Jerry Ross.
Used by permission of Major Songs Co.
SHANGRI-LA
Written 
by Carl Sigman, Matt Malneck and Robert Maxwell.
Used by permission of EMI Robbins Catalog Inc.
SHE LOVES YOU
Written 
by John Lennon and Paul McCartney.
Used by permission of Gil Music Corp.
SING TO ME MR. C
Written 
by Charles Ray.
Used by permission of Roncorn Music Company.
SIXTEEN TONS
Written 
by Merle Travis.
Used by permission of Unichappel Music Inc.
TEMPTATION
Written 
by Arthur Freed and Nacio Herb Brown.
Used by permission of EMI Robbins Catalog Inc.
THEME FROM THE GOOD, THE BAD, AND THE UGLY
Written 
by Ennio Morricone.
Used by permission of EMI Unart Catalog Inc.
THREE COINS IN THE FOUNTAIN
Written 
by Sammy Cahn and Jule Styne.
Used by permission of WB Music Corp. and Chappell & Co.
UNDECIDED
Written 
by Sid Robbin and Charles Shavers.
Used by permission of MCA Music Publishing, a division of MCA Inc.
SH BOOM
Published by Warner/Unichappell Music, Inc.
DEDICATION
Forever Plaid is dedicated to the "good guys"; to the guys who wheeled the projector carts
for the AV club; to the guys who saved their allowance to give their parents a special night on
 the town for their anniversary; to the guys who carried an extra handkerchief; to the guys who
never went beyond first base, and if they did, they didn't tell anyone.  We Salute You!
Video Warning
In accordance with the Performance License, you MUST include the following warning in all programs and in a pre-show announcement:

ANY VIDEO AND/OR AUDIO RECORDING OF THIS PRODUCTION IS STRICTLY PROHIBITED.
Included Materials
| Item | Quantity Included |
| --- | --- |
| LIBRETTO/VOCAL BOOK | 8 |
| PIANO CONDUCTOR'S SCORE | 2 |
Production Resources
Resource
HOW DOES THE SHOW GO ON-10/CS
HOW DOES THE SHOW GO ON?
LOGO PACK
LOGO PACK DIGITAL
LOGO TEES SIX-PACK ADULT LARGE
LOGO TEES SIX-PACK ADULT MEDIUM
LOGO TEES SIX-PACK ADULT SMALL
LOGO TEES SIX-PACK ADULT X-LARGE
LOGO TEES SIX-PACK ADULT XX-LARGE
LOGO TEES SIX-PACK CHILD LARGE
LOGO TEES SIX-PACK CHILD MEDIUM
LOGO TEES SIX-PACK CHILD SMALL
PRODUCTIONPRO-DIGITAL SCRIPT/SCORE
REFERENCE RECORDING
REHEARSCORE APP
STAGE WRITE APPLICATION
VIDEO CONVERSATIONPIECE
STANDARD ORCHESTRATION
| Instrumentation | Doubling |
| --- | --- |
| BASS | |
| DRUMS | |
| PIANO | |