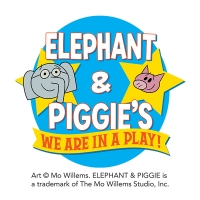 Elephant & Piggie's "We Are in a Play!"
In this vaudevillian romp, Elephant and Piggie sing and dance their way through plenty of pachydermal peril and swiney suspense.
Full Synopsis
A blank white stage, maybe it has vaudevillian elements on it. Gerald, a lumbering, somewhat formally attired elephant interrupts the stillness of the moment. He walks across stage, looking for Piggie, but cannot find her. As he exits, Piggie, an ebullient pig in a pink dress, enters, searching for Gerald. They each search for the other frantically (despite being in plain sight of one another) for several more moments. Suddenly, their eyes meet, and they are overjoyed! They are best friends and know that, whatever they do together today, they will have fun ("Lucky to See You"). Gerald does worry briefly that something may happen to ruin their friendship, but Piggie assures him that that won't happen.
Piggie announces that she is excited because she has no idea what is going to happen today; she implores Gerald to think of the possibilities – anything could happen! They decide that they could skip, they could play ping pong or they could wear silly hats. It occurs to Piggie and Gerald that they can actually skip, play ping pong and wear silly hats all at the same time – so they use their imaginations to do that.
Dog arrives with an envelope for Piggie. The Squirelles have invited Piggie to a party, and she can bring a friend, so she invites Gerald. However, Piggie finds herself in a predicament – she's never been to a party. Fortunately, parties are Gerald's job; he knows parties. First, he speculates that it may be a fancy party and he dresses in an elegant outfit, including top hat, bow tie and cane. As Piggie attempts to follow suit, Gerald quickly changes his mind. When Piggie reappears in her fancy attire, Gerald has already dashed off to get his swimsuit and inner tube, because it may be a pool party. Piggie hurries to keep up, rushing to get her scuba goggles and snorkel, only to find that Gerald has returned with a mask, as well. What if it's a fancy, costume, pool party? Exasperated, Piggie grabs a cowboy hat and is ready to go.
The Squirrelles arrive in their fancy, pool, costume outfits and Piggie confirms that Gerald was right – he does know parties. Piggie, Gerald and the Squirelles get the party started; however, a problem arises – everyone begins to dance, and Gerald is not a dancer. With Pigggy and the Squirelles' encouragement, Gerald finds his dance moves ("Swimmy! Fancy!").
After declaring this the best party to which she's ever been, Piggie wants to show Gerald how much she appreciates his help with getting ready. She pulls out her trumpet and makes a horrible noise. Gerald and the Squirrelles do not know what to say. Piggie gives one more blast as the Squirrelles slowly back away, and Gerald is left, having to tell her what he thinks of her playing. He explains that, while her trumpet is loud and shiny, and she holds it very well, she did not play music. Piggie responds that actually she wasn't trying to play music, she was trying to say thank you... in elephant. Gerald understands and helps her with her accent. Overwhelmed with affection for each other, they get into a "Best-Off" to determine which one thinks the other is best.
Piggie tells Gerald that he has to go, and she can't believe it. He passionately begs her to stay ("Don't Go"). Only after his reverie does she reveal that what she meant was that she has to go potty. When she leaves, Penguin arrives and gives Gerald ice cream. Gerald then has another crisis. He loves ice cream and wants to eat it immediately, but he also knows that Piggie loves ice cream, and the right thing to do is to wait for her and share it. The Squirelles arrive, and Gerald tells them proudly that he plans to share with Piggie and be the Ice Cream Hero, a decision that they support ("Ice Cream Hero"). Gerald gets so caught up in his plan to be the Ice Cream Hero that he doesn't realize that his ice cream has melted. Just as he is mourning his loss, Piggie arrives with her own ice cream... which she shares with Gerald.
After they finish their ice cream, Piggie excitedly shows Gerald her new toy. Gerald wants to see it but, before he can, Piggie explains why it is so important to her. Although she doesn't know what it does, she knows that she loves it ("Ode to Toy"). Gerald supposes that it is a throwing toy, and, when she gives it to him, he throws it high into the air. Suddenly, Gerald, Piggie and the Squirelles realize that the toy is coming down at a very fast speed. As the toy hits the ground, it breaks in two. Piggie is heartbroken and furious at Gerald for breaking her toy. She lays into him while Gerald apologizes, devastated at hurting his friend ("Toy Breaker").
Piggie and Gerald see no way to repair the rift between them. The Squirelles, however, notice something about the toy – it is a snap-and-break toy; they easily put it back together. Now, Piggie is embarrassed, and Gerald is hurt. While Gerald decides whether he wants to play with Piggie or whether he wants her to leave, she convinces him that he is more important to her than any toy ("Elephant in the Room"). Gerald accepts her apology.
Suddenly, Piggie and Gerald realize that they are being watched. In fact, they see an entire audience. The Squirelles enter as Gerald explains the situation. They realize that they are in a play. The cool thing about being in a play is that they can make the audience do things. They make the audience clap, repeat words and dance. Piggie, Gerald and the Squirelles encourage grownups and kids alike to groove with them ("We're in a Play").
Piggie asks Gerald what else he wants to do before the play ends. Gerald's mind is blown by the idea that the play is ending. They ask the stage manager how many pages they have left; there are only four. Gerald starts to panic – what will they do when the play ends? Piggie calms him down. No matter what happens, they'll still have each other ("We'll Be Friends").
They reach "the end," and nothing changes; the lights come back on, and Piggie and Gerald are still onstage. The Squirrelles applaud their performances heartily. Piggie and Gerald are overjoyed to still be there but they have no idea what to say since there is no more script. Piggie suggests that they just make it up – they can do anything. Gerald suggests that they skip and play ping-pong while wearing silly hats. Piggie, Gerald and The Squirrelles agree that they've all had a fantastic time ("We've Been Lucky").
Show History


Inspiration

Elephant & Piggie's We Are in a Play! is based on six of the books in the popular, Geisel Award-winning Elephant & Piggie children's book series by Mo Willems, who also wrote the script and lyrics for the musical.
The Elephant & Piggie book series debuted in 2007. The books are written in comic book-style, with conversations appearing in letter bubbles above the characters' heads. The books often address issues of friendship.

Productions

Elephant & Piggie's We Are in a Play! was commissioned in 2012 by the Kennedy Center for the Performing Arts in Washington, D.C., and had a workshop at the theatre prior to the full production.

The original production was directed by Jerry Whiddon, featured music direction by George Fulginiti-Shakar and was choreographed by Jessica Hartmann. The original cast featured Evan Casey as Gerald and Lauren Williams as Piggie, with Brittany Baratz, Ashleigh King and Deborah Lubega as The Squirrelles.
Cultural Influence
Two Elephant & Piggie books, There Is a Bird on Your Head and Are You Ready to Play Outside?, won the Geisel Medal in 2008 and 2009.
Two books in the series have been listed on TIME Magazine's Top 10 Children's Books of the Year: Today I Will Fly in 2007 (ranked #2) and Elephants Cannot Dance! in 2009 (ranked #5).
Mo Willems is a number-one New York Times bestselling author and illustrator, and has been awarded a Caldecott Honor on three occasions. His debut, Don't Let the Pigeon Drive the Bus!, was inducted into the Indies Choice Picture Book Hall of Fame in 2009. Other favorites include the Knuffle Bunny books; Naked Mole Rat Gets Dressed and City Dog, Country Frog, illustrated by Jon J Muth.
Trivia
Books are added to the Elephant & Piggie series on a roughly quarterly schedule, with two books occasionally released on the same day.
Pigeon, another series and character by Mo Willems, is hidden on the inside back cover of each Elephant & Piggie book.
Much of the same creative team from the Kennedy Center's hit 2010 production of Knuffle Bunny: A Cautionary Musical, also based on books by Willems, returned to work on Elephant & Piggie's We Are in a Play!
The original production of Elephant & Piggie's We Are in a Play! was backed by a live band, also in character as Dr. Cat and the Bear-a-Tones.
Critical Reaction
"Elephant & Piggie's We Are in a Play! was a fun experience, and a great way to introduce your child to theater."
– Broadwayworld
"Even if you have no idea who Gerald and Piggie are, you will still adore this show."
– MD Theatre Guide
Connect
Billing
Book and Lyrics by

Music by
Based on the Elephant & Piggie books by Mo Willems
Requirements
You must give the authors/creators billing credits, as specified in the Production Contract, in a conspicuous manner on the first page of credits in all programs and on houseboards, displays and in all other advertising announcements of any kind.
Percentages listed indicate required type size in relation to title size.
ELEPHANT & PIGGIE'S
"WE ARE IN A PLAY!"
Based on the Elephant & Piggie books by Mo Willems
Published by Hyperion Books for Children
Script and Lyrics by MO WILLEMS
Music by DEBORAH WICKS LA PUMA
You must also provide the following credit on the title page for all programs:
"This play was commissioned by the John F. Kennedy Center for the Performing
Arts and was first produced at the Kennedy Center during the 2013-2014
season."
In addition, you must also provide the following credit in advertisements where full production credits are given:
"This play was commissioned by and first produced at the John F. Kennedy
Center for the Performing Arts."
Shortened billing:
In advertisements of 1/4 page size or less, or where only the title of the play, performance dates and venue are provided, the following "shortened billing" is permissible:
ELEPHANT & PIGGIE'S
"WE ARE IN A PLAY!""
Video Warning
In accordance with the Performance License, you MUST include the following warning in all programs and in a pre-show announcement:

ANY VIDEO AND/OR AUDIO RECORDING OF THIS PRODUCTION IS STRICTLY PROHIBITED.
Included Materials
| Item | Quantity Included |
| --- | --- |
| LIBRETTO/VOCAL BOOK | 10 |
| PIANO VOCAL SCORE | 2 |
| TYA PERFORMANCE TRACKS | 1 |
Production Resources
Resource
HOW DOES THE SHOW GO ON-10/CS
HOW DOES THE SHOW GO ON?
LOGO PACK
LOGO PACK DIGITAL
PRODUCTIONPRO-DIGITAL SCRIPT/SCORE
REFERENCE RECORDING
STAGE WRITE APPLICATION
STREAMING LICENSE
VIDEO LICENSE
STANDARD ORCHESTRATION
| Instrumentation | Doubling |
| --- | --- |
| BASS | |
| DRUMS | COWBELL , DRUM KIT , DUCK CALL , SLIDE WHISTLE , TRIANGLE |
| FULL SCORE | |
| REED 1 | ALTO SAXOPHONE , BARITONE SAXOPHONE , CLARINET , FLUTE , TENOR SAXOPHONE |