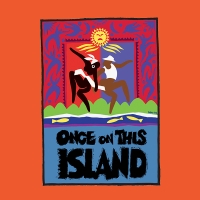 Celebrate storytelling with this rousing Calypso-flavored tale of one small girl who finds love in a world of prejudice.
Full Synopsis
The peasants appear to describe their world, ruled by powerful gods and dictated by wealthy "grands hommes," who never assimilate with their kind ("Prologue / We Dance").
The peasants begin to tell the audience the tale of a young peasant girl who fell in love with a grand homme, named Ti Moune ("One Small Girl"). According to the story, Ti Moune was magically saved from a flood by the gods when she was a child. This is to be her fateful destiny.
Ti Moune, who has turned into a beautiful woman, appears in the fields. She is hard at work but also busy, dreaming of the future and what promises she will seek in her life ("Waiting for Life"). Later, the gods of Earth, Water, Love and Death convene. After hearing Ti Moune's lament, they decide to allow Ti Moune to have her wish, and meet the grand homme ("And the Gods Heard Her Prayer").
The gods have each agreed to play a part in her journey and wager to see which will win: love or death. Agwe, the God of Water, begins by creating a terrible monsoon on the island, which causes a young grand homme named Daniel to crash his car on a slick road ("Rain"). Fortunately, Ti Moune is there to discover and rescue him. Although her parents object, Ti Moune decides to care for him.
While her father, Tonton Julian, goes off in search of Daniel's family, Ti Moune's mother, Mama Euralie, observes Ti Moune's immediate and deep love for this boy. Elsewhere, Tonton Julian discovers Daniel's family, who happen to live behind the guarded gates of a fine hotel on the other side of the island. Meanwhile, the peasants fear Ti Moune's folly will bring the wrath of the gods down upon them ("Pray"). As they pray, a terrible storm is rising.
Inside her hut, Ti Moune continues to care for Daniel and eventually pledges her love to him ("Forever Yours"). Suddenly, Papa Ge, the sly Demon of Death, arrives to claim Daniel. Ti Moune promises to give up her own life and soul if Papa Ge will only spare Daniel. He gleefully agrees to her bargain. As a brief aside, the Storytellers reappear to give a history lesson of Daniel's clan, the Beauxhommes ("The Sad Tale of the Beauxhommes"). In the pantomime, it is revealed that Daniel hails from a cursed family.
Tonton Julian arrives with Daniel's family, and they carry him off in a stretcher. Ti Moune insists on following Daniel. Although her parents plead with her to remain with them, they eventually allow her to leave with their blessing ("Ti Moune").
Ti Moune's journey begins as the storytellers enter, dressed as colorful birds, trees, frogs and breezes. They introduce Asaka, the formidable Mother of the Earth, who promises Ti Moune that she will provide her with guidance and protection ("Mama Will Provide"). As Ti Moune ventures on, the storytellers describe her long, adventurous journey to Daniel ("Some Say").
Finally at the Hotel Beauxhomme, Ti Moune enters Daniel's room, where he lies in bed, still feverish from his injuries. She convinces him that she has come to heal him, and he agrees to let her stay the night. As Ti Moune lies down beside him, the Goddess of Love, Erzulie, appears to preside over them ("The Human Heart"). As Daniel and Ti Moune fall deeply in love, gossip spreads throughout the island about the unlikely love between royalty and poor ("Pray – Reprise").
On a starlit evening, Ti Moune tells Daniel of her dreams for their future. He unexpectedly replies with doubt and uncertainty, explaining that there will be girls you love and girls you marry, but these two kinds are not the same ("Some Girls").
At the Hotel Beauxhomme, a ball is held, where the grand hommes eagerly await a glimpse of Ti Moune. She arrives, dressed beautifully but simply. Daniel introduces Ti Moune to Andrea Devereaux, a young beautiful and elegant girl. At Andrea's request, Ti Moune dances; enchanting everyone at the ball ("The Ball"). As Ti Moune celebrates her triumphant performance, Andrea then asks her to perform at her wedding with Daniel. It is then revealed that Daniel was promised to Andrea as a child many years ago. Ti Moune, in complete shock, is bluntly told by Daniel that he could never marry her.
Now desolate and alone, Ti Moune hears critical voices from the past echoing in her head. Papa Ge appears and reminds her of her promise. He is willing to negotiate, however: instead of surrendering her own soul, she can choose to have her life back by killing Daniel. Reminding her of Daniel's betrayal, he gives her a knife.
Daniel is exposed by the Storytellers. Ti Moune, with a knife in her hand, begins to charge at Daniel when Erzulie appears to remind her of the human heart. Ti Moune throws the knife down, choosing her love for Daniel over her desire to live ("Promises / Forever Yours – Reprise"). Love has defeated death. For her actions, Ti Moune is thrown out of the Hotel Beauxhomme. She waits for two weeks at the gate without food or sleep until Daniel and Andrea pass by her after their wedding, tossing coins to the peasants. She calls out to Daniel. He pauses by her side for a moment before moving on. She curls up in despair and, as she dies, from her hand falls Daniel's coin. Mama Euralie mourns the loss of her beloved daughter ("Part of Us").
The Storytellers appear to tell us of Ti Moune's ending. Asaka lays her to rest in the earth and Ti Moune is resurrected as a beautiful tree, one which will shelter peasants for years to come. Ti Moune will watch over Daniel and his family, and her spirit has set them free to finally love one another ("Why We Tell the Story").
Show History
Inspiration
Following their Off-Broadway debut with the musical farce, Lucky Stiff, Ahrens and Flaherty knew they wanted to tackle something with greater emotional depth. Browsing for ideas, Ahrens stumbled upon the novel, My Love, My Love by Rosa Guy, in a used bookstore. The book was inspired by Hans Christian Andersen's The Little Mermaid, and Ahrens responded instantly to the novel's poetic language and to the simple beauty of the story. Her writing partner and composer, Stephen Flaherty, was attracted to the novel's Caribbean setting, which would allow him to create a score that was theatrical, but inflected with the rhythms and sounds of the story's locale. Their long search was over.
In order to obtain the rights from Guy, the duo agreed to present the author with an outline and four song presentations that revealed their take on the material. It was a nerve-racking experience, especially since they intended to change the novel's ending completely. Thankfully, however, Guy loved it.
Productions
Once on This Island is a one-act musical with a book and lyrics by Lynn Ahrens and music by Stephen Flaherty. Based on the 1985 novel, My Love, My Love; or, The Peasant Girl by Rosa Guy, the story concerns a peasant girl on a tropical island who uses the power of love to bring together people of different social classes.
Once on This Island was originally staged Off-Broadway at Playwrights Horizons, under the direction and choreography of Graciela Daniele, running from May 6, 1990, through May 27, 1990. The show then moved to Broadway, where it was again directed and choreographed by Daniele and opened at the Booth Theatre on October 18, 1990, before finally closing on December 1, 1991, after 469 performances and 19 previews. The musical featured LaChanze, Jerry Dixon, Andrea Frierson and Sheila Gibbs.
The European premiere of Once on This Island later took place in 1994, hosted by the Birmingham Rep, and then transferred to the West End Royalty Theatre (now the Peacock Theatre) on September 28,1994. It ran there for 145 performances and the production won the Olivier Award for Best New Musical .
The musical was revived in the UK in 2009 at Birmingham Rep, Nottingham Playhouse and the Hackney Empire Theatre in London. Susie McKenna directed, with Sharon D. Clarke reprising her 1994 role as Asaka.
Once on This Island has also become a favorite regionally, with productions having been mounted at such theatres as the Papermill Playhouse, The Olney Theatre, North Shore Music Theatre and the Marriott Theatre of Chicago.
Cultural Influence
Cast albums of Once on This Island were recorded by the Original Broadway Cast and the Original UK Cast and released in 1990 and 1997, respectively.
Once On This Island, led to the creation of Once On This Island JR. an author-approved, condensed version of the show custom-tailored to the needs of young people and schools.
Trivia
In addition to winning an Olivier Award for Best New Musical , Once on This Island was nominated for an additional three Olivier Awards, a Drama Desk Award and eight Tony Awards, including Best Musical, Best Book of a Musical and Best Original Score.
In 2002, the original Broadway cast was reunited with special guest, Lillias White, to perform the show for Broadway Cares/Equity Fights AIDS and the Cantor Fitzgerald Relief Fund.
The original cast was chosen along racial lines, with darker-skinned actors portraying the peasants and lighter-skinned actors portraying the upper class landowners. In the script, the writers provide small line changes that can be used to remove references to skin color to accommodate.
Critical Reaction
"Absolutely captivating... this show is, in every aspect, simply enchanting."
– TheatreMania
"In Once on This Island, the stage has found its own sugar-and-cartoon-free answer to The Little Mermaid. A 90-minute Caribbean fairy tale told in rousing song and dance, this show is a joyous marriage of the slick and the folkloric, of the hard-nosed sophistication of Broadway musical theater and the indigenous culture of a tropical isle."
– New York Times
"A burst of spring, a warm 90-minute fairy tale told to breezy Caribbean rhythms... a light-footed charmer."
– The Washington Post
"Has the charm of a beloved fairy tale."
– San Francisco Examiner
Theatre World Award
1991
-
Outstanding Debut Performance,
Winner
(LaChanze)
1991
-
Best Debut Performance,
Winner
(LaChanze)
2018
-
Outstanding Debut Performance,
Winner
(Hailey Kilgore)
Tony® Award
1991
-
Best Featured Actress in a Musical,
Nominee
(LaChanze)
1991
-
Choreography,
Nominee
(Graciela Daniele)
1991
-
Best Costume Design,
Nominee
(Judy Dearing)
1991
-
Costume Design,
Nominee
(Judy Dearing)
1991
-
Best Lighting Design,
Nominee
(Allan Lee Hughes)
1991
-
Direction Of A Musical,
Nominee
(Graciela Daniele)
1991
-
Best Choreography,
Nominee
(Graciela Daniele)
1991
-
Featured Actress In A Musical,
Nominee
(La Chanze)
1991
-
Best Direction Of A Musical,
Nominee
(Graciela Daniele)
1991
-
Lighting Design,
Nominee
(Allen Lee Hughes)
1991
-
Musical,
Nominee
(The Shubert Organization, Capital Cities/ABC Inc., Suntory International, James Walsh, Playwrights Horizons (producers))
1991
-
Original Musical Score,
Nominee
(Stephen Flaherty and Lynn Ahrens)
1991
-
Best Musical,
Nominee
(Once on This Island)
1991
-
Best Book Of A Musical,
Nominee
(Lynn Ahrens)
1991
-
Best Original Score,
Nominee
(Stephen Flaherty and Lynn Ahrens)
1991
-
Book Of A Musical,
Nominee
(Lynn Ahrens)
2018
-
Best Revival Of A Musical,
Winner
(Once on This Island)
Dra,ma Desk Award
1991
-
Outstanding Actress in a Musical,
Nominee
(LaChanze)
Outer Critics Circle Award
1991
-
Best Broadway Musical,
Nominee
(Once On This Island)
1991
-
Best Actress in a Musical,
Nominee
(LaChanze)
Drama Desk Award
1991
-
Outstanding Actress in a Musical,
Nominee
(La Chanze)
2018
-
Outstanding Lighting Design of a Musical,
Winner
(Jules Fisher and Peggy Eisenhauer)
Olivier Award
1995
-
Best Musical,
Winner
(Once On This island)
Connect
Billing
Book by

Music by

Lyrics by
Based on My Love, My Love by Rosa Guy
Requirements
You must give the authors/creators billing credits, as specified in the Production Contract, in a conspicuous manner on the first page of credits in all programs and on houseboards, displays and in all other advertising announcements of any kind.
Percentages listed indicate required type size in relation to title size.
ONCE ON THIS ISLAND
A Musical
BOOK AND LYRICS BY
Lynn Ahrens
MUSIC BY
Stephen Flaherty
Based Upon The Novel, "My Love, My Love" By Rosa Guy 
In addition, you agree to afford the following credits on the first page of credits (i.e., the title page) of all programs used:
Originally Directed and Choreographed on Broadway by Graciela Daniele 
Playwrights Horizons, Inc. Produced ONCE ON THIS ISLAND Off-Broadway 
In 1990 
Originally Produced On Broadway By The Shubert Organization, 
Capital Cities/ABC, Inc. 
Suntory International Corporation and James Walsh, In Association
With Playwrights Horizons
Video Warning
In accordance with the Performance License, you MUST include the following warning in all programs and in a pre-show announcement:

ANY VIDEO AND/OR AUDIO RECORDING OF THIS PRODUCTION IS STRICTLY PROHIBITED.
Included Materials
| Item | Quantity Included |
| --- | --- |
| LIBRETTO/VOCAL BOOK | 15 |
| PIANO CONDUCTOR'S SCORE | 1 |
| PIANO VOCAL SCORE | 1 |
| STUDY GUIDE | 1 |
Production Resources
Resource
CUSTOMIZABLE SHOW POSTER
CUSTOMIZABLE SHOW POSTERS
ERRATA LIST
HOW DOES THE SHOW GO ON-10/CS
HOW DOES THE SHOW GO ON?
KEYBOARD PATCH SOLUTIONS
KEYBOARDTEK
LOGO PACK
LOGO PACK DIGITAL
LOGO TEES SIX-PACK ADULT LARGE
LOGO TEES SIX-PACK ADULT MEDIUM
LOGO TEES SIX-PACK ADULT SMALL
LOGO TEES SIX-PACK ADULT X-LARGE
LOGO TEES SIX-PACK ADULT XX-LARGE
LOGO TEES SIX-PACK CHILD LARGE
LOGO TEES SIX-PACK CHILD MEDIUM
LOGO TEES SIX-PACK CHILD SMALL
PERFORMANCE ACCOMPANIMENT RECORDING
PRODUCTIONPRO-DIGITAL SCRIPT/SCORE
REFERENCE RECORDING
REHEARSAL ACCOMPANIMENT RECORDING
REHEARSCORE APP
STAGE MANAGER SCRIPT
STAGE WRITE APPLICATION
STREAMING LICENSE
VIRTUAL STAGE MANAGER
STANDARD ORCHESTRATION
| Instrumentation | Doubling |
| --- | --- |
| BASS | |
| GUITAR | ACOUSTIC GUITAR , CLASSICAL GUITAR , ELECTRIC GUITAR |
| KEYBOARD 1 | |
| PERCUSSION | AGOGO BELL , BONGO , CABASA , CHINESE CYMBAL , CLAVE , CONGA , COWBELL , FINGER CYMBAL , FLEXITONE , GLOCKENSPIEL , MARK TREE , OWL WHISTLE , RATTLE , SHAKER , TAMBOURINE , TIMBALES , TRIANGLE , VIBRASLAP , WIND CHIMES , WOOD BLOCK |
| REED 1 | ALTO FLUTE , CLARINET , PICCOLO , SOPRANO SAX |