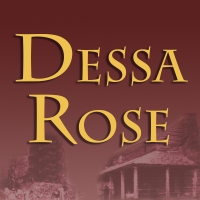 An abandoned mother and a runaway slave come together to survive in the antebellum South.
Full Synopsis
Act One
Dessa Rose is told as an oral history by Ruth, the abandoned wife of a farm owner, and Dessa Rose, a young slave. The two women "hand down the story," stepping from their older selves into their younger selves, to tell and relive the adventure that they went through together ("We Are Descended"). Their changes in age can be made instantly – without different costumes, that is – simply by small physical and vocal adjustments.
As a young, pregnant slave ("Something of My Own"), Dessa Rose commits an act of violence, attacking her master when he murders the father of her child. She is beaten and badly scarred before being sold ("The Gold Band").
On the road, shackled to other slaves, she takes part in a slave uprising; she is caught and sentenced to be hung, but not before her baby is born, since the child will be sold as property.
Meanwhile, Ruth is living on an isolated farm, trying to care for her infant daughter alone ("Ladies"). Her husband, Bertie, has deserted her, and she must rely on the escaped slaves who use her farm as a refuge ("At the Glen").
A journalist named Nehemiah becomes obsessed with Dessa Rose and tries to transcribe her story before she is executed ("Capture the Girl"). She tricks him into enabling her escape ("Fly Away"). With the help of her friends, Nathan and Harker, she makes her way to Ruth's farm, already in labor ("Terrible"). Ruth helps her to give birth and allows her to stay, along with Harker and Nathan. Nehemiah vows to find her and bring her to justice. Dessa Rose, meanwhile, tells her newborn daughter about the family's history, promising that she will give her daughter a name when they go North ("Twelve Children").
Act Two
As time passes, unlikely alliances are formed at the farm, particularly between Ruth and Nathan ("Noah's Dove"). Dessa remains mistrustful and jealous of their friendship.
Nathan suggests a dangerous scheme that may enable them to make money and escape their circumstances once and for all ("The Scheme"). Despite their mistrust for, and fear of, one another, Ruth and Dessa agree to his plan. They pack a wagon and strike off for distant towns ("Just over the Line"), where Ruth poses as the "mistress" of the slaves and sells them off at auction. The slaves then escape, make their way back to her and they all move on. They all plan to share the money.
Meanwhile, Nehemiah searches for Dessa, posts ads for her capture and grows more and more obsessed.
In the course of their travels and adventures, Ruth and Dessa come to rely on one another to overcome peril and violence and, little by little, develop a grudging mutual respect.
When Nehemiah finally captures Dessa and tries to expose her as the escaped convict that she is, Ruth steps in to convince the Sherriff that Nehemiah is mad and that Dessa belongs to her. An elderly black woman is called in to examine Dessa for the scars that identify her, and the woman lies to protect Dessa.
As Ruth and Dessa finish their extraordinary tale, we understand that Dessa has managed to raise her daughter "in freedom and truth." Ruth, Dessa and their deep and lasting bond makes them part of a "long, strong line of women" ("We Are Descended – Epilogue").
Show History
Inspiration
The idea for the musical adaptation of Dessa Rose came in 1986, when lyricist/librettist, Lynn Ahrens, first read Sherley Anne Williams's acclaimed novel of two women in the pre-Civil War South. Her writing partner, composer, Stephen Flaherty, was not initially convinced.
In the summer of 2002, Ahrens took the book with her on vacation, where, just as an experiment, she wrote the first fifty pages of the libretto on her own. As soon as Flaherty received the libretto, he agreed to musicalize it. In a 2003 interview, Flaherty reflected on the benefits of altering their writing process for this particular piece, "It was an interesting way to write. I think it actually allowed Lynn to explore her vision of the piece first, because she obviously had a very, very strong vision of what the story was and how to tell it, and I was intrigued by the piece, but I didn't have the same vision about it that she did."
Productions
A workshop of Dessa Rose was held at Lincoln Center Theater in June of 2003, featuring Donna Murphy and LaChanze. The musical then premiered Off-Broadway at the Mitzi E. Newhouse Theater at Lincoln Center. The show officially opened on March 21, 2005, and closed on May 29, 2005. It was honored with four Drama Desk nominations and praised for being a significantly serious show with a substantive message.
Critical Reaction
"With Dessa Rose, Flaherty and Ahrens grab us from the very beginning; their music and lyrics are absolutely spellbinding."
– Steven Suskin, Playbill Online
"There are many rewards in the story of these proud, independent-minded women, played with grit and conviction by LaChanze and York."
– David Rooney, Variety
Drama Desk Award
2005
-
Outstanding Actress in a Musical,
Nominee
(Rachel York)
2005
-
Outstanding Featured Actor in a Musical,
Nominee
(Norm Lewis)
2005
-
Outstanding Featured Actress in a Musical,
Nominee
(Kecia Lewis)
2005
-
Outstanding Music,
Nominee
(Stephen Flaherty)
2005
-
Outstanding Actress in a Musical,
Nominee
(LaChanze)
Outer Critics Circle Award
2005
-
Best Off-Broadway Musical,
Nominee
(Dessa Rose)
AUDELCO Awards for Excellence in Black Theater
2005
-
Musical Production of the Year,
Winner
(Dessa Rose)
2005
-
Best Actor in a Musical,
Winner
(Norm Lewis)
Connect
Billing
Book and Lyrics by

Music by
Based on the Novel by Sherley Anne Williams
Requirements
You must give the authors/creators billing credits, as specified in the Production Contract, in a conspicuous manner on the first page of credits in all programs and on houseboards, displays and in all other advertising announcements of any kind.
Percentages listed indicate required type size in relation to title size.
DESSA ROSE
| | |
| --- | --- |
| Book and Lyrics by | Music by |
| LYNN AHRENS | STEPHEN FLAHERTY |
Based on the Novel by Sherley Anne Williams
The names of the Bookwriter/Lyricist and Composer shall be equal in size, type, coloring boldness and prominence. No billing shall appear in type larger or more prominent than the billing to the Authors except for the title of the Play. The billing to Ms.Williams shall appear in type 50% of the size of that used for the Authors' credit.
In addition, you agree to include the following on the main credit page in all programs:
"Originally Produced By Lincoln Center Theater,
New York City, 2005"
The videotaping or other video or audio recording of this production is strictly prohibited
Included Materials
| Item | Quantity Included |
| --- | --- |
| LIBRETTO/VOCAL BOOK | 23 |
| PIANO VOCAL SCORE | 1 |
Production Resources
Resource
HOW DOES THE SHOW GO ON-10/CS
HOW DOES THE SHOW GO ON?
REFERENCE RECORDING
TRANSPOSITIONS-ON-DEMAND
STANDARD ORCHESTRATION
| Instrumentation | Doubling |
| --- | --- |
| BASS | ACOUSTIC BASS , ELECTRIC BASS |
| CELLO | |
| GUITAR | BANJO , ELECTRIC GUITAR , MANDOLIN , NYLON STRG ACOUSTIC , STEEL STRG ACOUSTIC , 12-STRING GUITAR |
| KEYBOARD 1 | |
| KEYBOARD 2 | |
| PERCUSSION | |
| REED 1 | ALTO FLUTE , BASS CLARINET , CLARINET , ENGLISH HORN , FLUTE , PICCOLO |
| VIOLIN | GUITAR , MANDOLIN , VIOLIN |