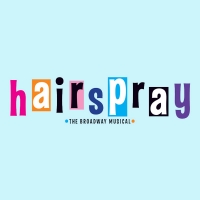 You can't stop the beat in this big and bold musical about one girl's inspiring dream to dance.
Full Synopsis
Act One
It's 7 a.m. on a Monday morning in 1962 Baltimore. Tracy Turnblad, a pleasantly plump teenager, reflects on how much she loves her city and she loves to dance. She dreams of being a star ("Good Morning Baltimore").
Later that day, Tracy and her friend, Penny, rush home from high school to catch the latest episode of "The Corny Collins Show," a teenage dance TV show ("The Nicest Kids in Town"). Meanwhile, Tracy's mom, Edna, is ironing her neighbors' laundry to earn extra money. Penny's mom, Prudy, arrives to pick up her laundry from Edna. Prudy objects to the girls watching the "colored music" performed on the show.
The action shifts to the TV studio were the "The Corny Collins Show" broadcast has just gone to commercial break. Hunky teen idol, Link, offers his Council Member ring to vapid teen queen dancer, Amber (whose overbearing mother, Velma, is the show's producer).
When the show returns from the break, Corny Collins announces an upcoming live, primetime special, where talent scouts will be on-hand and an election to crown Miss Teenage Hairspray will be held. Tracy, watching the show, is mortified to see that Amber is wearing Link's ring. Corny further announces that they're auditioning a new female dancer for the show. Tracy pleads with her mother to let her audition. Tracy's father, Wilbur, arrives home from work at his novelty gag and joke shop. Edna fears that Tracy will be ridiculed at the auditions, but Wilbur encourages Tracy. Meanwhile, Prudy berates Penny for listening to "race music" as Velma criticizes Amber on her poor dancing. All three girls argue with their mothers ("I'm a Big Girl Now").
Tracy ultimately does attend the auditions, where she literally bumps into Link, initiating a romantic dream sequence ("I Can Hear Bells"), which is interrupted when Tracy is called upon to audition. Velma rejects her due to her weight and because Tracy states that she's in favor of racial integration ("Miss Baltimore Crabs").
The following day at school, Tracy is sent to detention because her monumentally teased hair is blocking other students' view of the blackboard. In the detention hall, an African-American boy named Seaweed teaches Tracy some dance moves.
Soon afterwards, Corny Collins is the guest DJ at the school's sophomore hop ("The Madison"). Corny and Link are immediately impressed by Tracy's dance moves.
The next episode of "The Corny Collins Show" features a new cast member – Tracy ("The Nicest Kids in Town – Reprise"). During an interview with Corny, Tracy again comes out in favor of racial integration, impressing Corny but horrifying Velma. Amber grows increasingly jealous of the attention that Tracy is getting, and, to compound the situation, Corny invites Link to sing a song to Tracy ("It Takes Two"). Tracy and Link kiss at the conclusion of the song.
Post-show, an argument breaks out between Corny, Velma and Mr. Spitzer, who represents the show's sponsor, Ultra Clutch hairspray. Spitzer objects to the casting of Tracy, whom he describes as "that chubby communist." Corny informs them that he plans to introduce lots of changes to the show so that the kids in the cast will more accurately reflect the kids in the audience. Corny threatens to take the show to another network if Velma interferes. After he departs, a seething Velma decides to ruin Tracy ("Velma's Revenge").
At the Turnblad apartment, Edna fields calls from Tracy's burgeoning fan base. When Tracy gets a call, inviting her to become the spokesperson for plus-size clothing outfitter, Mr. Pinky, she asks Edna to represent her as her agent. Edna protests that she hasn't even left the apartment in years, but Tracy insists, and Edna receives an elaborate makeover ("Welcome to the 60s").
Tracy's popularity is skyrocketing at school. Amber spreads mean-spirited rumors about her. The students assemble in gym class for a game of dodgeball. Penny and Seaweed meet and immediately hit it off. A violent game of dodgeball ensues, ending with Amber snapping the ball into Tracy's head, knocking her out cold. Link reprimands Amber and goes to Tracy's aid. Tracy introduces Link to Seaweed and Penny. Seaweed invites them all to a party at his mom's record shop. When Link expresses concern that white people may not be welcome in Seaweed's neighborhood, Seaweed reassures him ("Run and Tell That").
Seaweed's song carries them into Motormouth Maybelle's Record Shop, where Seaweed introduces them to his sister, Little Inez, a dancer who was rejected at the Corny Collins auditions for being Black. Motormouth Maybelle makes a grand entrance. Amber, having followed Link to the record shop, enters and is horrified at the proceedings. Velma, having followed Amber, enters immediately afterward and is similarly horrified. Having also been in the neighborhood, Edna and Wilbur arrive, and Velma and Edna immediately dislike each other. Velma and Amber storm out; Link refuses to leave with them. Tracy hatches a plan to integrate dancing on the TV show. Motormouth is enthusiastic, but Link is reluctant to participate and departs. Edna is reluctant to participate as well, solely because she is embarrassed to be seen on TV due to her weight, but Motormouth assures her that she has nothing to be ashamed of ("Big, Blonde and Beautiful").
The protest at the studio is disrupted by the police (called by Velma). Link expresses his support for Tracy as most of those present are arrested.
Act Two
The entire female cast, with the exception of Prudy, are in jail ("The Big Dollhouse"). Due to Velma's political connections, Velma and Amber are soon released. Wilbur mortgages his store to post bail for the others. However, again due to Velma's manipulations, Tracy remains incarcerated alone ("Baltimore – Reprise").
Wilbur and Edna return home, only to find that Mr. Pinky has fired Tracy as his spokesperson due to the scandal. Edna sadly recalls her own unrealized dream to design a line of queen-sized dress patterns. However, even in this time of despair and crisis, Wilbur and Edna are comforted by their shared love ("You're Timeless to Me").
Link sneaks into the jail to find Tracy. He gives her his Council ring, explaining that he took it back from Amber to give it to Tracy ("Without Love"). Meanwhile, Seaweed rescues Penny, who has been tied to her bed by her mother as punishment for going to jail without permission. They declare their love for each other. Simultaneously, Link helps Tracy escape from jail.
Seaweed and Penny take refuge at Motormouth Maybelle's Record Shop, where Link and Tracy soon join them. By now, news of Tracy's escape from prison is being broadcast on TV. The friends are tempted to abandon their goal of integrating "The Corny Collins Show," but Motormouth convinces them to struggle on ("I Know Where I've Been").
It's now the day of the live, primetime spectacular broadcast of "The Corny Collins Show" ("It's Hairspray!") During a commercial break, a disguised Wilbur wheels a giant hairspray can onto the set. Velma penetrates his disguise, but Seaweed and Motormouth have replaced the security guards. They pretend to eject Wilbur at Velma's behest. Despite Tracy's fugitive status, Corny reports that she and Amber are currently neck-and-neck in the voting for Miss Teenage Hairspray. Amber performs an unflattering dance dedicated to Tracy ("Cooties"). Just as Amber seizes the crown, Tracy storms onto the set, accompanied by Link, Penny, Seaweed, Little Inez and company ("You Can't Stop the Beat – Part 1"). Penny has been restyled and given a cool new look. The voting now shows Tracy as the undisputed winner, and Corny crowns her Miss Teenage Hairspray 1962. Tracy declares the show officially integrated. Spitzer arrives and announces that the audience is thrilled with the show; the governor has pardoned Tracy, and he wants Velma to serve as vice president of a new line of hair products for women of color. Wilbur opens the giant hairspray can to reveal Edna dressed in finery ("You Can't Stop the Beat – Part 2"). The company celebrates a brand new day for Baltimore.
Show History
Inspiration
Hairspray is based on the 1988 film of the same name, directed by John Waters. Waters based the main storyline and "The Corny Collins Show" on the real-life "The Buddy Deane Show" and racial events surrounding it. Theatre producer, Margo Lion, saw a television broadcast of the film in 1998 and started to conceive it as a stage musical. She reached out to Marc Shaiman, and they based their material on both the 1960s dance music and the rhythm and blues in the African-American community at the time. Shaiman and Wittman used many already-established songs from the 60s as a basis for their own songs, like "River Deep, Mountain High" for "You Can't Stop the Beat" and "Your Love Keeps Lifting Me Higher" for "Without Love."
Initially, Rob Marshall was brought in to direct, but scheduling conflicts with the movie, Chicago, proved to be too much. In writing the book, Mark O'Donnell and Thomas Meehan made copious changes from the original screenplay. They chose to create obstacles for Tracy, simplified the plot, and fleshed out characters like Link, Seaweed and Velma. They routinely collaborated with Waters about plot points and choice of language.
Productions
Hairspray, a musical comedy based on the film of the same name, premiered at the 5th Avenue Theatre in Seattle. The musical features music by Marc Shaiman, lyrics by Scott Wittman and Marc Shaiman, and book by Mark O'Donnell and Thomas Meehan. Following a successful West Coast engagement, it transferred to Broadway and opened at the Neil Simon Theatre on August 15, 2002. The show ran for more than six years, closing on January 4, 2009, after over 2,600 performances.
Shortly after opening on Broadway, the first national tour launched in Baltimore. It ran from September 2003 to June 2006. Only a month after the tour ended, a U.S. and Asian tour opened at Atlantic City's Harrah's Casino. It started as a shortened "casino version" of the show for six weeks in Atlantic City, then expanded to the full version of the show when the tour officially went on the road. After various engagements across many countries, it played its final performance on April 25, 2010.
More recently, a concert version premiered at the Hollywood Bowl for three days, directed and choreographed by original choreographer, Jerry Mitchell. The musical also ran on the Royal Caribbean International MS Oasis of the Seas ship.
The West End production of the musical opened at the Shaftesbury Theatre on October 30, 2007, starring Michael Ball and Mel Smith.  The original creative team of the Broadway production reunited to mount the show. It closed on March 28, 2010, after nearly 1,000 performances, then started a tour across the United Kingdom. Shortly afterwards, on October 2, an Australian production opened in Melborne. The show was redesigned to incorporate giant LED screens with which the actors could interact.
In addition to England and Australia, Hairspray has seen many international productions emerge since 2004. The musical has played everywhere from Manila to South Africa and Switzerland to Peru.
Cultural Influence
The musical currently holds the record for most Olivier Award nominations in Britain with eleven.
A film adaptation of the stage musical version of Hairspray was released in 2007. It featured performances from John Travolta, Zac Efron, Michelle Pfeiffer, Christopher Walken and Queen Latifah.
Hairspray has been translated into more than eight different languages.
Critical Reaction
"This sweet, infinitely spirited, bubblegum-flavored confection won't be lacking for buyers any time soon. Arriving in an aerosol fog of advance hype, it more than lives up to its promise."
– Variety Magazine
"Hairspray is as sweet as a show can be without promoting tooth decay. ...[It] succeeds in recreating the pleasures of the old-fashioned musical comedy without seeming old-fashioned. ...The score's appeal isn't nostalgic. It's music that builds its own self-contained, improbably symmetrical world...."
– The New York Times
"This is kitsch at its purest and least apologetic, and it's as impossible to shake off as the heroine's lacquered beehive 'do. ...Shaiman has provided some of the most infectious melodies to grace an original Broadway show in years."
– USA Today
"So many numbers in Hairspray bring down the house, it's a wonder the Neil Simon Theatre is still standing after the final curtain."
– New York Magazine
Connect
Billing
Book by

Music by

Lyrics by
Based on the New Line Cinema film, written and directed by John Waters
Requirements
You must give the authors/creators billing credits, as specified in the Production Contract, in a conspicuous manner on the first page of credits in all programs and on houseboards, displays and in all other advertising announcements of any kind.
Percentages listed indicate required type size in relation to title size.
HAIRSPRAY
The Broadway Musical
| | | |
| --- | --- | --- |
| Book by | Music by | Lyrics by |
| MARK O'DONNELL & THOMAS MEEHAN | MARC SHAIMAN | SCOTT WITTMAN & MARC SHAIMAN |
Based on the New Line Cinema film, written and directed by John Waters
(a) The following billing must appear on title pages of programs, as well as in advertisements (subject to customary exclusions) and publicity, on a single line in a size of type not less than 60% of that used for the authors of the play, for all licensed productions:
Based on the New Line Cinema film written and directed by JOHN WATERS
(b) The following billing must appear on title pages of programs for all licensed productions using any or all of the orchestrations created by Harold Wheeler:
Orchestrations by Harold Wheeler
(c) In the event Mr. Wheeler receives title page credit, Mr. Shaiman requests title page billing as follows:
Arrangements by Marc Shaiman
Video Warning
In accordance with the Performance License, you MUST include the following warning in all programs and in a pre-show announcement:

ANY VIDEO AND/OR AUDIO RECORDING OF THIS PRODUCTION IS STRICTLY PROHIBITED.
Included Materials
| Item | Quantity Included |
| --- | --- |
| ERRATA LIST | 1 |
| LIBRETTO/VOCAL BOOK | 30 |
| PIANO CONDUCTOR'S SCORE | 2 |
Production Resources
Resource
CHOREOGRAPHY VIDEO GUIDES
CUSTOMIZABLE SHOW POSTER
CUSTOMIZABLE SHOW POSTERS
HOW DOES THE SHOW GO ON-10/CS
HOW DOES THE SHOW GO ON?
KEYBOARD PATCH SOLUTIONS
KEYBOARDTEK
LOGO PACK
LOGO PACK DIGITAL
LOGO TEES SIX-PACK ADULT LARGE
LOGO TEES SIX-PACK ADULT MEDIUM
LOGO TEES SIX-PACK ADULT SMALL
LOGO TEES SIX-PACK ADULT X-LARGE
LOGO TEES SIX-PACK ADULT XX-LARGE
LOGO TEES SIX-PACK CHILD LARGE
LOGO TEES SIX-PACK CHILD MEDIUM
LOGO TEES SIX-PACK CHILD SMALL
ORCHEXTRA
PERFORMANCE ACCOMPANIMENT RECORDING
PRODUCTIONPRO
REFERENCE RECORDING
REHEARSAL ACCOMPANIMENT RECORDING
REHEARSCORE APP
SCENE PARTNER
SCENIC PROJECTIONS
SCENIC PROJECTIONS PRO
SCENIC PROJECTIONS-ANIMATED
SCENIC PROJECTIONS-STILL
STAGE MANAGER SCRIPT
STAGE WRITE APPLICATION
THE ORIGINAL PRODUCTION
TRANSPOSITIONS-ON-DEMAND
VIRTUAL STAGE MANAGER
STANDARD ORCHESTRATION
| Instrumentation | Doubling |
| --- | --- |
| BASS | |
| CELLO | |
| DRUMS | |
| GUITAR | ACOUSTIC GUITAR , ELECTRIC GUITAR |
| KEYBOARD 2 | |
| KEYBOARD 3 | |
| PERCUSSION | CABASA , CASTANETS , CHIMES , CLAVES , CONGOS , CRASH CYMBAL , GUIRO , LIGHT SHAKER , MARK TREE , ORCHESTRA BELLS , SHAKER , SLEIGH BELLS , SMALL TRIANGLE , SUSPENDED CYMBAL , TAMBOURINE , TIMPANI , TINY TRIANGLE , TRIANGLE , VIBES , WOOD BLOCK |
| REED 1 | ALTO SAXOPHONE , CLARINET , FLUTE , TENOR SAXOPHONE |
| REED 2 | ALTO SAXOPHONE , BARITONE SAXOPHONE , CLARINET , FLUTE , TENOR SAXOPHONE |
| TROMBONE | |
| TRUMPET | FLUGELHORN , TRUMPET |
| VIOLIN | |