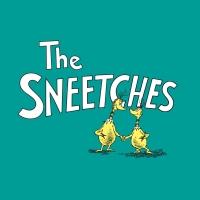 Dr. Seuss's The Sneetches
An orchestra and narrator bring Dr. Seuss's tale about tolerance, diversity and compromise vividly to life in this symphonic poem.
Full Synopsis
Dr. Seuss's The Sneetches is created for orchestra and one narrator. Bringing the classic tale to life with an original and brilliant score by Lorenzo Palomo. 
The Sneetches are strange yellow birds who live on a beach. The star-bellied Sneetches are popular, while the plain-bellied Sneetches are shunned. Looking to exploit these differences for his own selfish gain, Sylvester McMonkey McBean arrives, promising he can remove or add a star to the stomach of a Sneetch with the help of a special machine. After taking the Sneetches for all they are worth, Sylvester packs up his inventions and leaves the land of the Sneetches. The Sneetches realize they have been duped, but discover that their differences are what makes them each special in their own way.
Billing
Requirements
You must give the authors/creators billing credits, as specified in the Production Contract, in a conspicuous manner on the first page of credits in all programs and on houseboards, displays and in all other advertising announcements of any kind.
Percentages listed indicate required type size in relation to title size.
In all programs, advertising, and other printed materials relating to performances and on all publications, the Composition shall be entitled either:
DR. SEUSS'S THE SNEETCHES
Music by Lorenzo Palomo, Text by Theodor Geisel (Dr. Seuss)
OR
THE SNEETCHES, BY DR. SEUSS
Music by Lorenzo Palomo, Text by Theodor Geisel (Dr. Seuss)
The videotaping or other video or audio recording of this production is strictly prohibited
Included Materials
| Item | Quantity Included |
| --- | --- |
| "HOW TO" BOOK | 2 |
| PIANO VOCAL SCORE | 2 |
| VIDEO SAMPLER | 1 |
Production Resources
Resource
HOW DOES THE SHOW GO ON-10/CS
HOW DOES THE SHOW GO ON?
STANDARD ORCHESTRATION
| Instrumentation | Doubling |
| --- | --- |
| BASS | |
| CELESTE | |
| CELLO | |
| FULL SCORE | |
| HARP | |
| HORN | |
| HORN 2 | |
| HORN 3 | |
| HORN 4 | |
| PERCUSSION | |
| PERCUSSION 2 | |
| REED 1 | |
| REED 10 | |
| REED 2 | |
| REED 3 | |
| REED 4 | |
| REED 5 | |
| REED 6 | |
| REED 7 | |
| REED 8 | |
| REED 9 | |
| TROMBONE | |
| TROMBONE 2 | |
| TROMBONE 3 | |
| TRUMPET | |
| TRUMPET 2 | |
| VIOLA | |
| VIOLIN | |
| VIOLIN 2 | |
ALTERNATE ORCHESTRATION
| Instrumentation | Doubling |
| --- | --- |
| TWO-PIANO SCORE | |