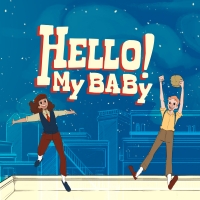 A hilarious and timely "new-fashioned" musical that follows the origins of the first all-American art form: popular music.
Full Synopsis
Act One
Tin Pan song-plugger, Mickey McKee, dreams of writing a million-seller hit tune to become the next Irving Berlin ("Plugger's Prologue"). The only trouble is that he can't write a note... not until he teams with Betty Gold, a feisty Jewish sweatshop worker who happens to be a musical demon. Together, they makebeautiful music ("Play a Simple Melody"), writing a song that Mickey thinks could sell a million and save the orphaned Gold sisters' Delancey Street Music Hall from the constant threats of Johnny Giovanni's street gang, as well as land baron, Stanford J. Tierney, who plans to demolish their Lower East Side block to build skyscrapers.
Betty yearns to fulfill her beloved Papa's dying dream – to write and sell songs ("I'm Always Chasing Rainbows"), but, as she quickly learns from Ethel Coots, a tough female music publisher, song- plugging is a male-dominated field ("A Good Man Is Hard to Find"). Undaunted, Betty dons the trousers that she once sewed to hit the streets as Buddy O'Reilly.
Betty's disguise may fool the Gangs of New York ("Oh, Johnny, Oh!"), but, when Buddy wins Mickey's job in a fierce Plug-Off ("Ja-Da"), becoming the new King of the Pluggers, an intense rivalry ensues ("Some of These Days").
Mickey, clueless that his best girl and worst enemy are the same person, finds himself tricked by fate into collaborating with Buddy on a new waltz for the debutante ball of Stanford J. Tierney's sweet granddaughter, Alice ("Alice Blue Gown").
At Alice's Ball, romantic farce unfolds as Mickey woos Betty, Alice woos Buddy and Alice's Yalie brother, Junior Tierney, wins the favor of Betty's hardworking sister, Frances ("If You Were the Only Girl in the World"). But, romance fizzles, and the ball falls apart when the Gold sisters are unceremoniously booted from the restricted club, leaving Mickey in the lurch when his partner Buddy mysteriously disappears along with his girl, Betty.
Act Two
The second act opens ("After the Ball"), with Mickey and Junior waking the Delancey Street neighbors in their attempt to win back Betty and Frances ("Hello! MyBaby"). Tierney arrives, infuriated, and forbids Junior to return to the Lower East Side. Betty tries to tell Mickey the truth about Buddy's identity, but a hotheaded misunderstanding leaves Mickey believing that Betty can never love him because she's in love with Buddy ("I Don't Care")!
To save his wounded pride, Mickey gets mixed up with Johnny Giovanni's gang ("Ballin' the Jack"), and Mickey and Buddy must now come up with a new song to save their lives ("My Buddy / I Ain't Got Nobody"), Junior must deliver the Gold sisters an eviction notice and Frances must convince the neighbors to occupy Delancey Street so they won't end up homeless ("Ain't We Got Fun").
Facing heartbreak and ruin, all decide "There'll Be Some Changes Made." Junior cashes in his trust, Tierney hires Johnny's gang to torch the neighborhood. Johnny strong-arms Mickey into doing his dirty work and Buddy rescues Mickey with a song, unwittingly revealing "his" true identity ("You Made Me LoveYou").
Mickey at last sees Betty for who she, as love wins the day, the kids save the neighborhood, songs get published, dreams come true and a crackerjack sing-along brings everyone together ("Hello! My Baby").
Connect
Billing
Concept, Book, and New Lyrics by

Musical Arrangements by
Requirements
You must give the authors/creators billing credits, as specified in the Production Contract, in a conspicuous manner on the first page of credits in all programs and on houseboards, displays and in all other advertising announcements of any kind.
Percentages listed indicate required type size in relation to title size.
You agree to bill the Play and the Authors in all programs, houseboards, displays and in all advertising and all paid publicity, in the following manner:
HELLO! MY BABY
Concept, Book and New Lyrics by
CHERI STEINKELLNER

Music and Lyrics by
the Authors of the Great American Songbook*
Musical Arrangements and Additional Music by
Brian P. Kennedy, Craig Safan,and Michael Kosarin
The World Premiere of Hello! My Baby was produced by Rubicon Theatre Company,
Karyl Lynn Burns and James O'Neil, Artistic Directors;
under the direction of Brian McDonald, in the Spring of 2012
Developmental production by Goodspeed Opera House,
Michael P. Price, Executive Director, in December of 2011
Presented at Village Theatre's 2011 Festival of New Musicals, Issaquah, Washington
As an integral part of this license, you further agree to insert in each program of the Play the following credit lines exactly as listed for each of the following compositions:
MUSICAL NUMBERS
ACT I
"THE PLUGGERS' PROLOGUE"
  "HELLO! MY BABY"  (1899) by Joseph Howard & Ida Emerson           
  "SWANEE " (1921) by George Gershwin & Irving Caesar         
  "I'M JUST WILD ABOUT HARRY"  (1920) by Noble Sissle & Eubie Blake                 
  "TOOT-TOOT-TOOTSIE"  (1922) by Kahn/Erdman/Russo                       
  "HOT TIME IN THE OLD TOWN"  (1896) by Theodore Metz & Joe Hayden    
  "SIDEWALKS OF NEW YORK"  (1914) by James Blake & Charles. B. Lawlor
  "ROCK-A-BYE YOUR BABY"  (1918) by Jean Schwartz & Joe Young          
  "YES SIR, THAT'S MY BABY"  (1920) by Walter Donaldson & Gus Kahn
"PLAY A SIMPLE MELODY"  (1914) by Irving Berlin. Additional music/lyrics Craig Safan & Cheri Steinkellner (2012)
"I'M ALWAYS CHASING RAINBOWS"  (1918) by Harry Carroll & Joseph McCarthy
"MODERN MAJOR GENERAL"/ (1879)
"THREE LITTLE MAIDS"  (1885) by Gilbert & Sullivan                  
"A GOOD MAN IS HARD TO FIND"  (1918) by Eddie Green             
"OH, JOHNNY, OH!"  (1917) by Abe Olman & Eddie Rose                   
"JA-DA"  (1918) by Robert Carleton. Additional music/lyrics Safan & Steinkellner (2012)  
"SOME OF THESE DAYS"  (1910) by Shelton Brooks
"ALICE BLUE GOWN"  (1919) by Harry Tierney & Joseph McCarthy  
"IF YOU WERE THE ONLY GIRL"  (1916) by Nat D. Ayer & Clifford Gray                 
ACT II
"HELLO! MY BABY"  (1899) by Howard & Emerson                       
"I DON'T CARE"  (1909) by Jean Lenox & Harry O. Sutton      
"I'LL BUILD A STAIRWAY TO PARADISE"  (1922) by George Gershwin/Arthurs/DaSylva   
"BALLIN' THE JACK"  (1913)      by Jim Burris & Chris Smith                    
"McKEE & GOLD BREAKDOWN"  (2012) by Craig Safan & Cheri Steinkellner        
"MY BUDDY" (1922) by Henry Burr                                   
"I AIN'T GOT NOBODY"  (1915) by Roger Graham & Spencer Williams        
"AIN'T WE GOT FUN?"  (1921) by R. Whiting, R. Egan, Gus Kahn        
"THERE'LL BE SOME CHANGES MADE"  (1921) by Benton Overstreet, Wm Blackstone
"YOU MADE ME LOVE YOU"  (1913) by Joseph McCarthy, James Monaco      
Additional transition and dance music: "GRIEG'S MORNING SONG", "AFTER THE BALL", "BY THE BEAUTIFUL SEA", "CAN-CAN", "THE 1812 OVERTURE", "THE HAPPY FARMER", "SWAN LAKE", "STRAUSS WALTZ"
Video Warning
In accordance with the Performance License, you MUST include the following warning in all programs and in a pre-show announcement:
ANY VIDEO AND/OR AUDIO RECORDING OF THIS PRODUCTION IS STRICTLY PROHIBITED.

If you purchase a video license to allow non-commercial video recording of this production, then you MUST include the following warning in all programs and in a pre-show announcement:
ANY VIDEO RECORDING MADE OF THIS PERFORMANCE IS AUTHORIZED FOR PERSONAL, AT-HOME, NON-COMMERCIAL USE ONLY. THE SALE OR DISTRIBUTION OF SUCH RECORDING IS STRICTLY PROHIBITED UNDER FEDERAL COPYRIGHT LAW.
Included Materials
| Item | Quantity Included |
| --- | --- |
| DIRECTOR'S SCRIPT | 1 |
| LIBRETTO/VOCAL BOOK | 24 |
| PIANO CONDUCTOR'S SCORE | 2 |
Production Resources
Resource
HOW DOES THE SHOW GO ON-10/CS
HOW DOES THE SHOW GO ON?
LOGO PACK
LOGO PACK DIGITAL
LOGO TEES SIX-PACK ADULT LARGE
LOGO TEES SIX-PACK ADULT MEDIUM
LOGO TEES SIX-PACK ADULT SMALL
LOGO TEES SIX-PACK ADULT X-LARGE
LOGO TEES SIX-PACK ADULT XX-LARGE
LOGO TEES SIX-PACK CHILD LARGE
LOGO TEES SIX-PACK CHILD MEDIUM
LOGO TEES SIX-PACK CHILD SMALL
PERFORMANCE ACCOMPANIMENT RECORDING
PRODUCTIONPRO-DIGITAL SCRIPT/SCORE
REFERENCE RECORDING
REHEARSAL ACCOMPANIMENT RECORDING
STAGE WRITE APPLICATION
VIDEO LICENSE
STANDARD ORCHESTRATION
| Instrumentation | Doubling |
| --- | --- |
| BASS | |
| PERCUSSION | |
| PIANO 2 | |