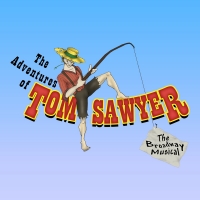 The Adventures of Tom Sawyer TYA
The classic Mark Twain story jumps off of the page in this adaptation of America's favorite book.
Full Synopsis
When the curtain rises, we see Tom Sawyer fishing happily in a meadow outside of St. Petersburg, Missouri, in 1840. When his friends arrive, he joins them in a game of Robin Hood. Tom's strict, but kindly, Aunt Polly sends him off to school, where he tricks the schoolmaster, Mr. Dobbins, into letting the class have the day off.
The next morning, Aunt Polly orders Tom to whitewash the fence in front of their house. Tom's half-brother, Sid, an insufferable goody-goody, couldn't be happier. Frustrated, Tom sings about his plan to run away someday and have adventures ("Here's My Plan").
As Tom procrastinates, he meets a beautiful newcomer to the town, Becky Thatcher. They're instantly attracted to each other. Next, along comes Tom's best friend in the world, the town's outcast, Huckleberry Finn. When Huck comments that painting the fence looks like fun, Tom gets an idea. Moments later, Tom tricks his schoolmates into painting the fence for him... and paying for the privilege ("Smart Like That")!
That night, Tom and Huck go on an adventure and visit the local graveyard. There, hidden behind a gravestone, they see the troublemaking Injun Joe and have a fight with Doc Robinson, the local doctor ("Hands All Clean"). Before long, Joe murders Doc Robinson before their very eyes! The boys run off and swear in blood to keep mum forever about the bloody deed ("The Vow"). Meanwhile, Injun Joe arranges to have a local vagrant, Muff Potter, blamed for the murder.
On the way to school the next day, Tom tries to convince Huck to learn to read, but Huck is afraid. A few minutes later, Huck saves kindly old Widow Douglas from the advances of the town drunk. In gratitude, she offers to teach Huck how to read; in fact, she offers him her home as a place to live. Huck promises that he will think about it.
In school that day, Tom saves Becky from getting into trouble. Moments later, they declare their undying love for each other ("To Hear You Say My Name").
A few days later, Muff Potter is arrested for murder. Muff doesn't realize that Injun Joe has framed him and he pleads with Joe to save him from hanging. Joe says that he'll help, provided that Muff gives him a map that Muff has found – a map leading to that legendary treasure, Murrell's Gold.
As Muff is taken to jail, Tom faces a terrible choice: Should he tell the truth about the murder and save Muff Potter, thereby incurring the wrath of Injun Joe? Or should he keep his vow to Huck and let Muff hang?
At Muff Potter's trial, Tom takes the stand. He tells the truth and swears that Injun Joe committed the murder. Injun Joe springs from his seat and screams "You are dead, boy!" He throws a knife at Tom, then races from the courtroom amid a hale of gunfire.
A few weeks later, Huck comes to warn Tom that Injun Joe has returned to town and that he needs to be "prepared" for him, for he is the one that Joe wants to kill.
The next morning, after weeks of secret tutoring bythe  Widow Douglas, Huck at last learns how to read. He and the Widow celebrate with a song of joy ("I Can Read!").
This is the day of the annual town picnic, and the festivities begin with the exploration of McDougal's Cave, a cavern of frightening size and darkness.
Now, however, a tragedy occurs. Tom and Becky get lost in the cave. Aunt Polly and Judge Thatcher are frantic, and they  begin searching for the two children, as the rest of the town helps.
Underground, Tom and Becky desperately try to find a way out of the cave. Tom assures Becky that they'll succeed ("Light"). When Becky is alone for a moment, Injun Joe springs from a passage and grabs her, demanding to know where Tom is. Suddenly, Tom jumps out from behind a rock, and a moment later, Huck shows up. With great courage, the three friends battle Injun Joe and defeat him.
Although badly shaken, the children find Murrell's Gold, a vast treasure of gold coins. Moments later, they see a ray of daylight shining through a crack in the wall. Exhausted, they crawl out of the cave, safe at last.
That same day, the people of St. Petersburg are holding a funeral service for the lost children. During the service, Tom, Huck and Becky limp into town. They peek into the church... and realize that they're watching their own funeral!
When the children are discovered, the town goes wild with happiness. Aunt Polly is overjoyed to have Tom back. Sid is not.
In the final moments of the play, Huck reveals to Tom that he's learned how to read, and the two friends run off to celebrate with the rest of the town ("Finale").
Show History
Inspiration
The Adventures of Tom Sawyer is a musicalized version of the classic novel by Mark Twain, set in Missouri in the 1840s. The seeds for the musical were planted in the early 1990s at a Nashville songwriters' retreat, which was held in the attempt to draw some country artists to write for Broadway. Don Schlitz, a Grammy-winning songwriter who has written country hits for everyone from Kenny Rogers to Randy Travis to Mary-Chapin Carpenter, had been invited to attend the day-long seminar and was impressed with what he heard. The late director Mike Ockrent connected him with bookwriter Ken Ludwig (Lend Me a Tenor, Crazy for You) to start working on the show. Over the course of six or so years, Schlitz claims that he wrote between 75 to 80 songs for the musical.
In adapting the novel to the stage, Ludwig kept many of the major facets of the story intact. Most notably missing is the rather dark ending from the book, that of Injun Joe being accidentally sealed inside McDougal's Cave, later discovered to have starved to death. Instead, the musical ends with Tom, Huck and Becky observing their own funerals, and the friends celebrating with the rest of the town.
Productions
The Adventures of Tom Sawyer premiered at the Shubert Theater in New Haven, Connecticut, on February 28, 2001. The cast featured Joshua Bell as the title character, in addition to performances from Kristen Bell, Tom Aldredge, Jane Connell and John Dossett. The production then moved to Broadway, opening at the Minskoff Theater on April 26, 2001. However, in a Broadway season dominated by The Producers, the musical was short-lived and it closed on May 13, after 21 performances and 34 previews. However, it has gained new legs in regional houses and has become a popular choice among community theatres across America.
Trivia
The Broadway production of The Adventures of Tom Sawyer was nominated for two Tony Awards, four Drama Desk Awards and two Outer Critics Circle Awards. It was also nominated for a Drama League Award for Distinguished Production of a Musical.
Critical Reaction
"A joyous, wholesome, literate, and wonderfully realized production guaranteed to dazzle and enchant children and adults alike. Ken Ludwig has provided a theatrically lucid and intelligent adaptation of Twain's masterpiece, a book many consider the Great American Novel, without sacrificing credibility to dramatic structure or moral honesty to histrionic preachiness. Don Schlitz has provided music and lyrics so firmly grounded in the American rural experience as to seem songs you learned in childhood, and are here hearing again after being forgotten for too many years."
– Talkin' Broadway
"Mr. Ludwig's book does a nifty job of condensing the novel, maintaining its episodic character but cleverly joining elements from different scenes to keep the narrative bobbing along. ...Mr. Schlitz, a Grammy-winning composer of country songs (including "The Gambler"), has written a handful of winning tunes."
– The New York Times
"The Adventures of Tom Sawyer [is] fast-moving and bright.... [It] overflows with innocence and affection. ...Such a well-packaged work, and such good fun."
– The Washington Post
"There are a few strong songs admirably performed by the talented adults.... The book by Ken Ludwig hits the iconic moments of Twain's famous novel.... There are worthy elements here."
– TheaterMania
"Tom Sawyer had charm, melody, and a genuine professional polish. ...The score by country songwriter Don Schlitz was a tuneful and polished professional effort. ...Schlitz's first-ever Broadway effort blended easily with Ken Ludwig's often amusing book, which played some interesting variations on the original story."
– musicals101.com
Connect
Billing
Conceived and Written by

Music and Lyrics by
Based on the novel by Mark Twain
Requirements
You must give the authors/creators billing credits, as specified in the Production Contract, in a conspicuous manner on the first page of credits in all programs and on houseboards, displays and in all other advertising announcements of any kind.
Percentages listed indicate required type size in relation to title size.
"You agree to bill the Play and the Authors in all programs, houseboards, displays and in all advertising and all paid publicity, in the following manner: Specifically, you must bill the Play and the Authors as follows:
The Adventures of
TOM SAWYER
Based on the Novel by Mark Twain
Conceived and Written by 

KEN LUDWIG

Music and Lyrics by

 DON SCHLITZ

 
Originally Produced on Broadway by
James M. Nederlander, James L. Nederlander, and Watt/Dobie Productions
The following warning shall be required in prominent fashion in your program:
"The videotaping or other video or audio recording of this
production is a violation of United States Copyright Law and an actionable
federal offense."
The videotaping or other video or audio recording of this production is strictly prohibited
Included Materials
| Item | Quantity Included |
| --- | --- |
| LIBRETTO/VOCAL BOOK | 15 |
| PIANO VOCAL SCORE | 2 |
| STUDY GUIDE | 1 |
| TYA PERFORMANCE TRACKS | 1 |
Production Resources
Resource
HOW DOES THE SHOW GO ON-10/CS
HOW DOES THE SHOW GO ON?
LOGO PACK
LOGO PACK DIGITAL
LOGO TEES SIX-PACK ADULT LARGE
LOGO TEES SIX-PACK ADULT MEDIUM
LOGO TEES SIX-PACK ADULT SMALL
LOGO TEES SIX-PACK ADULT X-LARGE
LOGO TEES SIX-PACK ADULT XX-LARGE
LOGO TEES SIX-PACK CHILD LARGE
LOGO TEES SIX-PACK CHILD MEDIUM
LOGO TEES SIX-PACK CHILD SMALL