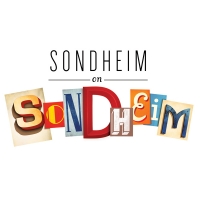 An intimate look at the Father of the Modern Musical, featuring new arrangements of his most beloved work.
Full Synopsis
Act One
The curtain rises as the show begins with a vocal overture. The cast appears on stage throughout the overture, highlighting some of the greatest hits by Mr. Stephen Sondheim.
A video of Stephen Sondheim comes on. He introduces himself to the audience and reveals why he was named Stephen, discusses his birth and then introduced his father; a self-taught piano player who helped Stephen learn the ropes and write his very first tune, "I'll Meet You at the Donut." The cast performs the song.
Sondheim then introduces A Funny Thing Happened on the Way to the Forum, the first musical for which he wrote both the music and lyrics. He explains that it is based on an idea by a man named Burt Shevelove. The cast performs "Invocation / Forget War." Sondheim adds that the song was the original opening but was cut when director, George Abbott, said that he did not like it. In its place came "Love Is in the Air." The cast proceeds to perform the song.
Sondheim goes on to say how much of a "disaster" the show was. To attempt to solve the problem, Jerry Robbins joined the team as a show doctor; he tells Stephen to write a new opening. In turn, Stephen writes "Comedy Tonight." The cast appears on stage to perform the well-known tune.
We now transition to Sondheim's childhood; an actress performs "Take Me to the World." The video begins again, with Stephen discussing his parent's divorce and his move to Pennsylvania with his mother. He goes on to explain how Dorothy and Oscar Hammerstein became his surrogate parents during his teen years, and that this is why he became a songwriter... because Oscar was.
Moving into the early career of Stephen Sondheim, a video comes on. It is Stephen, discussing his first professional show at the age of 23 years old, called Saturday Night. He goes on to explain that Lem Ayers, the lead producer of the show, died about halfway into the process. The cast appears and they perform "So Many People," a song from the show.
After trying to pitch the music of Saturday Night to producers, he became noticed and was invited to do the lyrics for West Side Story. Sondheim admits that he was very hesitant initially, but Hammerstein encouraged him to take the job. The cast performs "Something's Coming."
An interview between Mike Douglas and Sondheim pops up, where they are discussing neurotic characters. Sondheim reveals that he likes neurotic people. A man and a woman perform "You Could Drive a Person Crazy," from Sondheim's Company. "The Wedding Is Off," an old version of "Getting Married Today," is then performed. Next, we are treated to a rendition of "Now You Know," from Merrily We Roll Along.
A video of Sondheim begins, introducing his relationship with longtime collaborator, Hal Prince, as a producer and director. It then segues into "Franklin Shepard, Inc.," a song about a writing partnership gone bad, from his musical, Merrily We Roll Along. Immediately following, an actor appears on stage and performs the ballad "Good Thing Going."
Sondheim begins discussing his writing process. He mentions the difficulty of getting those first words down and, furthermore, the challenge of completing a song once the shape of it has completely changed. "Waiting for the Girls Upstairs," from the iconic musical, Follies, is played out on the stage. Sondheim notes that this octet was originally intended as a duet.
Next, we transition to the story of Sweeney Todd, and how it all came to be. Sondheim mentions that he saw the play, written by Christopher Bond, in a small theatre outside of London and immediately thought it could be a great musical. "Epiphany," from Sweeney Todd, is performed as Sondheim explains the drastic mood changes within the song; it's about a man whose mind is cracking.
At the conclusion, a new video begins. In it, Sondheim talks about the inspiration behind Passion; a song from the show, "Fosca's Entrance (I Read)," is presented. Sondheim adds more about the development of the story and the characters as we are treated to a new song from the musical: "Is This What You Call Love?" Sondheim then introduces the song, "Loving You," which was added during previews in an attempt to explain the obsession on the part of the ugly woman.
The interview with Mike Douglas comes on again, with Sondheim mentioning his "surprise hit," as we see a compilation of spliced-together videos that create an entire performance of "Send in the Clowns" from A Little Night Music. It is a YouTube montage.
Next comes the topic of relationships. Stephen Sondheim discusses his confusion with sexuality, and that he once visited a Freudian analyst, admitting that he didn't fall in love until the age of 60. The cast performs a rendition of "Happiness" from Passion.
Act One ends with a finale medley, including "Ever After" from Into the Woods, "A Weekend in the Country" from A Little Night Music and "Sunday" from Sunday in the Park with George.
Act Two
The second act opens with Sondheim discussing the environment in which he writes, and the cast performing an original tongue-in-cheek Sondheim song titled "God."
We now transition to love songs from a "60 Minutes" interview. Sondheim explains that he needs characterizations, or a topic, in order to begin writing a love song. He cannot freely write a generic love (or "torch") song. Two women come to the stage and perform "Losing My Mind / Not a Day Goes By."
Sondheim is now discussing the question of his songs being autobiographical. He insists that none of the characters are him; they are new people, created with the help of his collaborators. He adds that there is only one autobiographical song that he has written.  A trio of actors appears and performs "Opening Doors" from Merrily We Roll Along.
Next, he mentions the creation of a show called Bounce (now known as Road Show). The cast performs a song from the musical titled "The Best Thing That Ever Has Happened."
A new video begins; Sondheim is discussing the origins of Company and how marriages are. He reveals that he took out a notepad, called Mary Rodgers, and began a long discussion with many notes. Sondheim then goes on to explain that there were three endings to the musical – the first involved a proposal from Bobby to a girl named Amy. The song was called "Multitudes of Amys." Sondheim then notes that they changed it to end with a song, by Bobby, assessing all of the marriages. This song was titled "Happily Ever After." He says that the producers thought it was too much of a downer, so he turned that song into the final ending: "Being Alive."
We transition to the issue of poetry versus lyrics. Sondheim is discussing changes he made in the London revival of Follies and why he made them. "Ah, But Underneath" is performed. A clip from the Levin Interviews plays; Sondheim tries to define the difference between poetry versus lyrics and what he writes: poetic lyrics. A woman appears on stage and sings "In Buddy's Ears" from Follies.
Sondheim comes onto the screen again and proclaims that Assassins is the show with which he ever came the closest to being satisfied... because he cannot think of any way to fix it. The cast performs "Something Just Broke." This transitions into "The Gun Song."
We now begin finding out more about the shows on which Sondheim collaborated as a contributor, both as a lyricist and composer. The first addressed is Do I Hear a Waltz?, in which Sondheim wonders why he spent a year and a half working on it. The cast performs the title song. The next collaboration mentioned is Gypsy, and Sondheim reveals a song that was intended for Rose, but cut from the second act after only a single performance, called "Smile, Girls." He then proceeds to relay his favorite Ethel Merman story that involves "The Loretta Young Show."
Sondheim now begins talking about the show that is "closest to his heart," which is Sunday in the Park with George. The song, "Finishing the Hat," is performed. It is followed by the song, "Beautiful."
Discussing mothers and children, Sondheim reveals that he had a difficult relationship with his mom and feels that she never wanted him. The cast performs "Children Will Listen" from Into the Woods. An interview is played, and Sondheim admits to regretting not having, children but insists that teaching his art is another way to do that. An actress sings "Send in the Clowns" from A Little Night Music.
The show ends with a section about the role of collaborators and how they have had an impact on Sondheim as a person and a writer. The cast closes with various tunes from Sondheim favorites, including: Company, Merrily We Roll Along and Anyone Can Whistle.
Show History
Inspiration
Sondheim on Sondheim is about the life and work of legendary musical theater composer/lyricist, Stephen Sondheim. Sondheim on Sondheim is a revue of Mr. Sondheim's considerable body of work, interspersed with a taped interview of him telling stories. The stories he tells are from his childhood and from his time working on various shows; some of the stories illuminate the method behind his craft and give insight into the origin of iconic musical theater moments.
Productions
Sondheim on Sondheim was produced by The Roundabout Theatre Company. Previews began March 19, 2010, and the production opened April 22, 2010, at Studio 54. The production was directed by James Lapine, and the cast featured Barbara Cook, Vanessa Williams, Tom Wopat, Norm Lewis, Euan Morton, Matthew Scott, Erin Mackey and Leslie Kritzer.

The show closed June 27, 2010.
Cultural Influence
Stephen Sondheim is one of the most highly regarded composer/lyricists in musical theatre history. He was a

protégé

 of Oscar Hammerstein, II, who is often referred to as the father of the modern musical. Along with director/producer, Harold Prince, Sondheim is credited with creating the concept musical, starting with his show, Company. With James Lapine, the conceiver and director of Sondheim on Sondheim, he has written several shows, including the Pulitzer Prize-winning Sunday in the Park with George.
Following the production at the Roundabout Theatre Company, a cast album was released that captures, not only the songs from the show, but also much of the text from the interviews.
Also in 2010, Knopf published an anthology of Mr. Sondheim's lyrics, written by Sondheim himself, called Finishing the Hat. A second anthology called Look I Made a Hat was published in 2011. Several of the anecdotes in Sondheim on Sondheim are also included in these books.
Trivia
Stephen Sondheim has won a Pulitzer Prize for Drama, an Academy Award for Best Song, eight Grammy Awards, and eight Tony Awards.
James Lapine conceived a version of this revue in 2008. That version was called Sondheim: Musical Revue, and it was meant to help celebrate the 40th anniversary of the Alliance Theatre company in Atlanta, Georgia. However, for financial reasons, the production never made it to the stage.
Sondheim on Sondheim premiered in 2010, shortly after Stephen Sondheim turned 80 years old.
Sondheim has written over fifteen Broadway shows, including lyrics for Gypsy and West Side Story, and music and lyrics for A Funny Thing Happened on the Way to the Forum, A Little Night Music, Sweeney Todd, Sunday in the Park with George and Assassins.
Critical Reaction
"Is Stephen Sondheim God?' And the answer, for those of us for whom musicals are truly a religion, is – now as then – yes. Or to use the language of the common folk, 'Well, duh.'"
– Ben Brantley, The New York Times


"Who wouldn't want to spend an evening with Broadway's musical-theater Shakespeare discussing his work and dishing about his experiences?"
– Backstage


"Thank God for Stephen Sondheim. Not just for his songs, but for his running commentary, which punctuates the new revue Sondheim on Sondheim at regular intervals."
– New York Post


"Engrossingly entertaining and thoroughly captivating. An enchanting, warm and provocative opportunity to hear not only Sondheim's songs but, literally, the master's voice."
– Steven Suskin, Variety
Outstanding Musical Revue
2010
-
Drama Desk Award -,
Nominee
(Outstanding Musical Revue)
Distinguished Production of a Musical
2010
-
Drama League Award -,
Nominee
(Distinguished Production of a Musical)
Outstanding New Broadway Musical
2010
-
Drama League Award -,
Nominee
(Outstanding New Broadway Musical)
Connect
Billing
Music and Lyrics by

Conceived and Originally Directed by
Requirements
You must give the authors/creators billing credits, as specified in the Production Contract, in a conspicuous manner on the first page of credits in all programs and on houseboards, displays and in all other advertising announcements of any kind.
Percentages listed indicate required type size in relation to title size.
SONDHEIM ON SONDHEIM
(100%)
Music and Lyrics by
STEPHEN SONDHEIM
Conceived and directed on Broadway by
JAMES LAPINE
(50%)
The following credits shall appear at the foot of the title page, in a size of type [25]% of the size of the title:
Inspired by a concept by David Kernan
Originally produced on Broadway by Roundabout Theatre Company
Todd Haimes, Artistic Director, Harold Wolpert, Managing Director, Julia C. Levy, Executive Director
The following credit shall appear with the designer credits whenever and wherever the designer credits appear, in a size of type 25% of the size of the title, but no less favorable than the size of the other designer credits:
Video Created and Designed by Peter Flaherty
In addition, if the Broadway orchestrations/arrangements are used, the following credits must be added on the title page of all programs for the Play:
Orchestrations by Michael Starobin 
Arrangements by David Loud  
NOTE:  If MTI or a licensee uses the Joan Marcus photo of Sondheim that appeared in the Roundabout artwork, she must receive credit:  "Photo by Joan Marcus."
Additional Song Credits: You shall include the following credits whenever and wherever the other song credits appear in all programs for the Play:
"Do I Hear A Waltz?"
© 1965 by Richard Rodgers and Stephen Sondheim.  Copyright Renewed.
Williamson Music (ASCAP), an Imagem Company, owner of publication and allied rights of Richard Rodgers. Burthen Music Company, Inc., owner of publication and allied rights of Stephen Sondheim.  International Copyright Secured.  All Rights Reserved.  Used by Permission.
"Something's Coming" by Leonard Bernstein and Stephen Sondheim.
© 1957 Amberson Holdings LLC & Stephen Sondheim.  Copyright renewed.
 
Video Credits: You shall include the following credits in all programs for the Play:
Clips from "The Mike Douglas Show" courtesy of CBS Television Distribution; clip from the Bernard Levin Interviews courtesy of BBC and the Levin Estate; clip from "The David Frost Show" courtesy of CBS Television Distribution and David Frost ; clips from "The South Bank Show" are courtesy of ITV Studios Limited; clips showing actors and Stephen Sondheim rehearsing for Company and clip showing Ethel Merman and various cast members from Gypsy courtesy of Pennebaker Hegedus Films, Pamela Myers and the Estate of Ethel Merman; clips from "20/20" courtesy of ABC News; clips from "60 Minutes" courtesy of CBS News Archive and Diane Sawyer; West Side Story footage is courtesy of MGM, the Estate of Natalie Wood and Richard Beymer; "Send in the Clowns Montage": Clip of Glynis Johns courtesy of Glynis  Johns; clip of Frank Sinatra courtesy of South Bay Music and the Frank Sinatra Estate; clip of Judy Collins courtesy of the "Muppet Show" and Judy Collins; clip of Patti LaBelle courtesy of Pattonium, Inc.; clip of A Little Night Music  courtesy of Sascha Films and Elizabeth Taylor; clip of Judy Dench from A Little Night Music courtesy of ITV Studios Limited and Judi Dench; clip of The Treorchy Male Choir courtesy of Frederick O'Brien and Dean Powel; clip from One Voice courtesy of Barbra Streisand; clips of Olivia Broderick courtesy of Miriam Ascarelli and James Broderick; clip of Aldo Blaga courtesy of Aldo Blaga; clip of ice skater, Joan Chanel, choreography Bobby Beauchamp, courtesy of Joan Chanel; clip of Bernadette Peters courtesy of Bernadette Peters; clip of Sarah Vaughan courtesy of the Estate of Sarah Vaughan; clip of Warren Freeman courtesy of Warren Freeman.  Various photos courtesy of Black Star, Freidman-Abeles Studio, Getty Images, Martha Swope; Peter Cunningham, Rivka Katvan, Mary Rodgers Guettel and RHO/Imagem.  Photograph by Richard Avedon, Stephen Sondheim, composer, New York, June 12, 1961 © 2010 The Richard Avedon Foundation.
The videotaping or other video or audio recording of this production is strictly prohibited
Included Materials
| Item | Quantity Included |
| --- | --- |
| "HOW TO" BOOK | 1 |
| LIBRETTO/VOCAL BOOK | 12 |
| MEDIA KIT 1 | 1 |
| PIANO CONDUCTOR'S SCORE ACT 1 | 1 |
| PIANO CONDUCTOR'S SCORE ACT 2 | 1 |
| PIANO VOCAL SCORE ACT 1 | 1 |
| PIANO VOCAL SCORE ACT 2 | 1 |
Production Resources
Resource
FULL SCORE ACT 1
FULL SCORE ACT 2
HOW DOES THE SHOW GO ON-10/CS
HOW DOES THE SHOW GO ON?
LOGO PACK
LOGO PACK DIGITAL
PRODUCTIONPRO
REFERENCE RECORDING
TRANSPOSITIONS-ON-DEMAND
STANDARD ORCHESTRATION
| Instrumentation | Doubling |
| --- | --- |
| BASS | ACOUSTIC BASS |
| CELLO | CELLO , GLOCKENSPIEL |
| HORN | |
| KEYBOARD 1 | |
| REED 1 | ALTO SAXOPHONE , CLARINET , FLUTE , OBOE , PICCOLO , SOPRANO SAXOPHONE |
| REED 2 | BASS CLARINET , BASSOON , CLARINET , FLUTE , TENOR SAXOPHONE |
| VIOLIN | CHIMES , VIOLIN |