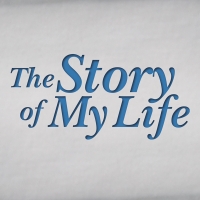 A man struggles to write his best friend's eulogy in this emotional tribute to the people who change our lives.
Full Synopsis
Thomas Weaver, an author of popular short stories, has returned to his hometown to deliver the eulogy for his childhood friend, Alvin Kelby, but finds himself moments away from his friend's funeral with nothing but a notebook full of empty pages. His last, desperate attempts to write only lead to frustration. ("Write What You Know")
Thomas' reality is suddenly punctured by Alvin's presence, and Thomas finds himself deep inside his own mind, surrounded by endless shelves cluttered with papers and books, a lifetime's accumulation of memories and stories. Alvin offers to help his friend with the task of writing the eulogy by choosing from the "thousands of stories in this head of yours" – and what better place to start than the day they met ("Mrs. Remington")?
But Thomas is determined to complete his task without help and rejects the story. Refusing to be dismissed, Alvin offers up another story – the story of the last time that they saw each other. Only a week ago, Thomas was to write another eulogy, one for Alvin's father. The telling of this story barely begins when Thomas abruptly rejects it, too.
Alvin persists and finds another story, one that recalls a Christmas Eve that was spent by searching his father's bookstore for the perfect gift for his friend ("The Greatest Gift"), a gift, which Thomas recognizes in hindsight, nudged him into becoming a writer ("1876").
This small revelation piques Thomas' interest, and Alvin continues selecting story after story. He tells about their annual tradition of making snow angels and watching Frank Capra's It's a Wonderful Life. He tells about the two of them sneaking into the funeral chapel to pay respects to their beloved Mrs. Remington. He tells of the time that they promised to deliver each other's eulogy, "whichever comes first" – a promise that trapped Thomas in his current dilemma.
When Alvin settles on a story of Thomas belittling Alvin's obsession with a flapping butterfly in order to teach him the art of adolescent survival ("Normal"), Thomas retaliates by choosing a story that reminds Alvin of the repercussions of his eccentric behavior. Alvin's response, "People Carry On," leaves Thomas with a deeper understanding of his friend.
Seeing his friend soften, Alvin takes the opportunity to reintroduce the story of the last time that they saw each other. This time, they get deeper into the story, revealing that although Thomas had been asked to write the eulogy for Alvin's father, he chose instead to read, as Alvin puts it, "a quote from a dead poet." Again, Thomas puts an abrupt end to this story.
Undeterred, Alvin carries on selecting stories, tracing through the passing years as life began to intrude upon their friendship. There's one about Thomas seeking Alvin's critique of a short story written as a part of his college application, unaware that Alvin's acceptance or rejection could alter the course of his life ("The Butterfly"). There's the story about their self-conscious farewell as Thomas departed for college ("Saying Goodbye – Part 1"), which left Thomas uncertain about the depth of Alvin's feelings toward him. There's the one about Thomas returning home and struggling with a writing assignment but unable to find inspiration ("Here's Where It Begins") There's the one about Thomas introducing his fiancée to his not-so-eager-to-meet-her friend ("Saying Goodbye – Part 2"). As each story emerges, tiny connections between them become more and more apparent, gradually opening Thomas' eyes to the effect that Alvin had on his life.
That effect is a two-way street, though. Alvin chooses a story in which Thomas, seeing his friend trapped in his small-town existence, invites Alvin to venture out for the first time, an invitation that would change the dynamic of their friendship forever ("Independence Day").
When Thomas justifies his behavior ("I Like It Here"), Alvin responds with a searing commentary on the choices made by his award-winning friend ("You're Amazing, Tom"). In response, Thomas demonstrates the challenges of his profession by revealing his struggles with a "work in progress" ("Nothing There"), but in doing so, only proves that in removing his friend from his life, he has left himself bereft of inspiration. Infuriated by this revelation, Thomas rifles through the stacks of stories, unleashing fragments of memories in a final, desperate search for something to complete the eulogy.
Alvin launches once more into the story of their last meeting. This time, the story plays out completely, with Alvin confronting Thomas for choosing the "quote from a dead poet," rather than writing words of his own. Thomas argues that "living in a small town and selling books doesn't inspire epic poetry." Alvin points out that his own simple life became the inspiration for all of Thomas' successful writing. Thomas violently denies Alvin's contribution to his success. Hurt, Alvin decides to deliver his father's eulogy himself. Thomas sneaks into the funeral chapel to watch his friend speak. Revisiting this memory, Thomas sees his friend in a new light ("I Didn't See Alvin").
Amid the rubble of Thomas' mental library, Alvin suggests one more story – the story of his tragic ending. Seeking absolution and desperate to know what happened to his friend, Thomas begs him to tell it. Alvin tells him that there are some stories that Thomas can never know – some questions that will always remain unanswered ("This Is It").
Emotionally and creatively restored by Alvin's words, Thomas returns to his work-in-progress ("Angels in the Snow") and is finally able to complete the story. Alvin returns to where we first discovered him, nestled in the cluttered library of Thomas' mind, and Thomas steps up to the podium. He closes his notebook and confidently begins telling the story of his friend's life.
Show History
Inspiration

Although the authors, Neil Bartram and Brian Hill, have said that the show is not remotely autobiographical, they say they have both experienced having people in their lives who profoundly affected them, which is the show's theme. Bartram has also said that there are specific situations in the musical that are inspired by events and people in their lives.
Productions

Following developmental readings at Manhattan Theatre Club, The Eugene O'Neill Theater Center, and CanStage, The Story of My Life was produced in Toronto at the Canadian Stage Company in 2006. It was next produced at the National Alliance for Musical Theatre's Festival of New Musicals in the fall of 2007.
The Story of My Life then ran at Goodspeed Musicals in East Haddam, Connecticut, from October 10, through November 2, 2008.
The Story of My Life then moved to Broadway's Booth Theatre on February 3, 2009, and opened officially on February 19, 2009. It closed on February 22, after only five performances and 18 previews.
The show was then produced regionally, opening in April of 2010 at Act 2 Playhouse in Ambler, Pennsylvania. Act 2's Producing Artistic Director, Bud Martin (an original producer of the Broadway production), directed, and the production starred Barrymore Award Winner Tony Braithwaite and Jim Stanek.
The Story of My Life then opened at the Dongsoong Art Center in central Seoul, South Korea, on July 13, 2010, produced by the OD Musical Company. That production returned on October 28, 2011.
The Story of My Life has enjoyed many regional productions since its Broadway stint, opening in cities from San Francisco to Chicago.
Cultural Influence
PS Classics released the original cast recording of The Story of My Life on June 2, 2009.
The Story of My Life was featured in the Festival of New Musicals, sponsored by the National Alliance for Musical Theatre. NAMT has nurtured the creation, development, production and presentation of new musicals since 1985.
In 2011, OD Musical Company, which produced The Story of My Life in South Korea, released a film version based on the South Korean production.
Trivia
The original Broadway cast featured Will Chase and Malcolm Gets, and was directed by Tony Award winner Richard Maltby, Jr. (Ain't Misbehavin', Fosse, Ring of Fire).
The Story of My Life marked the Broadway debut of the writing team of Neil Bartram (music and lyrics) and Brian Hill (book).
Critical Reaction
"The Story of My Life is a heartfelt little musical that has the courage of its sweet-tempered, low-key convictions. These days, that's a novelty. In a Broadway world of big musicals determined to sell themselves, this gentle new show celebrates softly but with an emotional pull that slowly wins you over."
– Michael Kuchwara, The Associated Press


"A brilliantly done concert musical that fits into the holiday mood. Ninety minutes of pure magic."
– Al Bresloff, "Around the Town Chicago"
"When the original cast recording comes out, see if you don't find yourself moved to Google the name of some long-lost friend with whom you simply lost touch. The Story of My Life inspires us to reconnect with those who were part of the earliest chapters of our own life stories."
– Broadway World
Drama Desk Award Nomination
2009
-
Nominee, Drama Desk Award:,
Nominee
(Outstanding Book - Brian Hill)
2009
-
Nominee, Drama Desk Award:,
Nominee
(Outstanding Musical - Neil Bartram and Brian Hill)
2009
-
Nominee, Drama Desk Award:,
Nominee
(Outstanding Music - Neil Bartram)
2009
-
Nominee, Drama Desk Award:,
Nominee
(Oustanding Lyrics - Neil Bartram)
Barrymore Award
2009
-
Barrymore Award: Outstanding Ensemble,,
Nominee
(Act 2 Playhouse Production)
Jeff Award Recommendation
2010
-
Recommendation, Jeff Awards:,
Nominee
(Chicago's Tony Awards)
Connect
Billing
Music and Lyrics by

Book by
Requirements
You must give the authors/creators billing credits, as specified in the Production Contract, in a conspicuous manner on the first page of credits in all programs and on houseboards, displays and in all other advertising announcements of any kind.
Percentages listed indicate required type size in relation to title size.
Licensee shall incorporate the following credits and comply with all size and other restrictions on the title page of all playbills and programs, and in all houseboards, displays and in all other advertising, press release and any other promotional material, except as otherwise provided below, as follows:
THE STORY OF MY LIFE
Music and Lyrics by

NEIL BARTRAM

Book by

BRIAN HILL
In addition, you agree to include the following on the main credit page in all programs and in all advertising and publicity wherever and whenever full production credits are given, in a size of type not less than 25% of the type size used for the non-logo title of the Play:
Original Broadway Production produced in 2009 by
Chase Mishkin, Jack M. Dalgleish, Bud Martin, Carole L. Haber
in association with Chunsoo Shin
"The Story of My Life" received its world premiere at
the Canadian Stage Company's Berkeley Street Theatre,
in Toronto, Canada on November 2, 2006
The Musical was presented at the National Alliance for Musical Theatre's Festival of New Musicals in 2007
Subsequently Produced by Goodspeed Musicals,
Michael P. Price, Executive Producer
In addition, you agree to include the following biography with the other biographies in the theatre program:
GOODSPEED MUSICALS has achieved international acclaim for its dedication to the preservation and advancement of musical theatre. Under the direction of Michael P. Price since 1968, Goodspeed produces three musicals each season at the Goodspeed Opera House in East Haddam, Connecticut, 17 of which have gone to Broadway (including Man of La Mancha, Shenandoah, and Annie), receiving more than a dozen Tony Awards, In addition, Goodspeed produces three new musicals each year at The Norma Terris Theatre, opened in 1984 in Chester, Connecticut, for the development of new musicals. Also integral to its mission, Goodspeed houses the Scherer Library of Musical Theatre, which preserves scores, sheet music, scripts, original cast recordings, playbills, and theatre memorabilia, and has established the Max Showalter Center for Education in the Musical Theater to educate and train future generations of theatergoers and theatrical professionals. Goodspeed has received two Special Tony Awards, for its outstanding achievements. To learn more visit
www.goodspeed.org
.
Video Warning
In accordance with the Performance License, you MUST include the following warning in all programs and in a pre-show announcement:

ANY VIDEO AND/OR AUDIO RECORDING OF THIS PRODUCTION IS STRICTLY PROHIBITED.
Included Materials
| Item | Quantity Included |
| --- | --- |
| ERRATA LIST | 1 |
| LIBRETTO | 6 |
| PIANO VOCAL SCORE | 4 |
Production Resources
Resource
HOW DOES THE SHOW GO ON-10/CS
HOW DOES THE SHOW GO ON?
PRODUCTIONPRO-DIGITAL SCRIPT/SCORE
REFERENCE RECORDING
STAGE WRITE APPLICATION
STANDARD ORCHESTRATION
| Instrumentation | Doubling |
| --- | --- |
| CELLO | |
| PIANO CONDUCTOR'S SCORE ACT 1 | |
| PIANO CONDUCTOR'S SCORE ACT 2 | |
| REED 1 | CLARINET , OBOE , TRIANGLE |
ALTERNATE ORCHESTRATION
| Instrumentation | Doubling |
| --- | --- |
| ALT: BASS | |
| ALT: CELLO | |
| ALT: PC PART 1 | |
| ALT: PC PART 2 | |
| ALT: PERCUSSION | BELL TREE , BELLS , CROTALES , CYMBAL , DRUM KIT , EGG SHAKER , FINGER CYMBAL , GLOCKENSPIEL , MARK TREE , SHAKER , SMALL TRIANGLE , SUSPENDED CYMBAL , TIMPANI , WOOD BLOCK , XYLOPHONE |
| ALT: REED 1 | CLARINET |
| ALT: REED 2 | BASSOON |
| ALT: TRUMPET | |
| ALT: VIOLA | |
| ALT: VIOLIN | |