THE STORY OF MY LIFE: Now Available for Licensing!
THE STORY OF MY LIFE: Now Available for Licensing!
Let THE STORY OF MY LIFE become the talk of your town!
Music Theatre International is pleased to announce THE STORY OF MY LIFE (nominated for 4 Drama Desk Awards, including Best Musical) is now available for licensing. With music and lyrics by Neil Bartram, book by Brian Hill, and direction by Richard Maltby, Jr. (Tony Award winning director of Ain't Misbehavin'), this heartfelt musical explores the bonds of friendship, love, forgiveness, and letting go.
An original musical, THE STORY OF MY LIFE focuses on two men, Alvin Kelby and Thomas Weaver. Thomas, a successful short story author, returns home to deliver the eulogy of best friend, Alvin Kelby. Unable to begin the eulogy, Thomas begins to explore the past, conjuring Alvin and the memories they shared as children and men. The two-person original Broadway cast featured Will Chase as Thomas Weaver (High Fidelity, "Roger" in the final cast and filmed stage version of Rent) and Malcolm Gets as Alvin Kelby (A New Brain, Hello Again, and NBC's Caroline in the City).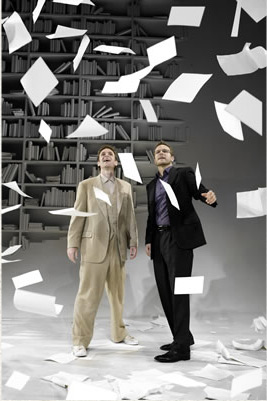 Malcolm Gets and Will Chase in the Broadway Production of THE STORY OF MY LIFE
Neil Bartram and Brian Hill have created a contemporary masterpiece that is perfect for regional and community theaters around the country. With a cast of two and minimal settings, this show is perfect for small budgets and intimate theatre spaces.
For more information or to license, visit THE STORY OF MY LIFE on MTI Shows.
To "click" with other THE STORY OF MY LIFE fans, visit MTI ShowSpace.
Visit the show's website at www.thestoryofmylife.com