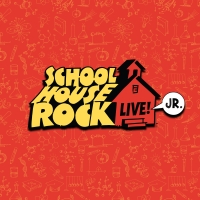 Schoolhouse Rock Live! JR.
Based on the ever-popular, award-winning 1970s cartoons, this fast-paced musical teaches lessons with clever, catchy tunes.
Full Synopsis
Tom Mizer, a new teacher, wakes up and prepares for his first day of school by practicing what he is going to say to his students. Tom struggles to find the right way to introduce himself, and the Ensemble enters speaking Tom's anxious inner thoughts. Tom decides he needs to relax and turns on the TV, where he finds that Schoolhouse Rock is on ("Schoolhouse Rocky"). Tom is shocked when the characters in the television show begin talking directly to him. Tom's attempts to scare them away fail, and George explains that the characters are just the ideas in Tom's head. Dina points out to Tom that the audience is also part of Tom's psyche. Shulie and the rest of the group pull him into the world of Schoolhouse Rock by explaining, and acting out, the world of nouns ("A Noun Is A Person, Place, Or Thing").
Tom is still a little confused and anxious, but George explains that's why the group is there: to help Tom prepare for his first day. Though Tom is eager to get to his lesson plans, George reassures him that teaching will be as easy as one, two, three ("Three Is A Magic Number"). Tom exclaims, "That was the coolest song!" and Dina proclaims that they have lots of other cool songs. Tom defends himself by saying "cool" was the first adjective he could think of. Dori asks what an adjective is, and the group explains this feature of grammar ("Unpack Your Adjectives"). From this song, Tom learns the best way to teach grammar is with imagination, but he then realizes he still needs help teaching other subjects. George becomes "Bill" to help Tom find a creative way to teach social studies ("Just A Bill").
Tom expresses his surprise at how much he has forgotten about Schoolhouse Rock. Shulie reminds him that the TV show helped him pass a Constitution exam when he was younger. Tom reminisces about the song that helped him on his test ("The Preamble"). The song prompts Tom to remember something he's known all along: learning should be fun, like a game. Dina is tired and mentions that she's ready for a nap, but Tom insists they keep up their momentum ("Do The Circulation").
Joe expresses exhaustion, and Tom replies that the song was quite fun. Dori then prompts Tom with a question made of a conjunction, as do Dina and Shulie. When Tom questions what the group is getting at, they respond with another song ("Conjunction Junction"). Tom feels inspired by the song. Joe points out that many of Tom's students won't be from America and will speak English as a second language, and Tom promises to keep this idea in mind in his teaching ("Great American Melting Pot"). Tom points out that America didn't come together as a country so easily ("Elbow Room").
Shulie ponders the notion of colonizing the moon, and Tom mentions he never knew anyone who traveled in space. Shulie says that she knows someone: Janet! ("Interplanet Janet").
George tells Tom they must go, but Tom pleads with them to stay. The group insists on leaving and sends him off with good wishes. Tom tells them he has a little more time left before his school day starts, so they all agree to sing one last song ("Interjections"). ("Bows").
Connect
Curriculum Connection
Grammar
Biology
Measuring distance
US History
The Solar System
Space Travel
Billing
Lyrics by

Music by

Book by
Requirements
You must give the authors/creators billing credits, as specified in the Production Contract, in a conspicuous manner on the first page of credits in all programs and on houseboards, displays and in all other advertising announcements of any kind.
Percentages listed indicate required type size in relation to title size.
Author Billing – Schoolhouse Rock Live! JR.
In accordance with the Dramatic Performing Rights License, all advertising, such as posters and program covers, must include the show logo as provided in the ShowKit® Director's Guide and all of the following author billing.
It is a violation of your contract if you crop or edit this logo in any way.
The [Licensee]
Production of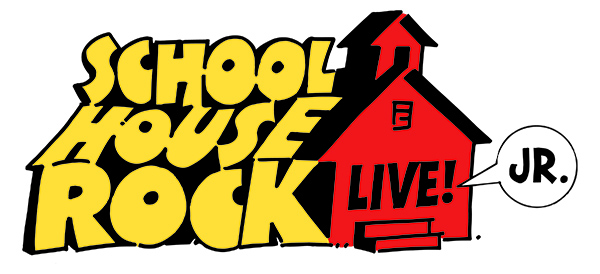 Originally Adapted and Produced for the Stage by
Theatre BAM
From the Series Created by
George Newall and Tom Yohe
Based on an Idea by David McCall
Originally Conceived and Directed by Scott Ferguson
Book by
Scott Ferguson, Kyle Hall and George Keating
Music and Lyrics by
Lynn Ahrens, Bob Dorough, David Frishberg,
Kathy Mandry, George Newall and Tom Yohe
The videotaping or other video or audio recording of this production is strictly prohibited
Included Materials
Production Resources
Resource
ACTOR'S BOOK TENPACK
CUSTOMIZABLE SHOW POSTER
FAMILY MATTERS
FAMILY MATTERS (PACK OF 10)
HOW DOES THE SHOW GO ON-10/CS
HOW DOES THE SHOW GO ON?
STREAMING & REMOTE LICENSE