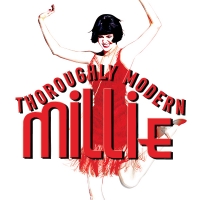 Forget about the boy when a small town girl searches for a new life in the bright lights of 1920s New York City.
Full Synopsis
Act One
Mille Dillmount arrives in 1922 Manhattan. She has guts, pluck, charisma and moxie. She may be from a small town, but she's got big dreams. She's here to make those dreams come true and nothing can deter her or send her running home. She intends to be chic and modern, but she's not quite there yet ("Not for the Life of Me"). In the midst of all the excitement of her arrival, Millie gets mugged. She loses her scarf, hat, shoe and purse. When Jimmy Smith, a brash city slicker with an irrepressibly buoyant personality, enters, Millie trips him to get his attention. He tells her to go back to Kansas and, when Millie refuses, he suggests that she check into the Hotel Priscilla, a rooming house for actresses. The defiant Millie plans on staying and making her mark in the big city just like all the other girls at the Hotel Priscilla ("Not for the Life of Me – Tag").
At the hotel, the girls – Lucille, Rita, Alice, Gloria and Ruth – bemoan not getting any acting roles. Ethel brings in that day's newspaper, featuring a headline that reads, "White Slavery." She tells the girls that many young girls, mostly orphans, have suddenly disappeared without anyone noticing. Mrs. Meers, the hotel's proprietor, enters. She is a former actress-turned-criminal. She pretends to be a kindly Chinese woman in order to mask her true profession: a white slave trader. She thinks she is a wonderful actress, but her Chinese accent is deplorable and her depiction of a hateful stereotype is held up to ridicule by real Chinese people. Mrs. Meers gives Ethel a telegram with the sad news that her great uncle has died; Ethel reveals that she is now an orphan. Mrs. Meers invites her to come have a cup of tea and then stealthily makes arrangements to sell Ethel into slavery.
Millie enters, and Mrs. Meers tells her that she has to leave the hotel because she is behind on rent. While Millie tries to persuade "Meersie" to let her stay, the ingénue, Miss Dorothy Brown, enters. Millie makes a deal with her to share her room as long as Dorothy sleeps on the floor. Miss Dorothy is excited to make the acquaintance of her first poor person; she's on her way down. Conveniently, Millie is on her way up ("How the Other Half Lives"). Millie explains that she plans to marry her boss; the only hitch is that she doesn't have a boss yet. Mrs. Meers offers Ethel's room to Miss Dorothy, which has just recently become available. She is also delighted to discover that Miss Dorothy is an orphan. Millie and Miss Dorothy head upstairs. In order to get the elevator going they must tap dance their way up. They ascend as they chat happily.
In the laundry room of the hotel, Ching Ho and Bun Foo fold towels. Mrs. Meers enters and tells Bun Foo to take Ethel to Buddha – her contact in the white slave trade – and to collect the money. Ching Ho is to take a snack to the new arrival, Miss Dorothy. We discover that the boys, who speak and sing in Chinese with subtitles, are working here to save money to bring their mother over from Hong Kong ("Not for the Life of Me – Reprise").
Later, Millie attempts to interview with Trevor Graydon, the President of Third of Sincere Trust Insurance; Graydon is a businessman who needs a stenographer... and who happens to be single. Miss Flannery, the office manager, is clear that she thinks Millie is a modern and does not approve of her. Mr. Graydon, however, gives Millie a convoluted typing test, which she passes with flying colors ("The Speed Test"). She gets the job.
Back at the hotel, Ching Ho brings Miss Dorothy a room service apple, which Mrs. Meers has injected with a large hypodermic needle. However, when Ching Ho see Miss Dorothy, he is instantly smitten. Rather than give her the apple, he tries to warn her about Mrs. Meers. Mrs. Meers tries to give Miss Dorothy the apple herself, but is foiled by Millie and Alice's sudden appearance. Alone, Mrs. Meers laments the acting career that she was never given the chance to have and applauds herself for putting her talents to such good use in her current line of work ("They Don't Know").
Millie, Miss Dorothy and the girls head out to celebrate Millie's job. They try to find a speakeasy, but to no avail. They bump into Jimmy, who shows them that there is one just under their noses. Millie begrudgingly accepts his help getting them in – since he is a member – and Jimmy is impressed that Millie has stayed in New York. Inside the club, a wild dance ensues that leads Millie and Jimmy to dance together ("The Nutty Cracker Suite"). The joint is then raided. While mug shots are being taken, Jimmy and Millie get to know each other better: he's from Long Island and currently flits from job to job to support his lifestyle. In the jail cell, Jimmy watches Millie sleep and tries to convince himself that he is not falling for her ("What Do I Need with Love"). The next morning, Jimmy tries to invite Millie to a Yankees game. She declines, telling him that her boss is her fiancé. Jimmy insists that they go to the game anyway, since his interest in her is not romantic. He tells her to bring Miss Dorothy, as well.
At the Priscilla, Mrs. Meers enters in a laundry cart, sporting rubber gloves, surgical mask and scrubs, holding a rag and a bottle. She intends to knock Miss Dorothy out and cart her away. She chastises Ching Ho for losing his heart to Miss Dorothy and making her do this. Before she can follow through with her dastardly plan, Millie enters in a new dress to show the girls. Millie asks Mrs. Meers about the bottle. Mrs. Meers claims that the bottle is soy sauce and that she was using it to clean the carpet. Millie and Miss Dorothy go to meet Jimmy, who has gotten them an invitation to a welcome home party for Muzzy Van Hossmere in her glamorous penthouse.
The glamorous Muzzy enters, singing the praises of New York City ("Only in New York"). Muzzy's guests include New York's elite, like the Gershwins and Dorothy Parker. Jimmy enters with Millie and Miss Dorothy, explaining to Millie that his father was the gardener at Muzzy's Long Island estate. Miss Dorothy meets Rodney, an old friend from the orphanage, and she, Jimmy and Rodney leave. Muzzy tells Millie that, although the now-deceased Mr. Van Hossmere was very wealthy, she married him for love before she knew his means. During the dancing, Millie spills champagne on Dorothy Parker's dress. Muzzy tells Jimmy that he is in love with Millie and asks what he is going to do about it.
On the terrace, Jimmy calms Millie down after she has stained Parker's dress with champagne and soy sauce. The conversation turns to Mr. Graydon. They argue over Millie's plan, going nose-to-nose when Jimmy grabs Millie and kisses her passionately. She responds, and Jimmy exits in a panic. Millie realizes that she is in love with Jimmy ("Jimmy"). The stage changes to the Hotel Priscilla, where Millie walks in to catch sight of Jimmy leaving Miss Dorothy's room and asking her not to tell Millie. Shocked and brokenhearted, Millie watches him go.
Act Two
At Sincere Trust, Millie will not pick up the phone to talk to Jimmy. Office manager, Miss Flannery, and the other girls urge her to move on. They all have boys in their life that they need to forget ("Forget about the Boy").
Meanwhile, Millie's attempts to flirt with Graydon fall flat. Jimmy shows up, which only interferes further with her plan. Miss Dorothy's presence reminds Millie of the previous night, but the two ladies make up; Miss Dorothy tells Millie that she was just hit on in her audition. Millie encourages Miss Dorothy to toughen up and become a modern, starting with bobbing her hair. Graydon enters and sees Miss Dorothy. They stare at one another and are smitten ("Ah! Sweet Mystery of Life" / "I'm Falling in Love with Someone"). Graydon asks Miss Dorothy to dinner and begs her not to alter her lovely appearance. 

Elsewhere in the building, Jimmy crawls onto a window ledge in order to avoid Flannery and to get Millie's attention. Millie asks him why he was kissing Miss Dorothy, and he replies that he asked for Miss Dorothy's advice about his feelings for her; Jimmy realizes that he loves Millie ("I Turned a Corner"). The two decide to dine at the Cafe Society that night, where Muzzy will be performing. Millie, Jimmy, Graydon and Miss Dorothy all profess their love while Ching Ho enters and professes his own love for Miss Dorothy ("I'm Falling in Love with Someone – Reprise").
Back at the Hotel Priscilla, Mrs. Meers stalks Miss Dorothy, this time with pesticide spray guns. When Ching Ho balks, Mrs. Meers reminds him that he is trying to get his mother to New York. She brings to mind the memory of Bun Foo and Ching Ho's mother, and they recommit to the job ("Muquin"). That night at the floorshow at Cafe Society, Muzzy performs her number ("Long as I'm Here with You"). Millie and Jimmy listen to her sing from the kitchen, where they are washing dishes. Millie visits Muzzy in her dressing room, where she tells Muzzy that she is crazy about Jimmy, but she doesn't want a lifetime of washing dishes in a restaurant kitchen. Muzzy tells Millie that her plan to marry her boss is flawed because, even though she originally thought Mr. Van Hossmere was poor, she married him for love and never regretted it. Millie realizes that she must follow her heart ("Gimme Gimme"). In another part of Cafe Society a drunken man is singing about a lost love; Millie discovers that it is Graydon. Miss Dorothy has stood him up. He even went to the hotel, but she had already checked out. Jimmy overhears and is convinced that something is very wrong. Millie realizes that two orphan girls disappeared without a word to anyone but Mrs. Meers. The three of them decide that they need a decoy orphan, and Millie knows someone who will help them.
Muzzy enters the Hotel Priscilla, disguised as an ingénue, wearing a blond wig and carrying a beat up suitcase. Although Mrs. Meers thinks that the new girl is a little long in the tooth to be an orphan, she welcomes her to the hotel and offers her some green tea. Meanwhile, upstairs, Ching Ho vows to help the gagged and bound Miss Dorothy. Mrs. Meers finally recognizes Muzzy, and Muzzy realizes that Mrs. Meers is Daisy Crumple, who was kicked out of the chorus when they were younger. Mrs. Meers reveals her new profession. Millie, who is hiding in another laundry cart, transcribes the entire conversation ("The Speed Test – Reprise"). Mrs. Meers demands proof, and Bun Foo says that he speaks English and will testify against her. While they search for Miss Dorothy, Mrs. Meers escapes. Miss Dorothy is discovered in an embrace with Ching Ho, who has rescued her from an unspeakable fate ("Ah! Sweet Mystery – Reprise"). The boarders at the hotel, armed with pesticide cans of their own, find Mrs. Meers and force her to follow them to the police station.
Jimmy proposes to Millie and, even though he is poor, she accepts. After she agrees to marry Jimmy, she finds out that he is actually Muzzy's stepson, Herbert J. Van Hossmere, the Third. Miss Dorothy also turns out to be Jimmy's sister, Dorothy Carnegie Mellon Vanderbilt Van Hossmere. Muzzy, afraid of fortune hunters and James squandering his money on the wrong kind of women, sent the children out with 25 dollars and the hopes that they would come back with proper sweet partners, which they did. Bun Foo acquires a job as Graydon's stenographer and he and Ching Ho greet their mama in a joyous family reunion ("Finale").
Show History
Inspiration
Thoroughly Modern Millie is based on the 1967 film of the same name, with a screenplay by Richard Morris and starring Julie Andrews in the title role alongside Mary Tyler Moore and Carol Channing. The film was both a critical and box office hit, going on to become one of the highest grossing films of that year and garnering seven Academy Award nominations. The idea of an adaptation was originally conceived by Dick Scalin, who worked tirelessly to convince original author, Richard Morris, of its potential.
Productions
Thoroughly Modern Millie was first presented as a musical in the 1996 Festival of New Musicals, sponsored by the National Alliance for Musical Theatre (NAMT). At that point, the score was by Dick Scanlan and the late Richard Morris and used none of the music from the 1967 Julie Andrews / Carol Channing film.
In early 1999, composer, Jeanine Tesori, then came on board to compose additional music for the show, which would now incorporate some of the most popular songs from the film. Later that year, Kristin Chenoweth became attached as the titular character, but eventually backed out of the project. 

On October 22, 2000, the show was scheduled to open its out-of-town tryout at the La Jolla Playhouse with Erin Dilly as Millie. Days before the first preview, however, Dilly was replaced by a then unknown Sutton Foster. Despite the last-minute change, the reviews were overwhelmingly positive, and the show extended its run several times due to popular demand.
The remaining cast included such notables as Tonya Pinkins, Pat Carroll and Marc Kudisch.
Finally, on April 18, 2002, after a substantial wait for an available theatre, Thoroughly Modern Millie officially opened on Broadway at the Marquis Theater. Foster and Kudisch remained in their original roles and were joined by Gavin Creel, Harriet Harris and Sheryl Lee Ralph. The show went on to be the most honored show of the season and ran for more than two years and 900 performances, closing on June 20, 2004.
In July 2003, a national tour of Thoroughly Modern Millie began in Kansas City and, later that year, "crossed the pond" and opened at London's Shaftesbury Theatre in the West End. There have also been productions in Canada, Hong Kong, countless regional theatres around the U.S., as well as a School Edition that was introduced at the 2007 International Thespian Convention.
Cultural Influence
Thoroughly Modern Millie launched previously unknown Sutton Foster from the chorus into Broadway stardom. Since her debut as Millie, she has gone on be nominated for five Tony Awards, two of which she has won for Best Leading Actress in a Musical .
Gavin Creel was also rocketed into the limelight, going on to headline Broadway's Hair and the national tour of The Book of Mormon.
The success of the Broadway production led to an original Broadway cast recording, released by RCA Victor in 2002.
Trivia
Thoroughly Modern Millie received a nomination for Best New Musical at the Olivier Awards in 2004.

Add Sutton Foster to the list of famous former orphans! The Tony Award-winning actress made her stage debut at the age of ten as the endearing and enduring ragamuffin, Annie, in Augusta, Georgia.
Critical Reaction
"Breezy, frothy and unapologetically joyful, Millie is a daiquiri to those heavy ales and a tonic for whatever ails you."
– Variety
"The lightweight joys of Thoroughly Modern Millie are the music, especially the rousing title number, and the refreshingly consequence-free world it creates."
– The New York Times
"A thoroughly feel-good, joyous romp.... Perfect family entertainment."
– The Examiner
"There is no denying that Thoroughly Modern Millie is a darn near perfect family show."
– Talkin Broadway
Academy Award
1967
-
Best Supporting Actress,
Nominee
(Carol Channing)
Drama Desk Award
2002
-
Outstanding Costume Design:,
Nominee
(Martin Pakledinaz )
2002
-
Outstanding Director of a Musical:,
Winner
(Michael Mayer )
2002
-
Outstanding Featured Actor in a Musical:,
Nominee
(Marc Kudish )
2002
-
Outstanding Featured Actress in a Musical:,
Winner
(Harriet Harris )
2002
-
Outstanding Lyrics:,
Nominee
(Dick Scanlan )
2002
-
Outstanding Music:,
Nominee
(Jeanine Tesori )
2002
-
Outstanding Musical:,
Winner
()
2002
-
Outstanding Book of a Musical:,
Nominee
(Richard Morris)
2002
-
Outstanding Set Design of a Musical:,
Nominee
(David Gallo )
2002
-
Outstanding Orchestrations:,
Winner
(Doug Besterman)
2002
-
Outstanding Actress in a Musical:,
Winner
(Sutton Foster )
2002
-
Outstanding Choreography:,
Nominee
(Rob Ashford )
Tony® Award
2002
-
Best Performance By A Leading Actor In A Musical,
Nominee
(Gavin Creel)
2002
-
Best Book Of A Musical,
Nominee
(Richard Morris and Dick Scanlan)
2002
-
Best Choreography,
Winner
(Rob Ashford)
2002
-
Best Costume Design,
Winner
(Martin Pakledinaz)
2002
-
Best Performance By A Featured Actress In A Musical,
Winner
(Harriet Harris)
2002
-
Best Performance By A Leading Actress In A Musical,
Winner
(Sutton Foster)
2002
-
Best Orchestrations,
Winner
(Doug Besterman & Ralph Burns)
2002
-
Best Musical,
Winner
(Thoroughly Modern Millie )
2002
-
Best Direction Of A Musical,
Nominee
(Michael Mayer)
2002
-
Best Performance By A Featured Actor In A Musical,
Nominee
(Marc Kudisch)
Outer Critics Circle Award
2002
-
Outstanding Actress in a Musical,
Winner
(Sutton Foster)
Connect
Billing
New Lyrics by

New Music by

Book by
Original Story and Screenplay by Richard Morris for the Universal Pictures Film
Requirements
You must give the authors/creators billing credits, as specified in the Production Contract, in a conspicuous manner on the first page of credits in all programs and on houseboards, displays and in all other advertising announcements of any kind.
Percentages listed indicate required type size in relation to title size.
THOROUGHLY MODERN MILLIE
Book by

RICHARD MORRIS and DICK SCANLAN

New Music by

JEANINE TESORI 

New Lyrics by

DICK SCANLAN
Original Story and Screenplay by
RICHARD MORRIS
for the
Universal Pictures Film
Originally Produced for Broadway by
Michael Leavitt      Fox Theatricals      Hal Luftig
Stewart F. Lane      James L. Nederlander      Independent Presenters Network
L.Mages/M.Glick      Berinstein/Manocherian/Dramatic Forces      John York Noble
and Whoopi Goldberg
* The authors are to receive billing credit where*  The Authors are to receive billing credit wherever and whenever the title of the Play appears, immediately following the title of the Play, including but not limited to all forms of publicity and advertising.  The credit for Book, New Music and New Lyrics shall be equal in size, type, coloring, boldness and prominence, in a size of type no less than Fifty Percent (50%) of the size of type used for the title of the Play.  No billing shall appear in type larger or more prominent than the billing to the Authors except for the title of the Play.  In addition, only stars billed above the title of the Play may receive billing as large or prominent as the Authors.  No billing box may be used.  No person (including without limitation the Licensee) shall be accorded possessory credit (i.e. "Director's Production Of" or "Producer's Production Of" with the title of the Play).
** Credit for the story, screenplay and motion picture company shall appear wherever and whenever the credit to the Authors appears, including but not limited to on all programs, billboards, print advertisements and paid publicity issued or controlled by Licensee.  The size of type for "RICHARD MORRIS" and "UNIVERSAL PICTURES FILM" shall be in Twenty-Five Percent (25%) of the size of type used for the title of the Play.   The size of type for "Original Story and Screenplay by " and "for the" shall be in Seventeen and One-Half Percent (17.5%) of the size of type used for the title of the Play.
*** The Producers credit shall be conspicuously placed on the first page of credits in all programs used for productions of the Play.  The order, title and relative size and spacing of the names of Producers shall be as similar as possible to that above.
Video Warning
In accordance with the Performance License, you MUST include the following warning in all programs and in a pre-show announcement:

ANY VIDEO AND/OR AUDIO RECORDING OF THIS PRODUCTION IS STRICTLY PROHIBITED.
Included Materials
| Item | Quantity Included |
| --- | --- |
| AUDIO GUIDE | 1 |
| ERRATA LIST | 1 |
| LIBRETTO/VOCAL BOOK | 20 |
| PIANO CONDUCTOR'S SCORE ACT 1 | 1 |
| PIANO CONDUCTOR'S SCORE ACT 2 | 1 |
| PIANO VOCAL SCORE | 1 |
Production Resources
Resource
CUSTOMIZABLE SHOW POSTER
FULL SCORE VOL. 1 OF 4
FULL SCORE VOL. 2 OF 4
FULL SCORE VOL. 3 OF 4
FULL SCORE VOL. 4 OF 4
HOW DOES THE SHOW GO ON-10/CS
HOW DOES THE SHOW GO ON?
LOGO PACK
LOGO PACK DIGITAL
LOGO TEES SIX-PACK ADULT LARGE
LOGO TEES SIX-PACK ADULT MEDIUM
LOGO TEES SIX-PACK ADULT SMALL
LOGO TEES SIX-PACK ADULT X-LARGE
LOGO TEES SIX-PACK ADULT XX-LARGE
LOGO TEES SIX-PACK CHILD LARGE
LOGO TEES SIX-PACK CHILD MEDIUM
LOGO TEES SIX-PACK CHILD SMALL
ORCHEXTRA
PERFORMANCE ACCOMPANIMENT RECORDING
PRODUCTIONPRO-DIGITAL SCRIPT/SCORE
REFERENCE RECORDING
REHEARSAL ACCOMPANIMENT RECORDING
REHEARSCORE APP
SCENE PARTNER
STAGE MANAGER SCRIPT
STAGE WRITE APPLICATION
TRANSPOSITIONS-ON-DEMAND
VIRTUAL STAGE MANAGER
STANDARD ORCHESTRATION
| Instrumentation | Doubling |
| --- | --- |
| BASS | |
| CELLO | |
| DRUMS | |
| GUITAR | BANJO , GUITAR , UKELELE |
| HARP | |
| HORN | |
| PERCUSSION | |
| PIANO | CELESTE , PIANO |
| REED 1 | ALTO SAXOPHONE , CLARINET , FLUTE , PICCOLO , SOPRANO SAX |
| REED 2 | ALTO SAXOPHONE , CLARINET , FLUTE , SOPRANO SAX |
| REED 3 | CLARINET , OBOE , SOPRANO SAX , TENOR SAXOPHONE |
| REED 4 | BARITONE SAXOPHONE , BASS CLARINET , FLUTE |
| TROMBONE | |
| TROMBONE 2 | TROMBONE , TUBA |
| TRUMPET | FLUGELHORN , TRUMPET |
| TRUMPET 2 | FLUGELHORN , TRUMPET |
| TRUMPET 3 | FLUGELHORN , TRUMPET |
| VIOLIN | |