BLACK HISTORY MONTH - Innovative Musical Contributions: EUBIE BLAKE
BLACK HISTORY MONTH - Innovative Musical Contributions: EUBIE BLAKE
In honor of Black History Month, MTI Marquee is featuring shows from our catalog that deal with the national celebration's themes, and those African American artists whose work has helped shape musical theater history.
Eubie Blake
, a pioneer whose revolutionary musical efforts in the early 20th century shaped the trajectory of African American's presence in musical theatre. MTI is proud to represent the musical
EUBIE!
, a revue of Blake's songs with lyrics by
Noble Sissle
and
Andy Razaf
. Conceived by
Julianne Boyd
, EUBIE! became the most recent success in the composer's 75-year career. The show was a time for Eubie Blake to have
"his moment in the spotlight,"
to quote Michael Kantor and Laurence Maslon's book
Broadway: The American Musical
.  The high-energy dance show captures the "indomitable spirit of [its] celebrated composer."
Born in an 1887  Baltimore, Maryland, James Hubert "Eubie" Blake was the son of a laundress and a dockworker, both of whom were former slaves. Taking to the piano at age six, Eubie became a professional pianist by the time he was 17. Soon Black partnered with Noble Sissle to form a Vaudeville act called the "Dixie Duo". It was with Sissle that Blake created one of his most notable works: the musical SHUFFLE ALONG, which opened on Broadway in 1921. Eubie continued to produce work after SHUFFLE ALONG, including CHOCOLATE DANDIES, BLACKBIRDS OF 1930, and SWING IT. During his career as a composer he wrote more than 100 songs and lived nearly as many years.
Even from an early age, Eubie's dedication and passion for music, specifically ragtime, was unrestrainable. Because it was often viewed as morally dubious music, Blake's devoutly religious mother forbid him to play the sinful tunes as a young man. Ironically, it's because of artists including and similar to Eubie that ragtime and it's brother jazz have become quintessential American art forms. Both of which comprised the score for he and Sissle's SHUFFLE ALONG.
Blake's Broadway writing debut, SHUFFLE ALONG was an important work not only for
his
career, but for Broadway and race relations in America as a whole. Before the unexpected success of the show, a cast of entirely black actors was unheard of. Even more foreign to theatre-goers, though, was a creative team comprised of mostly black artists. SHUFFLE ALONG had both. Despite its sea of doubters, on May 23, 1921, SHUFFLE ALONG opened and was hailed as a massive critical success from newspapers and critics both black and white. Furthermore, from the original company of  performers emerged the great
Paul Robeson
and beautiful
Josephine Baker
.
Despite its groundbreaking inclusion of artists of color, the style and themes of SHUFFLE ALONG remained in line with the exploitative tropes of the time. In order to succeed, Eubie Blake and his fellow artists were forced to cater to the ideas and expectations of the white audience members. Nevertheless, the barriers SHUFFLE ALONG was able to shatter were monumental for society and Eubie.
Broadway: The American Musical
quotes him as having said "The proudest day of my life was when
Shuffle Along
opened. At the intermission, all these white people kept saying, 'I would like to touch him, the man who wrote the music.'
"
Eubies concludes by saying,
"
At last, I'm a human being."
The most prevalent elements of Eubie Blake's legacy are songs like "I'm Just Wild About Harry" and his role in creating  SHUFFLE ALONG. Lasting and entertaining performance contributions to the American cultural cannon, Blake's work is certainly impressive. However, it's his participation behind the scenes, breaking down racial barriers on and off Broadway, is an indescribable accomplishment.
During his nearly century long life, James Hubert Blake saw the world of American musicals and America itself change massively, thanks to the revolutionary efforts of himself and individuals like him.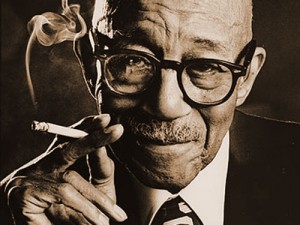 To check out the revue
EUBIE!
which features Blake's music, visit the
MTI showpage
or
MTI showspace
.