Filichia Features: Birds of Paradise Regained
Filichia Features: Birds of Paradise Regained
You could advertise it by stating "From the woman who wrote Wicked!"
That would turn heads, wouldn't it?
More than 15 years before Winnie Holzman penned the libretto to what is now the ninth-longest-running show in all Broadway history, she co-wrote the book as well as all the lyrics to an original musical called Birds of Paradise.
It was a show that Holzman developed with co-librettist and composer David Evans in the '80s when they were enrolled in the NYU Tisch School of the Arts Graduate Musical Theatre Writing Program. Their mentor, Arthur Laurents, was so taken with the project that he agreed to stage the off-Broadway production.
And where was Laurents in his career at this point? This was the first directorial assignment he assumed after guiding La Cage aux Folles to a Best Musical Tony win; it was the one just before he steered Tyne Daly to a Best Actress Tony Award in Gypsy, which also won Best Revival. So you know he had to think it was good.
At first, the show was called Amateurs – a term, as all community theater members will rightfully tell you – comes from the French meaning "to love." It didn't start out to mean "those who aren't good enough to work professionally."
To be frank, the show lasted three weeks in the face of unappreciative reviews. But it might do well in your community theater because it actually deals with community theater.
In this case, it's the mythical Harbor Island Players who plan to do one original musical but wind up choosing another – one by Homer.
We don't mean the Greek Homer, of course, but a local kid who loves musicals and has written the book and the music and the lyrics for one.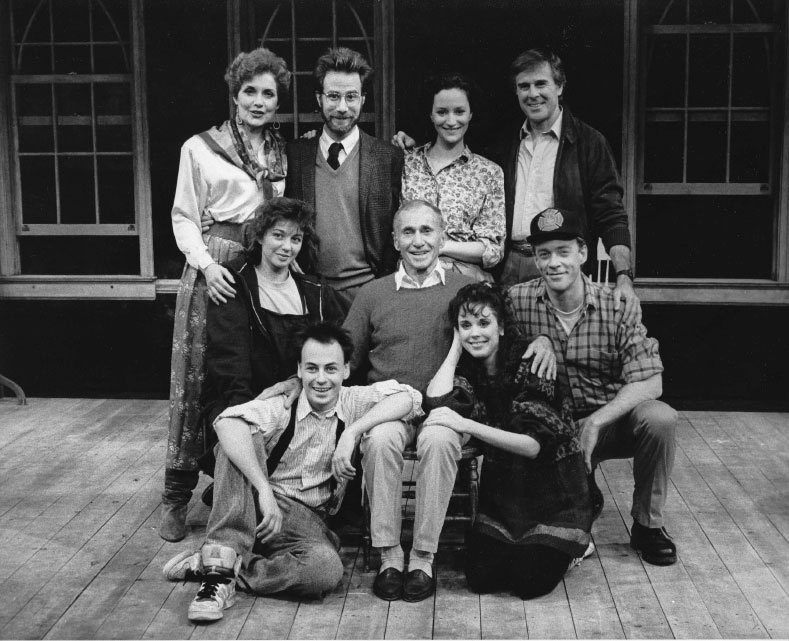 The Original Off-Broadway cast of Birds of Paradise at the Promenade Theatre  (Photo © Martha Swope).
So you know it can't be any good. After all, we can count on the fingers of one-and-a-half hands the number of successful shows that a single person wrote without any collaborators.
Homer's going to get one, though, from a New York actor who's visiting his hometown for the first time in two decades: Lawrence Wood. Because Wood's worked on Broadway and in Hollywood, he's going to get a peck of hero-worship from the Harbor crowd that hasn't.
Wood knows better. "They think I'm somebody. They don't know I'm not." Because he's out of work with nothing to do is why, on a whim, he agrees to stage and star in Homer's show: Seagull, a musical of Chekhov's 1895 play.
Sounds crazy, no? But in their little village of Harbor Island, Wood takes out his blue pencil, causing Homer to wail "That's all wrong! I hate him!" before he must admit "I sometimes like what he's done."
Homer also has trouble with his mother Marjorie, who's about as supportive of his writing as Madame Arkadina was to Konstantin's in The Seagull. Worse, she's always around, because she's Harbor Players' shining star whom Wood cast in Seagull.
If you've worked in community theater for any time at all, you already know all the characters in Birds of Paradise: Marjorie, the grande dame; Dave, the high school music teacher whose musical was supplanted by Homer's; Julia, the young miss who sees stardom on the horizon; Hope, the feminist actress who likes to give everyone an 800-milligram dose of reality; Stella, who sews costumes; Andy, the mechanic who helps as a techie – and whose brother is Lawrence Wood.
You'll soon be saying "That's just like (fill-in-the-blank)" – just as someone else reading the script will say that a character is just like you.
Will you be surprised to know that the plot involves romance, would-be romance and showmance? (Not familiar with the last term? It's what actors like to use to define a romance that lasts only as long as the show is running.) Yeah, that's community theater, too.
Don't assume, however, that Birds of Paradise is, to paraphrase a current Broadway hit, The Musical That Goes Wrong. It's not a farce; despite many funny lines and lyrics, it has a serious message to impart.
We also see that Homer is not without talent. His "Imagining You" – well, Evans and Holzman's "Imagining You," actually – is the most beautiful song you've never heard.
That is, unless you have heard it. Todd Graff, who played Homer in the original production, obviously thought it was a beauty, for in the early 2000s when he was writing Camp – a screenplay about a summer retreat where kid actors could learn theatrical craft -- he remembered the song and put it in his film. Of the hundreds of thousands of songs Graff could have chosen, this was the one he most wanted. How's that for a compliment?
It had to be Holzman's second-greatest thrill of 2003 – for sixty-two days after Camp opened nationwide, Wicked opened on Broadway. You know that one; now get to know this one.
Note: Birds of Paradise was recently performed in concert at the esteemed Feinstein's/54 Below, featuring a cast from the Broadway productions of Urinetown and Wicked.
You may e-mail Peter at pfilichia@aol.com. Check out his weekly column each Monday at www.broadwayselect.com and Tuesday at www.masterworksbroadway.com. His book, The Great Parade: Broadway's Astonishing, Never-To-Be Forgotten 1963-1964 Season is now available at www.amazon.com.