Pulitzer Spotlight: FIORELLO!
Pulitzer Spotlight: FIORELLO!
This is the fourth in a series looking at the Pulitzer Prize for Drama.  Previous articles are categorized under "Pulitzer Spotlight".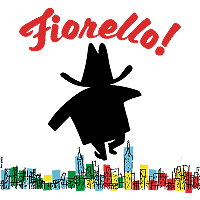 After opening on Broadway in November 1959,
FIORELLO!
became the second musical to win the Pulitzer Prize for Drama.  A funny yet moving look at the life of New York mayor Fiorello H. LaGuardia, FIORELLO! focuses on LaGuardia's election and his dedication to reforming city politics, particularly the political machine of Tammany Hall.  If OF THEE I SING broke boundaries by making fun of politics, FIORELLO! shattered those boundaries by taking politics seriously.  But this critical view of politics is not without humor.  Its New York Times review called the show "...exciting; it is enjoyable and it is decent ...
Jerry Bock
has set ... a bouncy score ... [A]s the writer of lyrics,
Sheldon Harnick
is in an unfailingly humorous frame of mind ... [U]nder Mr. Abbott's invincible stage direction, the whole show comes alive with gusto ... [T]he cast could not be more winning or in better voice."
Jerome Weidman
and
George Abbott's
book doesn't flinch from Fiorello's struggles in breaking Tammany's hold on New York politics.  The show opens with LaGuardia working on the side of a union of female factory workers on strike, and shows how completely the people who elected him turned when he supported policies they felt weren't in their best interests.  LaGuardia refuses to abandon positions he believes in, even when those positions make him grossly unpopular.  Many of the show's songs address the role of politics and the way politicians of the time campaigned and governed.  "The Name's LaGuardia," for example, shows how LaGuardia emphasized his Italian and Jewish background with the appropriate ethnic group, even using Italian and Yiddish to cement his claim to both cultural heritages.
License
Click here
for licensing and other information.
Community
Click here
to share your photos, videos, stories and more on MTI ShowSpace.