Showcase Your Dancers with SEVEN BRIDES FOR SEVEN BROTHERS
Showcase Your Dancers with SEVEN BRIDES FOR SEVEN BROTHERS
SEVEN BRIDES FOR SEVEN BROTHERS is a hilarious, somewhat unconventional romantic musical comedy.  When Milly, a waitress, marries a man she met a few hours ago, she soon discovers her new husband expects her to take care of his six rowdy brothers.  Milly, decidedly less than thrilled with this arrangement, eventually realizes the only way to get the brothers off her hands is to help them find wives of their own.  Through dance, Milly transforms the brothers into fine gentlemen.  At the next social, each brother is drawn to a particular girl...only each girl is already with somebody else.  Frustrated by their poor luck, the brothers decide to simply take the women, causing hilarity - and some lessons about the meaning of marriage - to ensue.

What makes SEVEN BRIDES FOR SEVEN BROTHERS a stand-out show, aside from the plot, is the way it uses dance.  Here, dance does more than entertain; it enables different groups of characters to connect with each other.  Milly's teaching the brothers etiquette culminates with her teaching them how to dance.  The dance lessons provide the sharpest contrast between the uncouth brothers that Milly first encounters, and the more reserved young men she helps them become.  Dancing is also the brothers' first introduction to the town, as well as to women in general, when Milly takes them to a town social.  When the brothers realize that the girls they like already have suitors, they use dance to get them away from the other men - if only for a few moments. Those moments, however, prove vital, as the girls leave the dance smitten with the surprisingly well-mannered strangers...and the brothers can't get the girls out of their heads.

With dance telling such important, intimate parts of the story, SEVEN BRIDES FOR SEVEN BROTHERS is a perfect show for college and high schools with strong dance programs or a talented pool of dancers to draw from.  The show's large cast size and many ensemble roles give plenty of showcase opportunities for actors playing Adam's brothers and their future brides.  Additionally, the importance of dance to character and story in SEVEN BRIDES FOR SEVEN BROTHERS makes the show a gift to choreographers.  The challenge of creating exuberant production numbers that delight audiences while providing character insight is one any choreographer would jump at.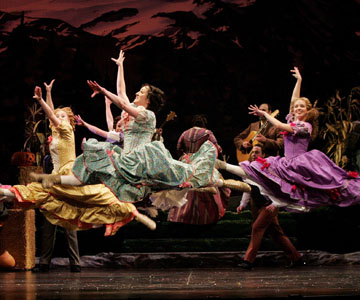 The cast of SEVEN BRIDES FOR SEVEN BROTHERS at the Papermill Playhouse

The piece concludes with the brothers and their new wives finally being able to dance the way they've longed to throughout the story: together, without fear of someone splitting them apart.  This joyous expression of love through dance is what the show's been leading up to, and it's what all the characters - as well as the audience - have earned.

Learn more about SEVEN BRIDES FOR SEVEN BROTHERS and read about success stories here. To license SEVEN BRIDES FOR SEVEN BROTHERS, check out its MTI show page. Discuss this article and SEVEN BRIDES FOR SEVEN BROTHERS in general on its MTI Showspace page.