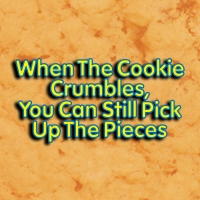 When the Cookie Crumbles, You Can Still Pick up the Pieces
Full Synopsis
When the Cookie Crumbles, You Can Still Pick up the Pieces begins with a group of people coming to terms with the fact that talking about divorce can be painful, but will help in the end. We are then led through a series of skits that concern children who are dealing with the different effects of divorce on their lives. The skits are varied and are all quite relatable. Some are short, such as a series of monologues about a boy whose school lunches are taking a turn for the worst after his parents divorce, or a song where a young boy is being told about his parent's split. There is a skit about a girl meeting – and liking – her dad's new wife, as well as kids trying to get along with their new step-brothers and -sisters... and succeeding. We also follow a young boy whose mom moves him to a new school, and how he deals with meeting new people and making friends. There is even a skit with the children of various fairytale characters, dealing with life when it isn't as perfect as a fairytale. In the end, the group all decides that talking about divorce wasn't so bad, and that the most important thing to help you through it... is love.
"The D Word"
"Dad Said / Mom Said"
"Josh and Emily"
"Home"
"Fairy Tale Family"
"Amy"
"Tap a Tin Can"
"The Middle of Nowhere"
"Circumstance"
"Step by Step"
"I Met Ronnie Today"
"It's Not My Fault"
"D Word Reprise / Finale"
Show History
Inspiration
When the Cookie Crumbles, You Can Still Pick up the Pieces (hereafter referred to as When the Cookie Crumbles) is a musical revue that is composed of vignettes and songs, all focusing around parental divorce. It is a collaborative effort, originally conceived by Jay Harnick and featuring pieces from over thirty writers, including Tony winners Lynn Ahrens and Stephen Flaherty, as well as the creators of the television show, "Friends," David Crane and Marta Kauffman.
Barbara Miller, the director of development for Theatreworks at the time, had gone through a divorce and was concerned about how things were affecting her two sons. She attended a six-week seminar for divorced and separated parents at her son's school, and realized that theatre would be a great medium to break down the roles of children in divorce. She discussed the idea with Harnick, then the artistic director of Theatreworks, who invited members of Broadcast Music Inc., a professional music organization for young composers, to join the project.
Productions
When the Cookie Crumbles premiered with the renowned New York City-based theatre for young audiences company, Theatreworks, in 1986 at the Promenade Theatre.
Critical Reaction
"A musicalized family therapy session that gently advises children to face reality without assuming guilt. ...Its peppy, articulate score suggests a gloss of Rodgers and Hammerstein, Marvin Hamlisch and the zippier Stephen Sondheim. ...Compared with most children's musicals, When the Cookie Crumbles, which was conceived and directed by Jay Harnick, is superior in its craftsmanship."
– The New York Times
"The fact is that as much as your kids will love Theatreworks, you'll probably love it even more."
– Parents Magazine
Billing
Requirements
You must give the authors/creators billing credits, as specified in the Production Contract, in a conspicuous manner on the first page of credits in all programs and on houseboards, displays and in all other advertising announcements of any kind.
Percentages listed indicate required type size in relation to title size.
WHEN THE COOKIE CRUMBLES,
YOU CAN STILL PICK UP THE PIECES
Written by
MICHAEL ABBOTT

LYNN AHRENS

ROO BROWN

DOUGLAS J. COHEN

DAVID CRANE

SIR EDWARD ELGAR

FRANK EVANS

STEPHEN FLAHERTY

CAREY GOLD

JEFF HARRIS

ALLISON HUBBARD

MARTA KAUFFMAN

MICHAEL KESSLER

ANNIE LEBEAUX

HENRY MACH

JUNE SIEGEL

JEFF SILVER

MICHAEL SKLOFF

TOM TOCE

SARAH WEEKS

ED WEISSMAN

WILLIAM YOUNG
Commissioned and Originally Produced by THEATREWORKS/USA
Conceived and Originally Directed by Jay Harnick
In addition, you agree to credit the writers in your program as follows:
"D-Word" by Crane, Kauffman & Skloff
"Dad Said, Mom Said" by Gold
"Josh & Emily" by Crane, Kauffman & Skloff
"Peanut Butter & Jelly" by Brown, Weissman & Young
"Home" #1 by Crane, Kauffman & Skloff
"Fairy Tale Family" by Crane, Kauffman & Skloff
"Amy" by Toce & Cohen
"Peanut Butter & Jelly" #2 by Brown, Weissman & Young
"Home" #2 by Crane, Kauffman & Skloff
"Tap A Tin Can" by Harris & Mach
"Ken & Barbie" by Weeks
"Middle Of Nowhere" by Evans & Silver
"Peanut Butter & Jelly" #3 by Brown, Weissman & Young
"Home" by Crane, Kauffman & Skloff
"Circumstance" by Lebeaux & Elgar
"Step By Step" by Ahrens & Flaherty
"I Met Ronnie Today" by Kessler & Hubbard
"Peanut Butter & Jelly" #4 by Brown, Weissman & Young
"It's Not My Fault" by Roberts & Siegel
"D-Word" Reprise by Crane, Kauffman & Skloff
Video Warning
In accordance with the Performance License, you MUST include the following warning in all programs and in a pre-show announcement:

ANY VIDEO AND/OR AUDIO RECORDING OF THIS PRODUCTION IS STRICTLY PROHIBITED.
Included Materials
| Item | Quantity Included |
| --- | --- |
| LIBRETTO/VOCAL BOOK | 10 |
| TYA PERFORMANCE TRACKS | 1 |
Production Resources
Resource
HOW DOES THE SHOW GO ON-10/CS
HOW DOES THE SHOW GO ON?
LOGO PACK
LOGO PACK DIGITAL