20 is a Magic Number at Mary's Attic, Aug 24 Celebrate Schoolhouse Rock Live! 20th anniversary with original cast and Bob Dorough
20 is a Magic Number at Mary's Attic, Aug 24 Celebrate Schoolhouse Rock Live! 20th anniversary with original cast and Bob Dorough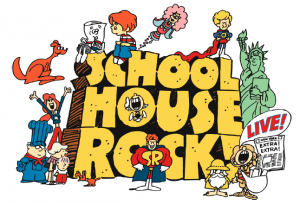 CHICAGO – Aug. 21, 2013. Theatrebam Chicago's touring company presents a special 20th anniversary performance of
Schoolhouse Rock Live!
at 7:30 p.m., Saturday, Aug.24, at Mary's Attic, the second floor lounge of Hamburger Mary's, 5400 N Clark Street, in Chicago's Andersonville neighborhood. Schoolhouse Rock composer, jazz pianist and singer Bob Dorough and the original cast and crew will be singing and dancing along with the rest of the audience. Tickets are $20 and available online at
http://schoolhouserocklive.bpt.me
and at the door.
Schoolhouse Rock! was a series of three-minute cartoons in the 1970s and 1980s that taught children how to unpack their adjectives, memorize the Preamble to the Constitution, and discover that Three is a Magic Number -- the first of many songs Bob Dorough wrote for the TV series. Schoolhouse topics included grammar, history, science, social studies and math. Theatrebam Chicago created and produced the theatrical version of the TV series.
Schoolhouse Rock Live!
opened on Aug. 24, 1993, at Café Voltaire – now the Kanela Breakfast Club. The show ran for four years in Chicago and 11 months in New York. It's regularly performed in schools and theaters throughout the country and is one of Theatrebam Chicago's three musical touring shows for children.
The show has opened doors for the performers, designers and company members for 20 years. Many will be at the anniversary celebration organized by Theatrebam Chicago co-founder and Schoolhouse Rock Live! director Scott Ferguson.  "People are coming in from all over," said Ferguson. "The Fairmont Hotel caught the fever and donated accommodations for our out-of-town guests. The Kanela Breakfast Club is welcoming more than 100 Schoolhouse alums at a private reunion on Sunday."
Original Chicago cast member Tom Mizer is flying in from New York where he writes musical theater. "Schoolhouse Rock Live! taught me how to collaborate during rehearsals to create a musical. It also got me my first stalker," continued Mizer. "He always sat in the front row and even sent brownies back stage."  Shulie Cowen remembers that the show was originally going to have an eight-week run."The audiences were amazing. People came back ten or more times. It prepared me for the show I'm in and direct now in California. We'll be celebrating our 15th anniversary in September."
Dina Joy Byrd recalls that one of her favorite memories is the cast warm up with "all of us rocking out to the theme from Good Times just before we went on stage." She performs in jazz and blues clubs, classical and musical theater, and private events in Chicago and New York.
Dori Goldman, a popular Chicago performer, remembers that the original cast used Café Voltaire's walk-in freezer as a dressing room. She also remembers the pre-show ritual of saying, "kiss my fiancé" and "the darker the berry the sweeter the juice" over and over. And over.
George Keating is a well-known Chicagoland actor and acting teacher. He's a cofounder of Theatrebam Chicago and an original cast member of Schoolhouse Rock Live! He remembers being recognized on the street as "the green guy" because of the green polo shirt he wore on stage. "I also remember the anxiety -- and thrill – that came with trying to select the right audience members for Circulation." Keating is currently directing Theatrebam's next production, Set Up, a romantic comedy for grown ups, which opens at Studio BE on Sept. 8. Information and tickets are available at
www.setupchicago.com
.
"Schoolhouse Rock Live! stayed true to the original material. That's why people kept coming back to see it," explained company co-founder and managing director Nina Lynn."I get to take my children to the show now, and they love it, too. That's my favorite part."
License SCHOOLHOUSE ROCK LIVE!
License SCHOOLHOUSE ROCK LIVE JR!
License SCHOOLHOUSE ROCK LIVE TOO!