5 Questions with Eric Schaeffer about THE FIX
5 Questions with Eric Schaeffer about THE FIX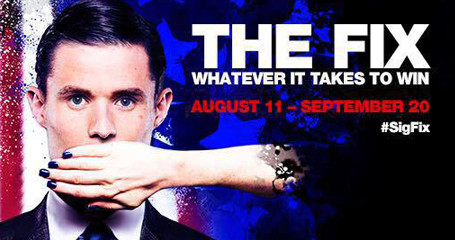 On August 11th Signature Theatre opens their production of
THE FIX
by John Dempsey and Dana P. Rowe. We sat down with director Eric Schaeffer to get the inside scoop on the show the Washington Post described as "[A] wicked fun…luridly overblown comedy of lethally bad manners."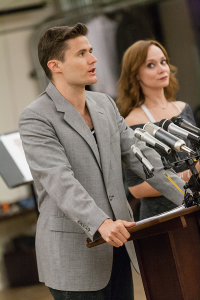 Mark Evans and Christine Sherrill; Photo by Christopher Mueller
Q: What attracted you to The Fix?
ES: I have always been a big fan of John Dempsey and Dana Rowe's works. We presented the American Premiere of the show in 1998 and it became an instant hit with audiences and critics alike. It's a wonderful black comedy on the state of politics in America and in today's climate - it was the perfect time to revive it.
Q:
What challenges are attached to producing/directing this show?
ES: I think the biggest challenge is that you can't be scared of the material. You need to embrace how crazy and insane these characters are that they have created. The show has so much style in the music and acting that it makes it a challenge because you can't treat it like every other musical.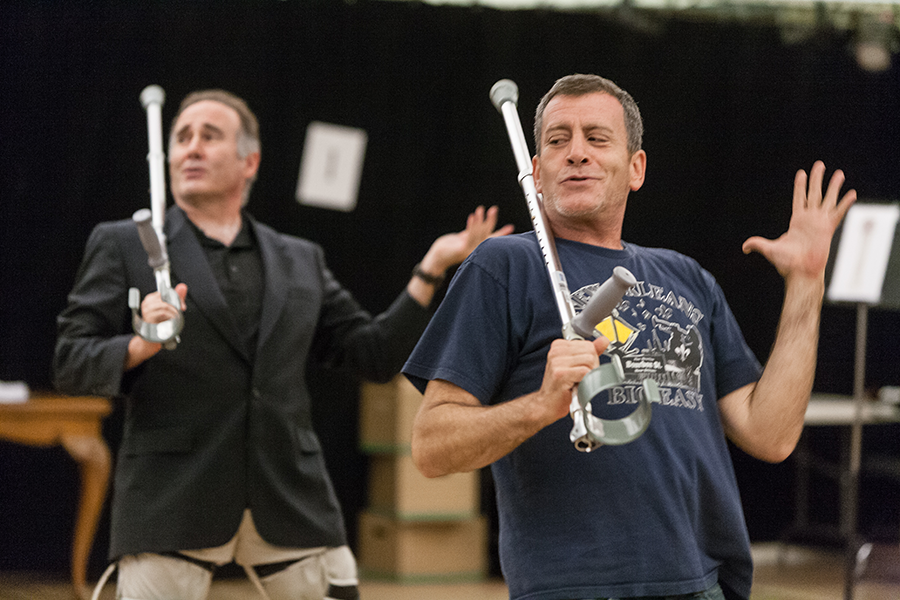 Lawrence Redmond and Bobby Smith; photo by Christopher Mueller
Q:
What have you discovered about the show while in rehearsal?
ES: How relevant it still is. The show does not feel dated by any means - I think it was so ahead of its time and so it's great to have something that is so well written and constructed.  
Q:
How are you generating excitement among your potential audiences?
ES: We've been making our own campaign about Cal Chandler running for President. It's proved hugely popular and is a great twist on the current primaries in our real upcoming election.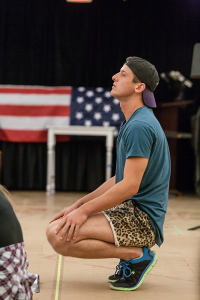 Jordan DeBona; photo by Christopher Mueller
Q:
What should a prospective producer/director know about The Fix?
ES: They should understand how much audiences love the show. And how much artists love the material as well. It's a fun challenging musical but then the best ones always are!
About Signature Theatre
Founded in 1989, Signature Theatre is a Tony Award®-winning regional theater that broadens and brightens the region's cultural landscape with its bold productions of challenging new and established works and engaging education and outreach programs.
Under the leadership of co-founder and Artistic Director Eric Schaeffer and Managing Director Maggie Boland, musical theater has become Signature's "signature," and the Theatre is renowned for its definitive Sondheim productions, inventive adaptations of overlooked or forgotten works, and investment in fresh new projects.
About Eric Schaeffer
Eric Schaeffer is the Co-founder and Artistic Director of Arlington's Signature Theatre. Under his leadership, the Theatre was honored with the 2009 Tony Award® for Outstanding Regional Theater in America, as well as 90 Helen Hayes Awards with an additional 340 nominations for theater excellence in Washington, DC.
At Signature, Schaeffer directed productions including: 
Elmer Gantry
; 
Cloak and Dagger
; 
Beaches
;
Crossing
; 
Miss Saigon
; 
Spin
; 
Hello, Dolly!
 (Ford's Theatre co-production); 
The Best Little Whorehouse in Texas
; 
Brother Russia
; 
Hairspray
; 
Sunset Boulevard
; 
Chess
; 
Show Boat
; 
First You Dream: The Music of Kander & Ebb
; 
The Hollow
; 
Les Misérables
; 
ACE
; 
Kiss of the Spider Woman
; 
Glory Days
; 
The Witches of Eastwick
; 
Saving Aimee
; 
Into the Woods
; 
My Fair Lady
; 
Nevermore
; 
The Highest Yellow
; 
One Red Flower
;
Allegro
; 
Twentieth Century
; 
110 in the Shade
; 
Hedwig and the Angry Inch
; 
The Gospel According to Fishman
; 
Grand Hotel
; 
The Rhythm Club
; 
Over & Over
; 
The Fix
; 
Working
; 
The Rink
; 
Cabaret
; 
First Lady Suite
;
Wings
; 
Poor Superman
; 
Unidentified Human Remains and the True Nature of Love
; and the Sondheim musicals 
Merrily We Roll Along
, 
Sunday in the Park with George
 (Arena Stage co-production), 
Passion
, 
Into the Woods
, 
Company
, 
Assassins
, 
Sweeney Todd
, 
Follies
 and 
Pacific Overtures
, among others.
On Broadway, Schaeffer directed
 Gigi
, the critically acclaimed 
Follies
 as well as the Tony Award®-winning
Million Dollar Quartet
,
 Glory Days
 and 
Putting It Together
. His national tours include 
Million Dollar Quartet
and
 big
. Off-Broadway, he has directed 
Sweet Adeline
 (City Center Encores! Great American Musicals in Concert) and 
Under the Bridge
. His West End credits include 
Million Dollar Quartet
 and 
The Witches of Eastwick
.
Eric's regional credits include Ford's Theatre: 
Meet John Doe
; Goodman: 
Million Dollar Quartet;
 Apollo Theatre: 
Million Dollar Quartet
; Mark Taper Forum: 
Putting It Together
 (w/ Carol Burnett); Chicago: 
Elmer Gantry
; Los Angeles: Disney's 
Snow White
. For the Kennedy Center, Schaeffer served as the Artistic Director of the acclaimed Sondheim Celebration in 2002 as well as directing its productions of 
Sunday in the Park with George
 and 
Passion
. At the Kennedy Center, he also directed 
Follies
 starring Bernadette Peters, 
Mame
 starring Christine Baranski, 
First You Dream: The Music of Kander & Ebb
 and 
Gigi
 starring Vanessa Hudgens.
In 2006, Schaeffer created Signature's musical theater commissioning program, the American Musical Voices Project (AMVP), in partnership with the New York-based Ted & Mary Jo Shen Charitable Gift Fund, to commission and produce new musicals for the American theater canon. Since that time, AMVP has grown to become the largest musical theater commissioning program in the country, providing writers and composers a creative, fertile ground to develop original musicals. Since the program was launched, Signature has commissioned 18 new musicals from composers such as Michael John LaChiusa, Ricky Ian Gordon, Joseph Thalken, Adam Guettel, Jeanine Tesori, Josh Schmidt and Joshua Rosenblum, among others.
Schaeffer earned his BFA from Kutztown University in Pennsylvania, where he received an Honorary Doctorate in 2012. He also received an Honorary Doctorate of Arts from Shenandoah University in 2014.
About The Fix
With a rock-laced, eclectic score and scandalous lyrics, the team behind 
The Witches of Eastwick
 and 
Brother Russia
 skewers the American bureaucratic machine. It's 
The Manchurian Candidate
 meets 
Caligula
, with a voice uniquely its own; 
THE FIX
is a darkly brilliant, over-the-top, audaciously fun ride through the shenanigans of political elections.
When a popular presidential candidate dies in his mistress's arms, his ambitious wife, Violet, immediately declares that if she can't be the 
wife
 of the president, then she'll be the 
mother
 of the president – and thrusts their lackluster son Cal into the spotlight. With the help of her strategic brother-in-law, Violet transforms her son into the perfect citizen and ideal politician. Together, they create one of the most dysfunctional, yet brutally entertaining, almost-first families.
Click here to order a perusal copy or license THE FIX.