5 Questions with the Theatrical Outfit about A Little Princess
5 Questions with the Theatrical Outfit about A Little Princess
This month the Theatrical Outfit in Atlanta invited audience members to the world of Sara Crewe in Andrew Lippa's musical version of the classic children's novel, A Little Princess. Sharing some insight into the production are director Mira Hirsch and Artistic Director Tom Key.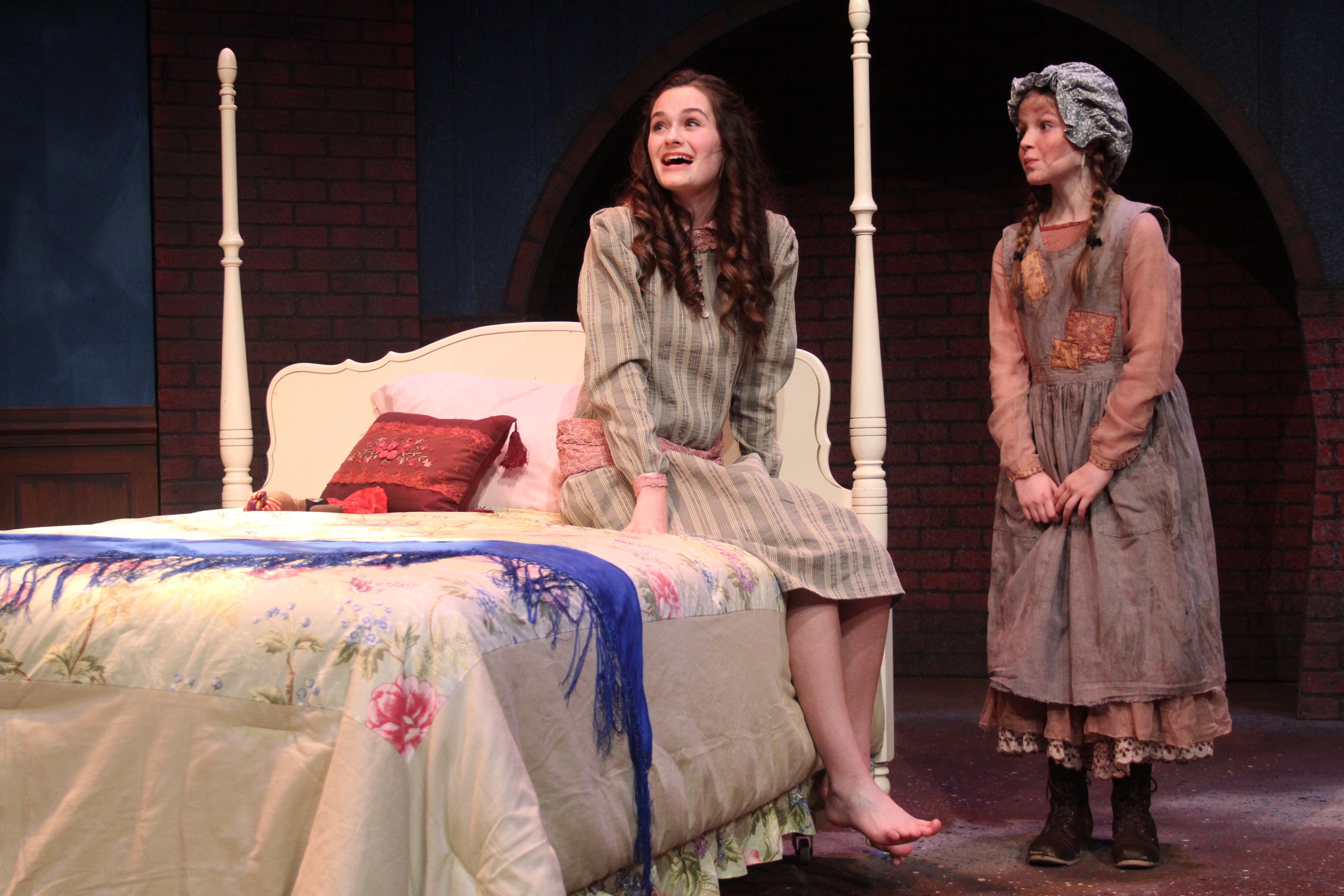 Theatrical Outfit - A Little Princess - Emerson Steele and Brenna McConnell (Photo by BreeAnne Clowdus)
Q: What attracted you to A Little Princess?
MH: I was originally attracted by the story, which features a young heroine who overcomes hardship with intelligence, creativity and a positive nature. Sara Crewe dismisses class distinctions and embraces others for their good qualities, as she believes a princess would. And then when I heard Crawley and Lippa's phenomenal score - I was completely sold. The music is lush, enchanting, vibrant and memorable! 
Q: What challenges are attached to producing/directing this show?
MH: Part of what makes the show so enticing also makes it challenging - the multiple settings and multiple story lines which weave, intersect, and even overlap. It's a challenge for a director (though an exciting one) to make all of this specific and clear for an audience. 
Q: What have you discovered about the show while in rehearsal?
MH: That each of the play's characters has his or her own story line and arc. That while Sara is the main focus, each of the other characters has a rich and complete life of his or her own.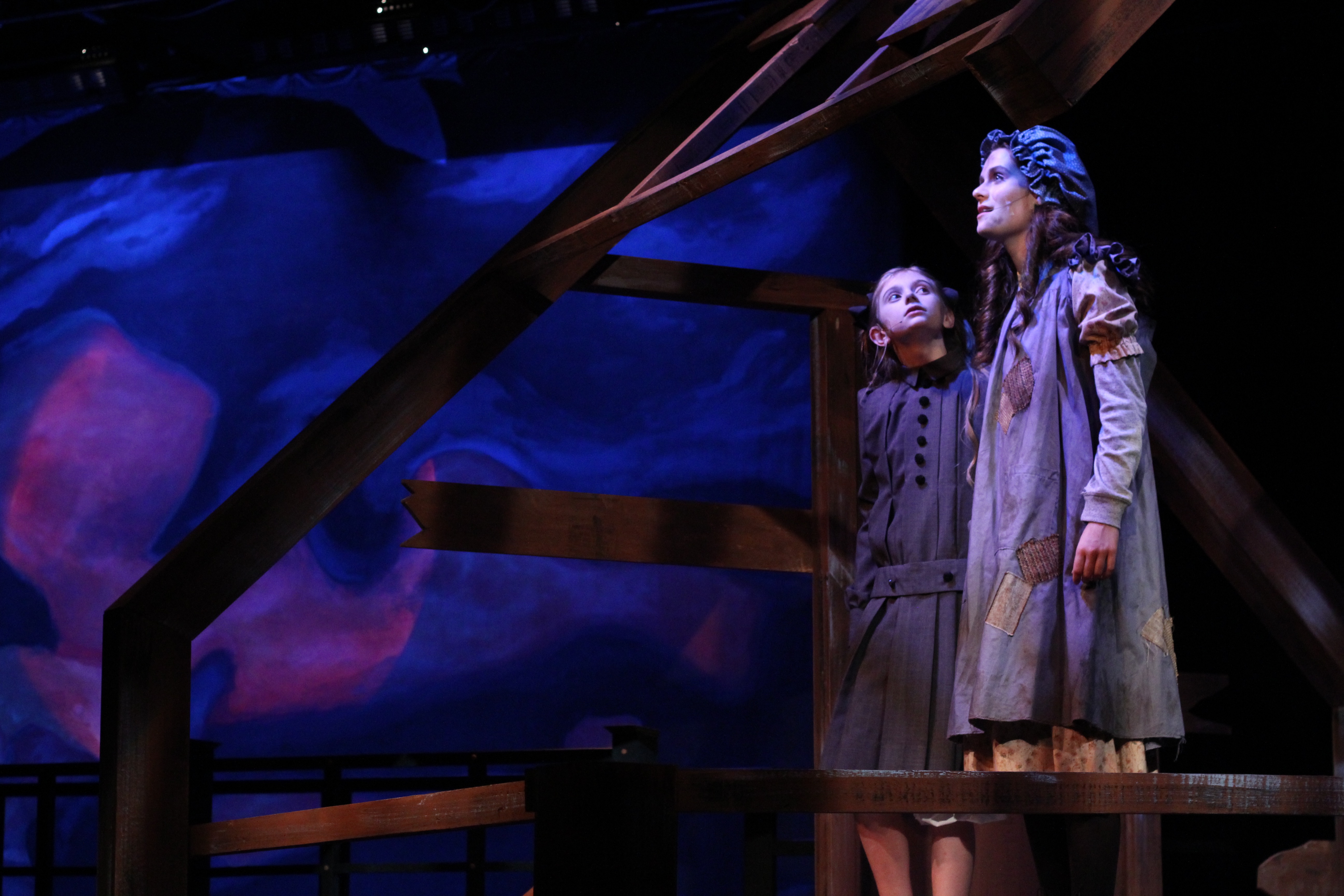 Theatrical Outfit - A Little Princess - Allison Gann and Emerson Steele (Photo by BreeAnne Clowdus)
Q: What should a prospective producer/director know about A Little Princess?
MH: It is a big show and a challenging show, but a show that offers many rewards for both the artists who work on it, and of course, for its audiences. These songs will live in your head and your heart for a long, long time, and you will be the richer for it!
Q: How are you generating excitement among your potential audiences?
TK: In three ways:  First it is a musical of hope featured on the stories of courageous young people and that holds a strong attraction for all generations to attend.  Second, it is based on a literary classic that has also been made in to two film versions, so this provides a great basis for confidence, or at least curiosity, for many to attend this live musical re-creation of a story they love.  Third, the setting of England and Africa integrates two different cultures into the story that makes for joyful dramatic combustion.   
About Theatrical Outfit
Atlanta's second-oldest continually-operating professional theatre company was founded in 1976 and has been led by Artistic Director Tom Key since fall 1995. Key led the company through the creation of its award-winning downtown home, the Balzer Theater at Herren's, the first U.S. theater to achieve LEED certification from the U.S. Green Building Council. The theater is on the historical site of Herren's, the first Atlanta restaurant to voluntarily desegregate (in 1963). Theatrical Outfit tells consistently high-quality, soul-stirring stories, often from great classics and contemporary literature that feature many of the best writers of the American South: Carlyle Brown, Truman Capote, Evan Davis, Horton Foote, Harper Lee, Cormac McCarthy, Flannery O'Connor, Walker Percy, Sherry Shepard-Massat, Elyzabeth Gregory Wilder, Hank Williams and Tennessee Williams. Theatrical Outfit is in the midst of transformation. After retiring its mortgage debt, the organization turned its attention to creating a new, multi year strategic plan, which was finalized in mid-2014. The new plan is a growth model and the first action was to hire a managing director, Lee Foster, who recently completed her first year with the organization.
About Mira Hirsch
Mira Hirsch is a theater arts professional, actively working as a director, teacher and theater devisor. She was the founder and sole artistic director of Atlanta's Jewish Theatre of the South for the whole of that theater company's thirteen-year history, and initiated and facilitated the theater's outreach programs – Project Impact Theatre and The Senior Ensemble. She currently stages performing arts programs for The Epstein School and directs both the Academy Theatre's Thoroughly Modern Senior Ensemble and The Temple's Project Tolerance, a social-issue theater program featuring teen actors.
About Tom Key
Tom Key is dedicated to the Theatrical Art Form as a catalyst to creating community. He has served as Artistic Director of Theatrical Outfit since 1995 where his drive to tell "Stories That Stir The Soul" in the heart of downtown with the best artists of the city has developed the company into one of Atlanta's major performing arts institutions.  As an actor, he has appeared in over a 100 productions from off Broadway to Los Angeles and is one of Atlanta's most celebrated performing artists:  Alliance Theater (Art, Grapes of Wrath, Candide, Our Town, A Christmas Carol), The Atlanta Ballet (Peter and the Wolf), The Atlanta Symphony Orchestra (The Defiant Requiemand Beethoven's Egmont), Kenny Leon's True Colors Theater and Arena Stage in Washington DC (Guess Who's Coming to Dinner) and Theatrical Outfit (Big River Suzi Winner, Young Man From Atlanta Suzi Nominee, Red Suzi Nominee).  He has performed his solo dramatization, C.S. Lewis On Stage, across North America including residencies at Harvard and Yale Universities as well as Oxford University of England. At Theatrical Outfit, he has directed Horton Foote's Dividing the Estate (ArtsATL "Best Production of the 2013-2014 Season), Athol Fugard's Master Harold and the Boys, Hank Williams Lost Highway, Godspell (Suzi Nominee), his adaptation of Walker Percy's The Moviegoer and Lost in the Cosmos: The Last Self-Help Seminar, and Cecil Dawkins' adaptation of Flannery O'Connor's The Displaced Person.  His off-Broadway musical hit, Cotton Patch Gospel,which he created, co-authored with the late Harry Chapin, and starred in nationally continues to be one of the most celebrated and produced musicals in the Dramatic Publishing catalogue. He has received The Governor's Award in the Humanities; the Georgia Arts and Entertainment Legacy Award, Two Dramalogue Awards for Outstanding Contribution to the Theater and two Mayoral proclamations for his service to the city of Atlanta.  The Atlanta Creative Loafing describes Tom Key as: "An actor with such energy that even standing still, he seems to quiver like a divining rod."