A Groovy Way to Cut Costs and Maximize Profits with SHOUT! by Producer Victoria Lang
A Groovy Way to Cut Costs and Maximize Profits with SHOUT! by Producer Victoria Lang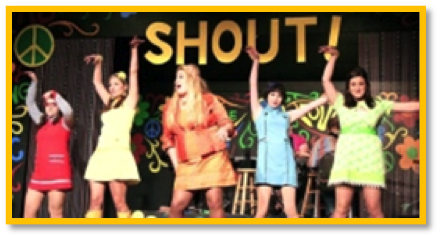 The following article is the first in a series by
SHOUT! THE MOD MUSICAL
Producer,
Victoria Lang
.  In this piece, Victoria shares some helpful ways to make SHOUT! a commercial and artistic success in your theatre.
A Groovy Way to Cut Costs and Maximize Profits
Many small theatres, colleges and high schools that have seen some of the big beautiful productions of
SHOUT!
have asked me if the show is too expensive for them to produce. And to that I quickly respond, not at all! In fact, the very first production of
SHOUT!
, which opened the inaugural New York Musical Theatre Festival, was produced on a shoestring.
SHOUT!
can just be performed with a 60's backdrop and 5 boxes, used as seats,  go-go pods, to form a sofa, store the props, etc.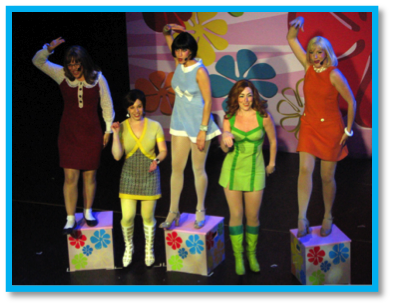 Here are a couple of groovy tips I've learned along the way to create your own fab production of
SHOUT!
for very little dough:
1.
Use whatever curtains you have as a backdrop.  Create colorful daisies out of felt from your local craft store with contrasting centers. Use FunTac to adhere them to the curtains.
2.
Buy old 45 records at yard sales, string them together and make a curtain as a backdrop.
3.
Get 5 sturdy wood or plastic milk crates of the same size and shape. Paint them hot pink or whatever psychedelic color works with your set, add paisleys, daisies, etc. and a letter S-H-O-U-T to each one.
4.
Costumes don't have to be expensive! The Forever 21 chain of stores has been carrying mod dresses for years. You'll also find many 60's clothing items for a song at thrift stores and yard sales.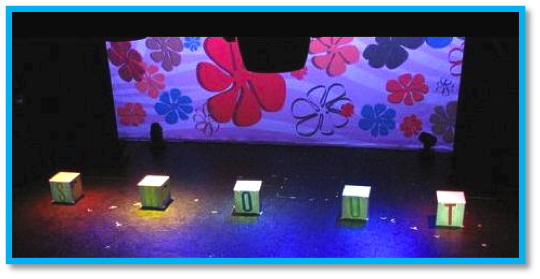 5.
Get the cast involved! Have them tie-dye a t-shirt in their "color" and pair it with a solid mini skirt.
6.
Vinyl go-go boots can be found online in all different colors for usually under $30.00. Here are a couple of sites I've used:
www.6pm.com 
and
http://www.amiclubwear.com/shoes-boots-gowhite.html
7.
Always check eBay!  Costumes, shoes, boots, hand instruments, etc. have all been purchased from eBay at some point.
8.
Can't afford musicians? Simple! Full tracks are available at a very affordable price. They can be used for rehearsal and performance. Your audience will ask you where the band is!
Community Rentals on MTI ShowSpace
Check out these
SHOUT! sets, props, costumes and resources
available for rent, sale or trade on
MTI ShowSpace.
About Victoria Lang
If you're having a challenge with
SHOUT!
, let me help you solve it.  I really enjoy interacting with fellow Producers. Feel free to
visit my MTI ShowSpace profile
or email me at
VLProducer@aol.com
.
Victoria Lang is the Founder of the
Lang Entertainment Group (LEG)
- an award-winning independent development and production company focusing on theatre, film and interactive media.  In the fall of 2004, LEG opened the first New York Musical Theatre Festival (NYMF) with
SHOUT! THE MOD MUSICAL
, which went on to a six month Off-Broadway run in 2006 before launcing a national tour and productions in Chicago, Japan, Korea, London, and throughout the UK.