A History of One: LOVING REPEATING is Now Available For Licensing!
A History of One: LOVING REPEATING is Now Available For Licensing!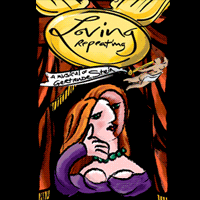 Music Theatre International is proud to announce that
LOVING REPEATING
is now available for licensing.
With music by
Stephen Flaherty
(
RAGTIME, SEUSSICAL
), and lyrics by Gertrude Stein, and adapted and directed by Frank Galati,
LOVING REPEATING
is an inspired new musical about the brilliant American expatriate writer Gertrude Stein and her passion for life, language, and the thrill of romantic love.
This lush, lyrical musical follows Stein from her student days in the late 19th century to the height of her artistic era in Paris as one of the 'lost generation,' a term she coined referring to those who came of age between the two world wars.  The show also chronicles the romantic relationship Stein had with her lifelong companion, Alice B. Toklas.
In the beginning of the musical, Gertrude reflects on her student years and explains her fascination with people - which establishes her forthcoming literary prowess.  Gertrude tells us that she was mostly interested in psychology and the different types of characters people become.  She noticed that people said the same things, over and over again...hence the title song, ("Loving Repeating"). As the ensemble sings "Loving Repeating," Young Gertrude talks about how observing repetition helps her understand people. 
LOVING REPEATING
is a cerebral, yet accessible show that portrays a multi-dimensional account one of history's most enigmatic figures.
Click
here
to license
LOVING REPEATING
for your school or theater group.
Visit the Loving Repeating page on MTI ShowSpace to share and view photos, video, costume and prop rentals and more. Click
here
to check it out.