Acclaimed MAGIC TREE HOUSE Children's Book Series Teams Up with MTI to Create New Musicals for Young Performers
Acclaimed MAGIC TREE HOUSE Children's Book Series Teams Up with MTI to Create New Musicals for Young Performers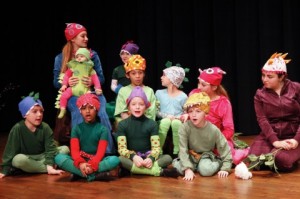 NEW YORK, N.Y. – September 25, 2013 - Leading theatrical licensor, Music Theatre International (MTI), creators of the
MTI Broadway Junior Collection®
(featuring 30 and 60-minute musicals designed for young performers) is launching a slate of children's musicals based on Mary Pope Osborne's beloved Magic Tree House book series.  The books are number one
New York Times
bestsellers - more than 100 million copies have been sold in North America alone.  The series has been translated into many languages and is available in more than 100 countries around the world.
Adapted by the award-winning playwright/composer team of Jenny Laird (book) and Randy Courts (music and lyrics), with additional lyrics by Will Osborne,
MAGIC TREE HOUSE: DINOSAURS BEFORE DARK KIDS
, is a 30-minute musical based on Magic Tree House #1: Dinosaurs Before Dark, the first book in the series written by Mary Pope Osborne and illustrated by Sal Murdocca.
The first musical,
MAGIC TREE HOUSE: DINOSAURS BEFORE DARK KIDS
, is now available for licensing with more titles coming soon.
The series rollout continues with
MAGIC TREE HOUSE:
THE KNIGHT AT DAWN KIDS,
which is scheduled to be released in the fall of 2014 followed soon thereafter by
MAGIC TREE HOUSE: A GHOST TALE FOR MR. DICKENS JR.
and
MAGIC TREE HOUSE: PIRATES PAST NOON KIDS.
"We are thrilled to kick off our partnership with Mary Pope Osborne and the Magic Tree House team with DINOSAURS BEFORE DARK KIDS," said Drew Cohen, MTI's President.  "At just 30 minutes in length, this is the perfect show for first-time teachers or directors with little or no producing experience to introduce their students to the joys of performing musical theatre.  The book series appeals to kids and is inherently educational so it is perfect for school theatre.  We can't wait to see young performers from across the country step into the roles of Jack and Annie and bring Mary's unique Magic Tree House world to life on their stages."
In
MAGIC TREE HOUSE: DINOSAURS BEFORE DARK KIDS
, two siblings, Jack and Annie, happen upon a mysterious tree house that is filled with a magnificent collection of books covering a wide range of subjects.  As they are looking at a book about dinosaurs, Jack casually wishes they could go there – and, magically, the siblings are transported to a land that looks exactly like the picture in the book. Finding themselves in a strange new world populated with dinosaurs they've only read about (including pteranodons, triceratops, anatosauruses, and the legendary tyrannosaurus rex), the brother and sister must rely on instinct and knowledge as they try to unravel the mystery of how to return home.
In addition to a wonderful score filled with beautiful melodies, the show's book is faithful to the language and tone of Mary Pope Osborne's series. And much like the book series,
MAGIC TREE HOUSE: DINOSAURS BEFORE DARK KIDS
, contains important educational themes supplemented with lesson plans in math, science and technology, and English/language arts making this musical the ultimate interdisciplinary teaching tool.
About the MTI Broadway Junior Collection®
The
MTI Broadway Junior Collection®
features condensed author-approved versions of classic musicals custom tailored to the needs of young people and schools. The music is written in keys appropriate for young voices and all shows can be expanded to accommodate as many performers as can fit on your stage. The
MTI Broadway Junior Collection®
includes JR. titles, which are 60-minute musicals for performance by middle school children, and KIDS titles which are 30-minute musicals for performance by elementary school children.
Each
MTI Broadway Junior Collection®
title (including
MAGIC TREE HOUSE: DINOSAURS BEFORE DARK KIDS
,) comes with a specially designed ShowKit – a first-timer's "How To" guide to producing these beloved and celebrated musicals. Even teachers with no theatrical training or experience can easily put on a successful production.
All ShowKits contain helpful materials enabling teachers to make the musical the ultimate interdisciplinary teaching tool. It also includes a Director's Guide and an accompaniment CD to enhance rehearsals and performances.
About the Magic Tree House Book Series


The series is a #1 New York Times bestseller.


More than 100 million copies of the books have been sold.


Magic Tree House books can be found in more than 100 countries and in multiple languages.


There are 50 books in the fiction series, plus 27 non-fiction companion Magic Tree House Fact Trackers.


The series is highly recommended by parents and educators everywhere and introduces young readers to different cultures, historic figures and periods in history, as well as the world's legacy of ancient myth and storytelling.


About the Show's CreatorsJenny Laird (book)
Jenny Laird was a long-time Resident Playwright at Chicago Dramatists, where her first play BALLAD HUNTER premiered and earned a Joseph Jefferson Nomination for Outstanding New Work and won Chicago's Cunningham Prize for Playwriting.  Her play SKY GIRLS was originally commissioned and produced by Northlight Theatre, received Developmental and Production grants from the NEA and subsequently had its West Coast premiere at The Old Globe Theatre in San Diego.  ONLY THE SOUND was the recipient of Mill Mountain Theatre's New Play Award, an Illinois Arts Council Fellowship, as well as Chicago's 2003 Jeff Award for Outstanding New Work.  Jenny has had the good fortune to have her plays developed and produced at theatres all across the U.S. dedicated to new work; some of her favorites include: The Women's Project, The Road Theatre, The Asylum, API, Stage 3, Rivendell Theatre, Horizon Theatre Company, The New Harmony Project and The Utah Shakespeare Festival.
During her decade in Chicago, Jenny had a strong presence in the theatre outreach and educational community.  She was a professor of Playwriting at DePaul University and full time outreach educator for Northlight Theatre, where she created and developed "The Open Door Ensemble" - a writing and acting program for older adults.  She was also a guest artist/teacher for numerous playwriting programs for underprivileged youth throughout the city and enjoyed every moment of nurturing young talent and helping kids to find their voice and tell their stories through her favorite medium.
Jenny currently lives in Massachusetts with her husband, Randy Courts, and their wondrous eight-year old son, Quinn, and when she has time, blogs about her adventures raising a child with epilepsy and autism.
RANDY COURTS (music and lyrics)
Randy Courts
has collaborated with playwright/lyricist Mark St. Germain on the musicals THE GIFTS OF THE MAGI (ten consecutive seasons at the Lambs Theater; over three hundred productions world wide, including two national tours); JOHNNY PYE AND THE FOOLKILLER (Lambs Theater; AT&T New Plays Award); JOSEPH AND MARY (Los Angeles, Dallas, Indianapolis and in concert in New York City; Pilgrims Progress Foundation Award); JACK'S HOLIDAY (Playwrights Horizons, nominated for three Outer Critics Circle Awards, including best musical); THE GINGERBREAD HOUSE (commission from Playwrights Horizons and Amblin' Entertainment); THE BOOK OF THE DUN COW (New Harmony Project, Prospect Theater Company); and DOCTOR DOLITTLE (Theatreworks USA). With novelist/librettist Walter Wangerin Jr., Randy wrote the Christmas oratorio ANGELS AND ALL CHILDREN, and the operas POTTER and ELISABETH AND THE WATER TROLL (New Harmony Project).  Most recently, Randy collaborated with writer/lyricist Will Osborne on MAGIC TREE HOUSE: THE MUSICAL, based on the best selling children's series by Mary Pope Osborne (national tour; c.d. on P.S. Classics). Randy is thrilled to be collaborating with his wife, playwright Jenny Laird, on a series of musicals based on The Magic Tree House books for Music Theatre International's Broadway Junior Collection.
WILL OSBORNE (creative advisor)
Internationally produced and published playwright and book author and respected director, teacher, and actor, Will Osborne's career in professional theatre spans four decades. His play
Smoke & Mirrors
, a comic murder mystery co-authored with Anthony Herrera, has been produced in theatres throughout the United States, as well as in Johannesburg, South Africa, and Seoul, Korea. In 2007, collaborating with Randy Courts, he provided book and lyrics for
Magic Tree House; The Musical
, a full-scale, Broadway-style family musical that traveled to 54 cities around the country and was later translated and produced throughout Germany. Will's writing for musical theatre also includes
Saddle Jazz
, a Western Swing musical (music and lyrics by Nick Plakias);
The Wonderful O
, an adaptation of the James Thurber novella (also with Randy Courts), produced at the West Bank Café in New York and the Leonard Bernstein Institute in Nashville;
Manifest Destiny
, an NEA-funded extravaganza set in 1840s America; and
A Night in New Orleans: A Louis Armstrong Musical
(with Murray Horwitz and legendary New Orleans composer and performer Allen Toussaint), which premiered at the New Jersey Performing Arts Center in October 2012.
Will has authored more than a dozen books for children and young adults, many co-written with his wife Mary Pope Osborne, including: the
Magic Tree House Fact Tracker
series, two retellings of Greek mythology,
A Time To Dance
for the My America series, and a picture book,
Sleeping Bobby
, with award-winning illustrator Giselle Potter. He has also created several highly acclaimed multi-media shows for the Morehead Planetarium in Chapel Hill, North Carolina, two of which featured William Shatner and the late Walter Cronkite.
Will is a member of the Dramatists Guild, a founder of The Writers Group in New York, a Phi Beta Kappa graduate of the University of North Carolina at Chapel Hill – and lead vocalist and guitarist for the blues/R&B group WillPower.
Visit
www.mtishows.com
or
www.broadwayjr.com
for more information about
MAGIC TREE HOUSE: DINOSAURS BEFORE DARK KIDS
or any of the other shows in the MTI Broadway Junior Collection.  Contact:
licensing@mtishows.com
(212) 541-4684.
For more information about the Magic Tree House book series, visit
www.magictreehouse.com
. Magic Tree House is a registered trademark of Mary Pope Osborne; all rights reserved.