Ahrens, Flaherty & After The Storm present The Human Heart: Helping Haiti's Children
Ahrens, Flaherty & After The Storm present The Human Heart: Helping Haiti's Children
Next Monday, March 1, MTI Authors Lynn Ahrens and Stephen Flaherty will present a benefit concert for the children of Haiti at Joe's Pub in New York City.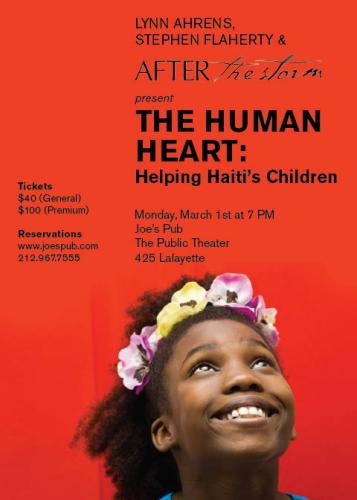 Starring
Farah Alvin
(Chess, The Look Of Love, Nine, I Love You Because),
Betty Buckley
(Triumph of Love, Sunset Boulevard, Carrie, Song & Dance, The Mystery of Edwin Drood, Cats, 1776),
Tituss Burgess
(Guys And Dolls, The Little Mermaid, Jersey Boys),
Quentin Darrington
(Ragtime),
Gregg Edelman
(A Tale Of Two Cities, Wonderful Town, Into The Woods, City Of Angels),
Kecia Lewis-Evans
(The Drowsy Chaperone, Once On This Island, Chicago),
Rachel Bay Jones
(Hair),
Janine LaManna
(The Drowsy Chaperone, Seussical, Ragtime), One Life To Live's
Mark Lawson
,
James Lecesne
,
Michael McElroy
(Big River, The Wild Party, Rent, The Who's Tommy),
Gerry McIntyre
(Once On This Island),
Jill Paice
(The 39 Steps, Curtains, The Woman In White),
Billy Porter
(Smokey Joe's Cafe, Grease),
Christy Romano
(Avenue Q, Parade),
Robin Skye
(Parade, Cyrano),
Stephanie Umoh
(Ragtime),
Lynne Wintersteller
(A Grand Night For Singing, Closer Than Ever) and
Andrea Frierson
(Once On This Island, Marie Christine, Juan Darien, The Lion King). This fundraiser will also feature new songs by
Brooke Sunny Moriber
,
Bill Schermerhorn
and
Michael Feinstein
and
Georgia Stitt
and
Bil Wright
and special appearances by
Lynn Ahrens
,
Stephen Flaherty
and more. Directed by
Randy Redd
, Aaron Jodoin musical directs and leads a 5 piece band with vocalists
Cole Burden
,
Mary Catherine McDonald
,
Caroline Dooner
,
Molly Hager
,
Justin Lopez
and
Matt Dengler
. All proceeds go through After The Storm directly to SOS Children's Villages.
SOS Children's Villages is assessing the most immediate needs of the thousands of victims of the disaster in Haiti and will provide medical supplies, drinking water and basic food supplies. In the days and weeks to come, SOS Children's Villages Haiti will provide temporary care for children who are not accompanied by adults or even long-term care for children who have lost their parents in this terrible catastrophe.
The After the Storm Foundation was established to offer assistance and support not only to North Rampart Street Community Center but also to other already existing relief organizations currently serving the youth of New Orleans. The first step in the foundation's creation was the formation of a life-to-life link between the New York music, theater and film community and North Rampart Street Community Center. By getting to know its people and programs, the foundation is better able to assist community center staff members in setting up new opportunities for youth and buoying up already existing programs - by providing the needed funds and offering technical and moral support. After The Storm, now available on DVD, is Hilla Medalia's award-winning feature-length documentary film that follows the production of the musical Once On This Island at North Rampart Community Center from auditions through performances in New Orleans and New York and also includes the story of each young actor's life in the wake of Katrina.
For more information and to purchase tickets, click
here
.