AVENUE Q Off-Broadway - Great Reviews!
AVENUE Q Off-Broadway - Great Reviews!
Audience-favorite AVENUE Q has just reopened Off-Broadway, and we  - and the critics -- couldn't be happier! The show is as fresh and delightful as ever in its new, more intimate venue. And as Ben Brantley's new review indicates, that special feeling of hopelessness and joblessness among young college graduates may be more current than ever as national unemployment numbers continue to climb. What
do
you do with a BA in English, indeed?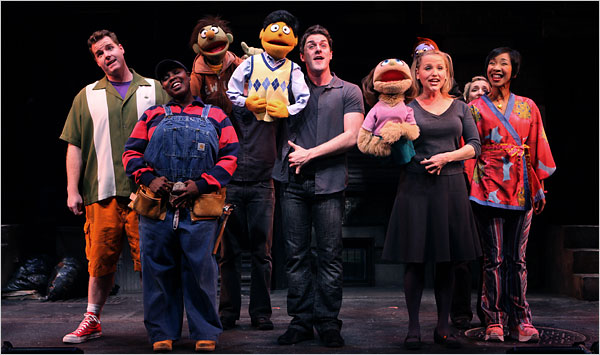 Theater Review - 'Avenue Q' - At New World Stages - Racy, Feisty and Pulling Heartstrings - NYTimes.com
.
"They may have no legs of their own, but darned if those fuzzy creatures aren't still standing, long after more full-bodied competition has bitten the dust......Watching them bring new shadings to the art of blurring the boundaries between cloth and flesh is a pleasure, as their characters wrestle with issues of sex, love, commitment and time passing. Though I don't belong to the same generation as these figures, I felt a reassuring sense of homecoming when I once again saw Anna Louizos's cartoon urban streetscape."
For more on AVENUE Q and tickets for its new Off-Broadway venue click
here
.
AVENUE Q isn't available to license yet, but to be among the first to know when MTI releases AVENUE Q, sign up for Fast-Track
here
.