Believe in Magic with Xanadu JR. - Now Available for Licensing
Believe in Magic with Xanadu JR. - Now Available for Licensing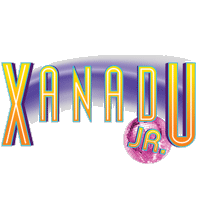 It's time to believe in magic with
XANADU JR!
It's 1980 and the magical and beautiful Greek muse, Kira, descends from the heavens of Mt. Olympus to Venice Beach, California on a quest to inspire a struggling artist, Sonny, as he strives to achieve the greatest artistic creation of all time - the first roller disco! But, when Kira falls into forbidden love with the mortal Sonny, her jealous sisters take advantage of the situation and chaos abounds.
This hilarious, roller skating, musical adventure about following your dreams, rolls along with a hit score composed by pop-rock legends Jeff Lynne and John Farrar which has been adapted for the MTI Broadway Junior Collection.
With songs including, "Magic", "All Over The World", "Suddenly", "I'm Alive", "Evil Woman" and "Xanadu", to name a few, this JR. title still has all the fun and excitement of the original production.
It's hilarity on wheels for children, adults and anyone who has ever wanted to feel inspired. You'll want to keep the music in your head, and
XANADU JR.
in your heart, forever.
Our ShowKit™ of Materials is Like Getting a Musical in a Box!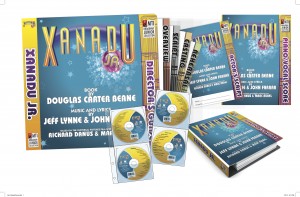 With the MTI ShowKit™ that comes with every MTI Broadway Junior Collection® show, there's no way to fail! Even teachers with no theatrical training or experience can easily put on a successful production. All ShowKits™ contain helpful materials enabling you to make your musical the ultimate interdisciplinary teaching tool.
The MTI Broadway Junior Collection® ShowKit™ includes:


Director's Guide




Tips and suggestions on casting, rehearsals, directing, choreography,
costumes, sets, props, lighting and more


Curriculum Connections featuring educational activities and lesson plans tied to the show







30 Actor Scripts




For all the actors to customize and keep







Two Rehearsal/Accompaniment CDs




Adapted from the original Broadway orchestrations and professionally produced


Great keys for young singers


Guide-vocal tracks allow students to "sing along" — learning the music is easy and fun


Fully orchestrated accompaniment-only tracks are excellent for live performances with good tempos and easy-to-follow cues









One Piano/Vocal Score




Complete scores for the director and rehearsal/performance pianist


Complete piano/vocal score with script cues


Transposed into age-appropriate keys


Easy-to-read format







One Choreographic DVD




Instructional choreographic videos with world-renowned choreographer Steven Kennedy


Steven shows you everything you need to know to handle the dance portions of your MTI Broadway Junior Collection® title







30 Family Matters Books




Guides parents through the theatrical process


Provides positive ways parents can contribute to the success of the show, without stepping on teacher/director's toes


Great to send home with every student







We've been busy updating all of our ShowKits™to ensure they remain the best educational resource in the industry.  One of the most exciting new elements is the fully re-conceived Director's Guide, patterned after Broadway production show books (by
michael
at
dresshead.com
).  In addition to all of the content you love in the classic Director's Guide, features of the new Director's Guide include:


A three-ring binder allowing you to carry all of your production information in one place and expand and customize the binder to meet your production needs


The Actor's Script section of the Guide features a full-sized script for easier viewing


Expanded resources in all production and curriculum areas that reach three levels of directing experience: beginning, intermediate and advanced


A media disc of resources including audition sides and editable forms