BLOODY BLOODY ANDREW JACKSON -- Now Available for Licensing!
BLOODY BLOODY ANDREW JACKSON -- Now Available for Licensing!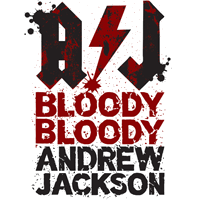 Music Theatre International is proud to announce the newly-acquired musical,
BLOODY BLOODY ANDREW JACKSON
is now available for licensing.
BLOODY BLOODY ANDREW JACKSON
, featuring music and lyrics by
Michael Friedman
and book by
Alex Timbers
, was hailed in 2010 as "the season's best musical," by
Rolling Stone
Magazine.  This modern musical
explores the title character's life through the unconventional means of irreverently emotional, punk rock music.  Audiences cling to the edge of their seats as Andrew Jackson kicks British butt, shafts the Indians and smacks down the Spaniards all in the name of these United States — who cares if he doesn't have permission?  An exhilarating and white-knuckled look at one of our nation's founding rock stars,
BLOODY BLOODY ANDREW JACKSON
recreates and reinvents the life of "Old Hickory."
Alex Timbers
, the show's librettist and director, won Outer Critics Circle and Drama Desk Awards for his direction of
BLOODY BLOODY ANDREW JACKSON
,
and his diverse directing credits range from Broadway's
The Pee Wee Herman Show,
to New York Theatre Workshops
Peter and the Starcatcher,
to
A Very Merry Unauthorized Children's Scientology Pageant
. BLOODY BLOODY'S music and lyrics were written by
Michael Friedman
, whose resumè includes
Saved
, the Civilians'
This Beautiful City, Gone Missing, and [I Am] Nobody's Lunch.
Both Timbers and Friedman are Obie Award winners for their separate accomplishments.
This provocative musical is ideal for theatres of any size. Delivered by an intimately sized cast, the high-energy score for
BLOODY BLOODY ANDREW JACKSON
is powerful enough to fill large and small houses alike. And with lyrics such as, "A wise woman once wrote that illness is not a metaphor. So why do I feel sick when I look at you?", audiences are sure to delight in the fresh life BLOODY BLOODY breathes into many historical figures. It sheds new light on the thoughts and actions of a man, known to many only for his work on the front of the twenty dollar bill.
Insight from the Show's Authors
Over the course of the show, the look and acting style must transform significantly. The musical's structure shifts from broad, comic playing to more serious, naturalistic territory. This parallels Jackson's growth - from impressionable child to moody teenager to fully-formed adult carrying enormous weight and responsibility.
Andrew Jackson
is a good-looking, immensely charismatic man's man, prone to idiotry, racism, and violent outbursts. He's funny, but most of his humor is unintentional (deadpan is important). He's the kind of guy you'd love to have as a drinking buddy and who'd probably be a pretty cool brother-in-law, but that's about it. Lack of intellect, temper tantrums, Yosemite Sam-like rage, and (often) an inability to empathize with others are the qualities that keep him from being a great leader. His love for Rachel is total and unwavering. Their scenes together are to be played with a comic touch but, most importantly, with moments that drop away to reveal great tenderness; these scenes are neither naturalistic nor melodramatic, though there are elements of both within. You must understand why these two weird creatures are meant for each other and you have to care about their relationship in a real, grounded way.
The Cast:
The show can be performed with as few as 13 performers and benefits from a small cast size, because it maximizes the audience's ability to see the protean players you've cast virtuosically assay so many diverse roles in under 90 minutes.
Historically, the show has been best cast with classical actors who can sing, as well as comedians who can sing - as opposed to traditional musical theater actors. We can't stress this enough: avoiding spoof-y actors and a spoof-y tone is essential to the show working. Your production will be more successful if you think of this show as a play with music, not a musical, and cast accordingly.
To best convey the intended anarchic and playful spirit of the show, it is best if the entire cast is under the age of 35, except for Lyncoya and the Storyteller. The Storyteller is a middle-aged woman in an electric wheelchair - a cross between a high school librarian and a lunch lady. She is irrepressibly happy, absolutely loves Jackson, and is so thrilled to be here sharing his story with us.
The Design:
After having tried several different approaches to the set over several different productions, what we learned was that the show benefits most from an inexpensive single unit environment that features no representational, locational scenery - other than the odd chair or table brought on for a scene. There should be a chaotic, improvised look to the scenic and lighting designs that mirrors the anarchy of the script's dramaturgy. The clothes should evoke the period and the contemporary, and changes should be kept to a minimum. This is not a well-made musical - nor even a "pop" or "rock" musical, per se - and there should be no attempt made in the choreography, design, or casting to suggest such. We've had success with extending the scenic and lighting designs out and into the audience to envelop them, activate them, and implicate them in the show.
The spirit of the show really encourages a light-on-its-feet, low-tech approach to the design. The scene changes should be instantaneous and actor driven. It's best to avoid any automation and, even in the elaborate rock sequences, it would be preferable to achieve the spectacle effects without moving lights or video. Simply, the show will be increasingly successful the more it's staged and designed like a play and the less like a musical.
The Native Americans:
While this show is not politically correct by any measure, the depiction of Native Americans throughout the musical should be done tastefully and respectfully. One of our intentions in writing
Bloody Bloody Andrew Jackson
was to explore our collective national responsibility towards a genocide that most Americans seem to forget, ignore, or, perhaps worst, have collectively come to peace with. To portray the Native Americans as cartoons or old Hollywood stereotypes undermines the message of the show.
Best of luck with your production!
-Alex and Michael