Bohemian Theatre Ensemble's Stunning Production of THE GLORIOUS ONES Earns Rave Reviews
Bohemian Theatre Ensemble's Stunning Production of THE GLORIOUS ONES Earns Rave Reviews
The Lynn Ahrens/Stephen Flaherty chamber musical, THE GLORIOUS ONES,  is ideal to showcase a strong group of performers whose material ranges from physical comedic gags to poignant ballads.  Its small cast size and emphasis on storytelling enables theatres with intimate performance spaces and tight budgets to put on an outstanding production without stretching their resources.
This fall, the Bohemian Theatre Ensemble in Chicago staged a production of THE GLORIOUS ONES that greatly impressed critics.  Here's what a few of them had to say:
Venus Zarris, Chicago Stage Review:
"With song after song and scene after scene, we are drawn in by this completely engaging and endearing cast, each and everyone delivering outstanding work. THE GLORIOUS ONES is heavy on emotional connection and generous with delight. Director Stephen Genovese and Musical Director Nick Sula have crafted a stunning production that thoroughly engages as it sweeps you away."
Nina Metz, Chicago Tribune:
"The "American Idol"-worthy ballad called "My Body Wasn't Why" has a courtesan-turned-actress (played by a delightful Danni Smith) sing of the moment when her lover finally saw her as something more than a sex object. There is an entire world's worth of ideas about sexuality and love contained in that one song...Written by Stephen Flaherty and Lynn Ahrens, whose previous credits include RAGTIME and SEUSSICAL THE MUSICAL the show traffics in lowbrow humor and highbrow introspection -- as Ahrens's lyrics say, with "one hand on the crotch, one hand on the heart."
Ali Weiss, Time Out Chicago:
"...Flaherty's powerful score and Ahrens's smart book and lyrics deliver lowbrow farce and introspective ballads with equal strength, as does the versatile ensemble. Dana Tretta sparkles in the bawdy "Armanda's Tarantella," then nails a tearful finale. Danni Smith, deadpan through countless boob jokes, stops the show with the ballad "My Body Wasn't Why." Crouse has the comedic chops to convince us Francesco could alter the troupe's course, and Eric Damon Smith captures Flaminio's beloved but insecure qualities. ...director Genovese maintains a brisk pace and packs BoHo's small space with plenty of theatrical eye candy."
John Olson, Talkin' Broadway:
"...BoHo's GLORIOUS ONES is an opportunity to enjoy seven quite terrific performers. Courtney Crouse and Dana Tretta are probably the best known to local audiences. Mr. Crouse gained attention and acclaim in the title roles of Jekyll and Hyde for BoHo a while back. He's not the central figure here - that would be Eric Damon Smith as Flaminio - but Crouse has ample opportunity to use his powerful baritone and do some gymnastics as the romantic lead, Francesco. Ms. Tretta, so effective in generating pathos as the heroine of Bailiwick's HUNCHBACK OF NOTRE DAME and Theo Ubique's CABARET, gets to play entirely for laughs here as the midget Armanda, even imitating a little dog at one point."
Al Breslof, Steadstyle Chicago:
"...We have a wooden stage and some clever little set pieces designed by Director Stephen M. Genovese, who utilizes the little storefront theater on North Glenwood Avenue to perfection. Might I mention, for those of you who have not been to this venue before, it is very tiny, with a little stage and an audience so close they can almost reach out and touch the actors. But this troupe uses it well and often they amaze me with the clever ways they do."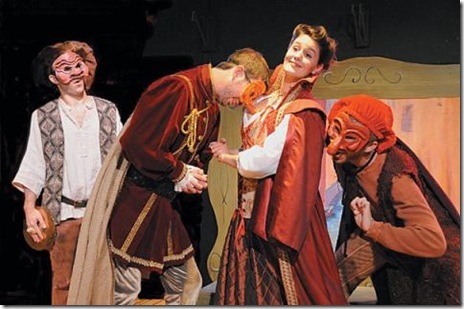 BoHo Theatre's THE GLORIOUS ONES
Click
here
for more information on the Bohemian Theatre Ensemble.
To license THE GLORIOUS ONES, visit its
MTI show page
. Discuss THE GLORIOUS ONES on its
MTI ShowSpace page
.