Boho Days: Jonathan Larson's Life And Work Before RENT
Boho Days: Jonathan Larson's Life And Work Before RENT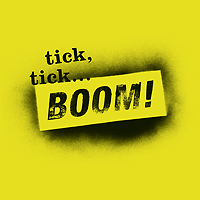 Before RENT became a cultural phenomenon when it opened on Broadway in 1996, Jonathan Larson was hard at work on another musical: SUPERBIA.  A rock adaptation of 1984, George Orwell's dystopian vision of the future (even though Larson was denied the rights), SUPERBIA won the aspiring composer/librettist a number of grants and awards, including the prestigious Richard Rodgers Award, and received performances at Playwrights' Horizons, as well as a concert production. But much to Larson's frustration, SUPERBIA never got a full production.  Everyone agreed that Larson had talent, but nobody was willing to take a financial risk on a piece that they weren't quite sure what to do with.  Typical of Larson, SUPERBIA was ahead of its time - only, it was so far ahead that nobody knew where it belonged.
Larson wasn't about to give up.  Living in a 5th floor walkup in the West Village with no heat and the bathtub in the kitchen, Larson worked weekends at the Moonstruck Diner and spent the rest of the week writing musicals.  For eight hours a day on every day he had off from the diner, Larson was at his tiny Casio keyboard, rewriting lyrics, reworking chord progressions, and hammering out scenes.  Given that immense amount of discipline and sacrifice, the disappointment of SUPERBIA couldn't detail his dream of bringing rock music to Broadway.  He channeled his energy into a one-man "rock monologue" documenting his experience with SUPERBIA and allowing him to vent constructively about his apparent failure.  The piece - called 30/90 and later BOHO DAYS before settling on TICK, TICK...BOOM! - used a rock/pop score to express Larson's fear that being days away from turning 30 without once having a full production is a sign that he should walk away from his difficult, bohemian lifestyle and find a more lucrative line of work.
TICK, TICK...BOOM landed him the break SUPERBIA didn't: producer Jeffrey Seller loved Larson's rock monologue so much that he became a fan of Larson's work and would later be largely responsible for RENT's arrival on Broadway.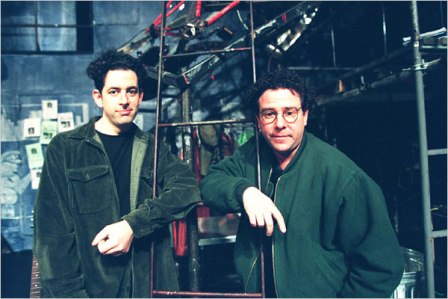 Jonathan Larson and RENT director Michael Greif--photo from the New York Times
Thanks to Larson's good friend and producer Victoria Leacock, TICK, TICK...BOOM! lives past Larson's tragic death in 1996 - before RENT's opening night at New York Theatre Workshop.  Leacock enlisted the help of playwright David Auburn (PROOF) in assembling the different versions of the piece into a cohesive musical.  Instead of a one-man monologue, the show became a three-person show, with the characters of Jonathan, his advertising executive best friend, Michael, and his dancer girlfriend, Susan.  Since its off-Broadway run in 2001, which starred four-time Tony nominee Raul Esparza as Jonathan, TICK, TICK...BOOM! has had a US national tour in 2003 and a 2005 London production at the acclaimed Menier Chocolate Factory, where HOW I MET YOUR MOTHER's Neil Patrick Harris (last seen on Broadway in ASSASSINS) played Jonathan.  This intimate portrait of a modern theatre writer chronicles the joys, struggles, and decisions anyone pursuing a dream must face - and offers audience a glimpse of the business side of Broadway.
For more information on Jonathan Larson and TICK, TICK...BOOM!, check out the feature-length documentary on the
RENT movie DVD
, and the
RENT book
. To license TICK, TICK...BOOM!, visit its
MTI show page
. Discuss TICK, TICK...BOOM! on its
MTI ShowSpace page
.