Bring Ancient Egypt to Life with AIDA School Edition
Bring Ancient Egypt to Life with AIDA School Edition
MTI is proud to announce Elton John & Tim Rice's AIDA School Edition is now available for licensing. AIDA is a two-act, rock/pop thru-sung operetta, with music by Elton John, lyrics by Tim Rice, and book by Linda Woolverton, Robert Falls, and David Henry Hwang. This contemporary musical is a modern adaptation of the classic tale of a timeless love between an enslaved Nubian princess and an Egyptian soldier. With a range-friendly score and a well woven plot, AIDA School Edition is the perfect choice for a school production!
AIDA School Edition is written for a multicultural cast. With an ensemble made up of dancers, guards, ministers, etc. this show will support either a large cast or, if doubling characters, a small cast.
Aida: Adam Pascal and Heather Headley courtesy of Playbill.com
If the school budget is tight, art students can paint multiple back drops, one of the sea, another of the museum, or an Egyptian barge. Aida and Radame's tomb can be made of cardboard boxes, obtained from the local grocery store or post office, and then sprayed with gold paint. This is also true of the props. Armor, spears, helmets, all can be made of papier-mâché, transforming old props from backstage.
Costumes appear to be intricate but can be as simple as a trip to the local consignment shop. Students may also be able to contribute old clothing from home. An over sized t-shirt and a wide brimmed belt or an oxford shirt can easily serve as an Egyptian tunic. For Aida, all that is needed is a simple dress and a long scarf. In this instance, less is more. The simplicity of the costume and the sets compliment the beauty and intensity of the story.
About School Editions
Elton John & Tim Rice's AIDA School Edition is one of six School Edition titles available for licensing. Launched in 2002, MTI's School Editions include these six titles; ELTON JOHN & TIM RICE'S AIDA, THE SOUND OF PLAID, LES MISÉRABLES, RAGTIME, RENT, and SWEENEY TODD.  These shows are redesigned for performance by high school age students and are offered in alternate keys for younger voices. They have been edited for sensitive content and run time. Included in the School Edition package is a detailed director's script, which offers technical advice concerning sets, lights, and costume suggestions, not to mention show history and prop lists. There are also piano/vocal scores, student librettos, and a cross-curricular study guide for the classroom.
Why School Editions?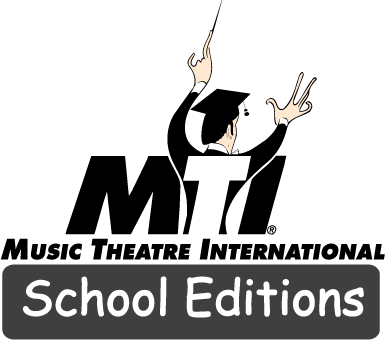 MTI, in conjunction with the creators of these six titles, has adapted these shows to meet the specific needs of the educational theatrical market. These shows have been tested in multiple locations around the country before being released for licensing. This has proved to be helpful in assuring all edits made are seamless and appropriate. Any specific challenges that may occur during the production of School Edition titles have been addressed in the Director's Script's of each show, offering advice and tips from MTI and the show creators.
To license Elton John & Tim Rice's AIDA School Edition,
click here
To license the full version of Elton John & Tim Rice's AIDA,
click here
To "click" with other AIDA fans, visit
www.mtishowspace.com
To browse the School Edition collection,
click here
To browse the Kids Collection,
click here
To browse the Broadway Junior Collection,
click here