BRING IT ON THE MUSICAL Available for Licensing for Performances Beginning June 1, 2014
BRING IT ON THE MUSICAL Available for Licensing for Performances Beginning June 1, 2014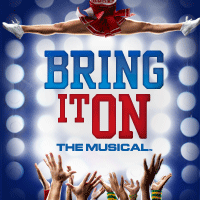 License BRING IT ON THE MUSICAL for performances beginning June 1, 2014!
Based on the hit film, created by a dream team of award-winning Broadway talent and nominated for a Tony Award for Best Musical,
BRING IT ON: THE MUSICAL
is a high-flying thrill ride where the cutthroat world of competitive cheerleading meets the fierce rivalries of high school politics and romance.
Campbell is cheer-royalty at Truman High School and her senior year should prove the most cheertastic - she's been named captain of the squad! But an unexpected redistricting has forced her to spend her final year of high school at the neighboring, hard knock Jackson High School. Despite having the deck stacked against her, Campbell befriends the dance crew girls and, along with their headstrong and hardworking leader Danielle, manages to form a powerhouse squad. Campbell may have assembled a National Championship team, but difficult stunts don't easily "stick".
BRING IT ON: THE MUSICAL
is ideal for any company with talented, young performers be they singer, dancer, actor, or cheerleader. The show's name alone with fill the seats and audiences' word of mouth will pack the house. With a colorful assortment of characters, an exciting fresh sound and explosive choreography with aerial stunts, this hilarious, universal story is sure to be everything you hoped for and nothing like you expected.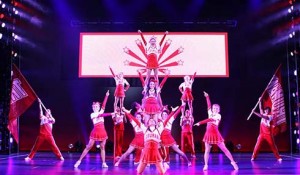 Coming to a Town Near You!
Click
here
to visit the Official Website with amazing pictures, high-flying video, and the updated Tour Schedule.
Order Your Free Perusal Copy of the Script
For a limited time only, you can read a free perusal copy of the libretto for BRING IT ON: THE MUSICAL. Log in to your My MTI account and select the show from the dropdown menu (it will appear free of charge), or call your licensing agent to order an electronic version or hard copy today!  Offer valid through 5/3/2014.