Brisa's Pieces: Tony Trivia Time
Brisa's Pieces: Tony Trivia Time
The Tony Awards are coming up next week and I hope you all will join me in watching Broadway's biggest night of the year!
Here's some tricky Tony trivia to get you in the mood:
1. Which MTI show is nominated for Tony's this year?
A.
Annie
B.
Pippin
C. 
Bring It On
D.  All of the above
2. The Tony Awards were named after who?
A. Antoinette Perry
B. Tony from "Westside Story"
C. T.O.N.Y = Theater Of New York
D.  Tony Curtis
3. Who has won the most Tony Awards ever?
A.  Hal Prince
B.  Audra McDonald
C.  Scott Rudin
D.  Stephen Sondheim
4. Which of the following people has NOT hosted the Tony Awards?
A. Neil Patrick Harris
B. Angela Lansbury
C. Sutton Foster
D. Rosie O'Donnell
5. How much, on average, does a musical number on the Tony's cost?
A. Free
B. $50,000
C. $200,000
D. $1,000,000
6. Which of the following shows did NOT win Best Musical?
A. Titanic
B. Thoroughly Modern Millie
C. Rent
D. Wicked
7. Who actually wins the Tony Award for Best Musical?
A. The writer
B. The director
C. The producer
D. The star
Enjoy the Tony Awards next week on June 9th! And to all of this year's tony nominated shows including MTI's very own shows and writers
PIPPIN
,
ANNIE
,
BRING IT ON
and Harvey Fierstein, Amanda Green, Benj Pasek and Justin Paul - BREAK A LEG!!
How'd you do on the Tony Triva Quiz?
Answers are 1. D, 2. A, 3. A, 4. C 5. C, 6. D, 7. C
Read all of Brisa's Pieces
here
.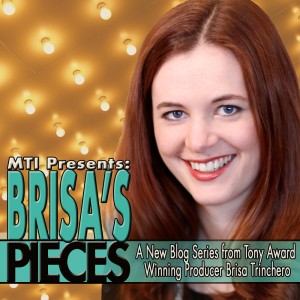 You can reach Brisa on twitter: @brisatrinchero. I also blog about the art and business of new musicals at
www.makemusicals.com
. I look forward to hearing from you!