Broadway and MTI Salute Eight Outstanding Educators at the Freddie G Fellowship
Broadway and MTI Salute Eight Outstanding Educators at the Freddie G Fellowship
Eight outstanding educators from schools and performing arts centers around the country worked one-on-one with Broadway greats at the 7th Annual FREDDIE G FELLOWSHIP which took place from July 13th - 16th. 
The four days of classes and activities honored instructors and teachers who are working to make a difference for their students and communities by staging Broadway Junior productions in their schools and educational theatre groups.  In addition to the New York experience, each of the teachers' schools receives $5,000 from Freddie "G" Gershon and Myrna Gershon to enhance their arts program.
This year teachers attended special workshops led by Tony Honor® winning director and choreographer Jeff Calhoun, Tony Award® winning composers Lynn Ahrens and Stephen Flaherty, four time Tony Award® nominee director, choreographer and dancer Randy Skinner and Tony Award® winning lighting designer Ken Billington.
The eight educators applied for the Fellowship as part of their participation in the annual Junior Theater Festival held in Atlanta and were selected by a panel of educational theare experts.  
"Without teachers there is no Broadway Junior. Myrna and I feel strongly about our personally investing in teachers and immersing them in experiential skills that they can take home and utilize to guide their students and pass on to other teachers," added Gershon.  "It's crucial we keep live theatre thriving in this country by working with both educators and children.  Myrna and I believe that all of America's teachers should be honored and appreciated. Our future is in their hands."
Meet the Teachers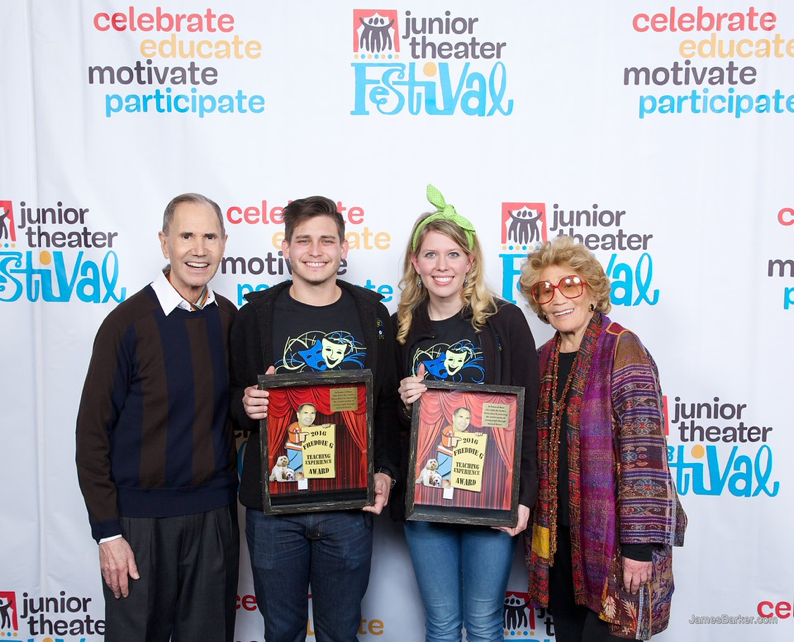 Haden Rider and Carly Berg:  Play on Players, Gainesville, Georgia
The Play On Players mission is to Provide Outstanding Productions and Performance Opportunities Presented by young artists who POP on stage. We strive to provide an engaging, safe, and creative environment for children by offering exciting experiences in musical theatre productions. Our goal is to inspire and strengthen self-confidence, individual expression, and theatre performance skills, while also developing life-long values, teamwork, and the love of performing live theatre for the community.
Haden Rider cofounded Play On Players back in 2012 during his studies with the Gainesville Theatre Alliance and it has been a wonderful journey ever since! From premiering Madagascar Jr. this past December to performing on the JTF stage, POP has been a constant source of pride. In between his time with his cast and teaching voice lessons, Haden is also becoming a common face in the Atlanta industry. Most recently, Haden was seen as Ethan Girard in Atlanta Lyric's production of THE FULL MONTY, a return to his Lyric family with whom he found professional debut as Mary Sunshine in CHICAGO (2014). Never in his wildest dreams did Haden think he'd be as honored as he was with the Freddie G. Spirit Award, and he will never be able to express enough gratitude for the opportunity. Here's to an exciting future with the incredible blessings he's been given!
Carly holds a BFA in Musical Theatre from Brenau University/Gainesville Theatre Alliance.  She is the co-owner, co-director and choreographer of Play On Players Children's Theatre (P.O.P.).  Carly is also the theatre Director and Choreographer at Lambert High School. Aside from POP, other previous directing or choreography includes: Lambert High School, Florida Repertory Theatre, Mill Springs Academy, Clinton Area Showboat Theatre, Holly Children's Theatre, and many other high schools in the North Georgia communities. In addition to directing and choreographing, Carly has also enjoyed performing in many community and professional theatre productions.  Some of her favorite credits include: Sarah Brown (Guys &Dolls), Amalia (She Loves Me), Dorothy (Wizard of Oz), Roxie (Chicago), Amber (Hairspray), and Ruby (Dames at Sea).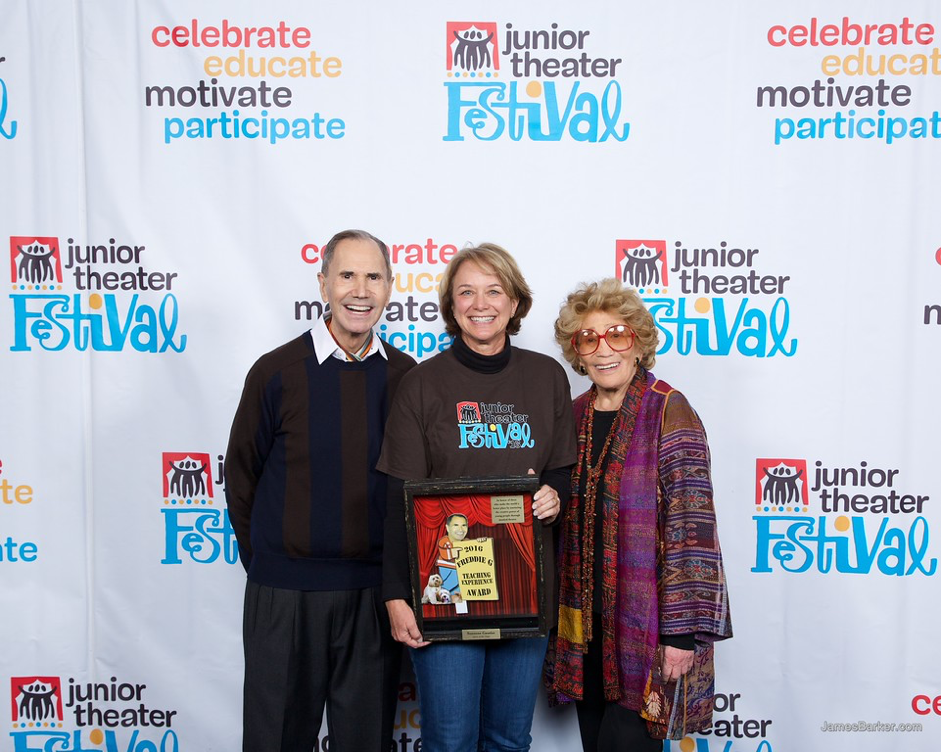 Sue Gautier:  Holy Ghost Catholic School, Hammond, Louisiana
The "Spirit of the Stage" is Holy Ghost Catholic School's drama club.  The program has been in existence for 22 years and is composed of 5th - 8th grade students.  Our average cast is 60 and our rehearsals are held after school 2-3 times a week for 2 hours.  Auditions are held at the beginning of each school year and everyone who shows up has the opportunity to be a part of the show. We have attended the Atlanta Junior Theater Festival since its inception in 2003. Our group has been recognized there over the years for excellence in music, acting, choreography, and inspiration.  
 For 22 years, I have directed the Holy Ghost School "Spirit of the Stage", but my full time job for the last 30 years has been a middle-school science teacher. Being cast in an elementary school play as a jester jumping out of a Jack-in-the Box is where it all began for me. This was followed by church choir and our high school production of Arsenic and Old Lace. My directing began with an active community theatre group called "The Columbia Players" in which I acted and directed for about 4 years (To Kill a Mockingbird-Miss Maudie & Deathtrap-Myra). Shows I have directed at my school include You're a Good Man Charlie Brown, Sound of Music, Grease, Annie, Beauty and the Beast, Aladdin, The Little Mermaid, and Peter Pan.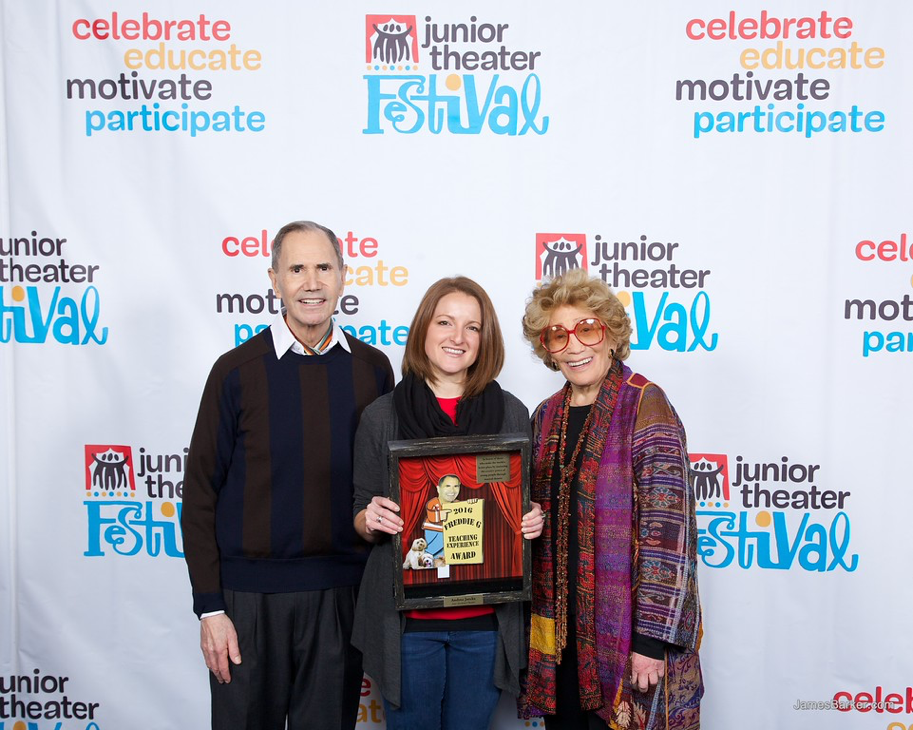 Andrea Jaecks:  Jeter Backyard Theater, Gibsonia, Pennsylvania
Jeter Backyard Theater provides educational practice and performance opportunities for kids in Pre-K through High School, as well as professional performance and leadership opportunities for JBT Alumni and Artists in Residence.  JBT Kids learn performance skills and gain valuable stage production experience in up to 8 full-scale musicals each year. We ALL play well together in the Backyard!
I am an elementary art teacher at North Allegheny School District by day, and the resident choreographer, set/prop designer and stage manager for Jeter Backyard Theater by night.  I received my bachelors in Dance Pedagogy from Point Park University.  I taught dance for 9 years in the Pittsburgh area before joining the cast of Sesame Street Live to play the role of "Rosita".  My career focus shifted from the performing to the visual arts when I completed my teaching certificate in K-12 Art Education. Around that time, I found a new love at JBT for prop and set design.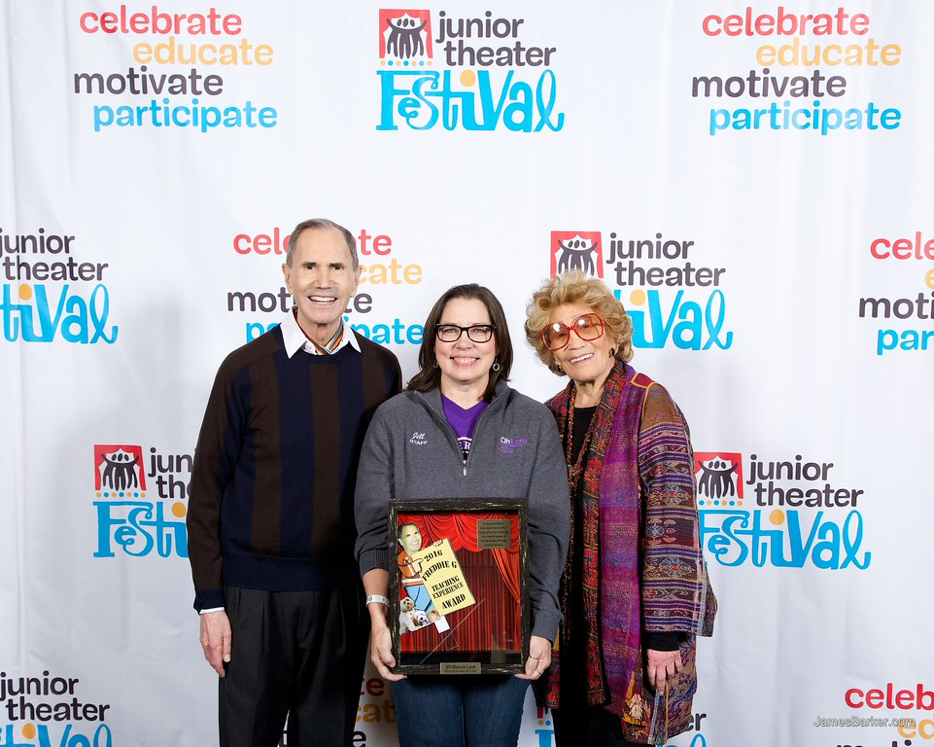 Jill Lord:  Ohlook Performing Arts Center, Grapevine, Texas
Ohlook Performing Arts Center came on the scene in 2002, and was founded by professional singers, Matthew Lord and Jill Blalock Lord.  Word quickly grew about this little theater school in this tiny space where kids could come and be themselves. In the past 15 years Ohlook has grown primarily through word of mouth, and each year hundreds of kids from ages 3 to 18 come through classes. We now even have an adult company (18 & up) made up of some of our former students! In these past 14 years Ohlook has produced almost 200 shows – mostly musicals. Ohlook has become the place where young actors can come study and get experience—and a lot of it! Ohlook also regularly brings in working professionals from NYC to work with our kids so their training is always fresh and up to date with what's going on in the working world!
Jill Blalock Lord began her professional career as an opera singer, performing with such companies as San Francisco Opera, Ft. Worth Opera, New Jersey Opera and Augusta Opera. She also toured extensively across the U.S., Spain, and France.  Mrs. Lord's life took a turn after the birth of her children, Emma and Grace. Life on the road was no longer appealing, so she looked to pursue her passion closer to home, and thus OhLook was born. Through OhLook, she hoped to create a place where students could come and learn about theater and music in a safe, noncompetitive environment, and to teach and facilitate those that might be interested in pursuing it as a career. Singer turned Director, Jill was named Best Director for Ohlook's production of Dog Sees God at the AACT National Conference and the Liverpool International Festival in 2011.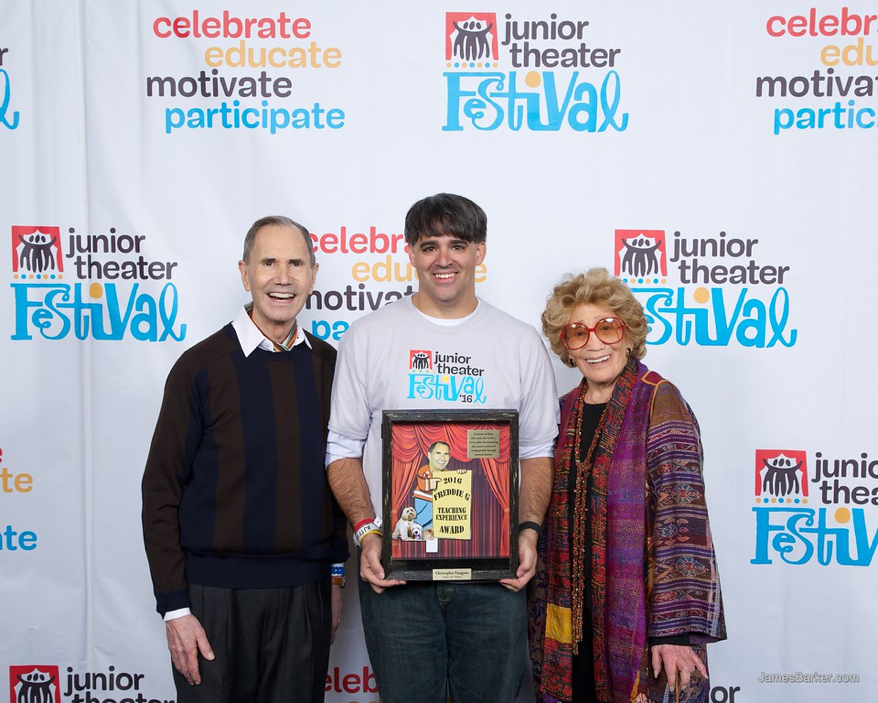 Chris Paragone:  Sunny Side Theater, Mobile, Alabama
Drama Camp Productions & Sunny Side Theater was founded in 2002 by Chris Paragone.  At the end of the 2007-2008 school year, Chris decided it was time to turn his "summer hobby" into a year-round passion!  Sunny Side Theater opened its year-round facility in the Fall of 2008 with the goal of allowing all children access to the stage.  The confidence and long-lasting skills that performing arts offered children was something Chris felt strongly about and he didn't want to turn anyone away because of talent - but rather work with them on their level.  In 2011, Sunny Side added a high school show because many of the students who made up Chris's first casts of Drama Camp wanted to continue participating, but at a more mature level. In 2012, Chris formed the Azalea City Center for the Arts - a full-service, one-stop shop for all arts programs - music, drama, visual arts, dance, and more.  Chris expanded the program once more to offer an Exceptional Arts Drama Class for those with special needs and they produce three shows a year.  In 2014, Sunny Side grew once more with the addition of its Travel Competition Team.
I have a Master's Degree in Elementary Education and taught for 10 years before opening Sunny Side.  I participated in community theater shows throughout college and when I opened summer Drama Camp it was just for fun!  That fun grew into my full-time career.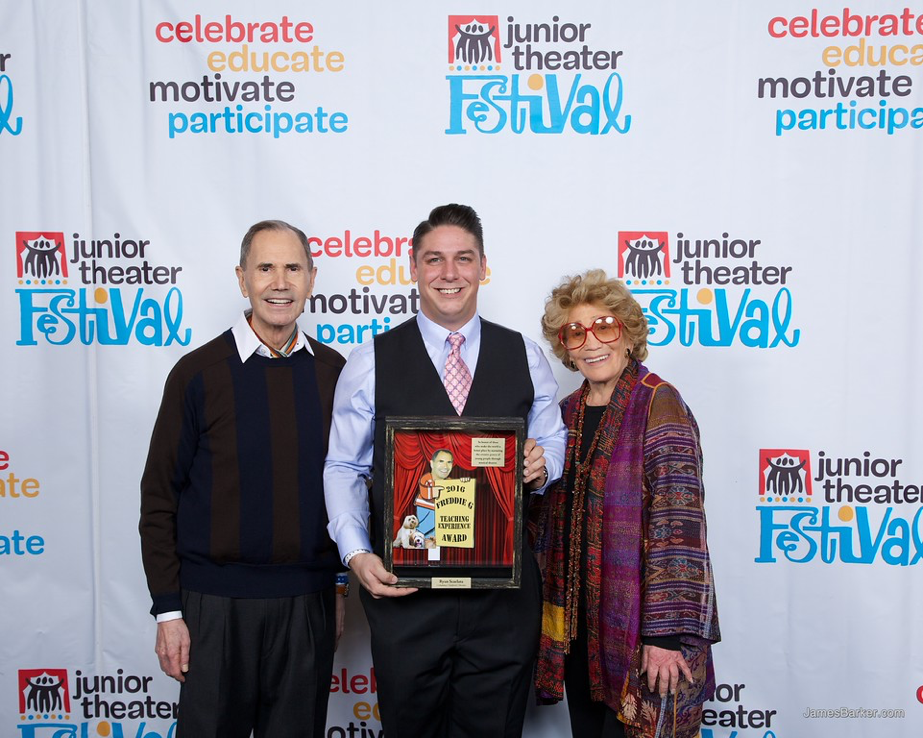 Ryan Scarlata:  Columbus Children's Theater, Columbus, Ohio
Columbus Children's Theatre has been operating in central Ohio for 53 years. Its programs include a professional theatre series for families, and Academy for children age 2-18, and a touring company which performs in more than 170 schools each year. Alumni from CCT programs include Josh Radnor, Jessica Grové, Mike Faist, Steven Boyer, and many others. CCT's mission is to inspire, enrich and empower the imaginations of children and their families through live theatre and theatre education.
I have been involved at CCT in multiple capacities over the last 12 years – I have directed, stage managed, choreographed, costume designed, acted, served as Education Director, and now as Associate Artistic Director. I have had the pleasure of traveling around the country as a teacher and performer. Before settling in Columbus full time, I was in the original national tour and Off-Broadway casts of Berenstain Bears Live in Family Matters the Musical. As an educator I primarily teach middle and high school students and challenge them to find their own voices as artists. Additionally I teach voice, movement workshops, and am a former speech and debate coach.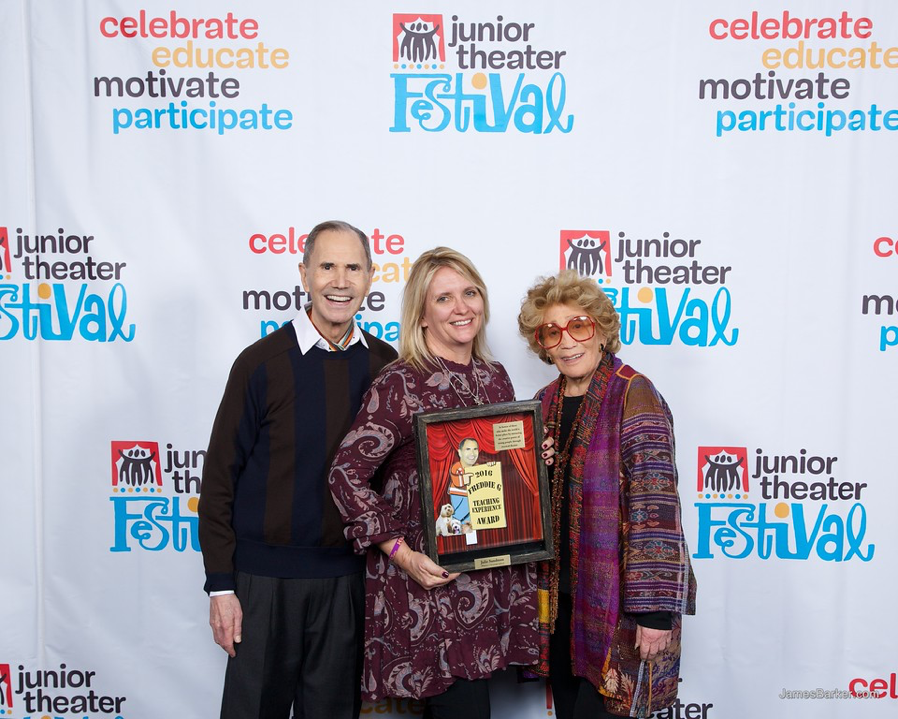 Julie Sundman:  Whittier Christian School, Whittier, California
Whittier Christian is a small private school in Whittier, California. This school services lower to middle income families. Many of our children come from at risk homes and at risk communities. Despite its economic challenges, Whittier Christian Schools strive to be a beacon of excellence of education, meeting the needs of children, pre-school to junior high, for 70 years. The school continues to pioneer new programs, such as our performing arts department, which has grown to two area campuses and has become a magnet to the surrounding communities.
I began my theatrical experience by working at Knott's Berry Farm as a "Ghost Town character" and saloon girl. As a young adult I traveled and performed with The Young Americans. As part of the cast of several musicals and variety shows, I was always fascinated by watching the director and learned many valuable lessons about stage performance which I still use my students today. While raising my children, I became heavily involved in school theater, community theater and choirs where I focused mainly on costuming. In 2007, I began a small summer community theater through my church, which involves students from all over the community, free of charge. Our first show began with a cast of 18. At this time, our summer show has a cast of 240. My work at Whittier Christian began 3 years ago with the production of Seussical Jr., Willie Wonka Jr., Peter Pan, and The Little Mermaid Jr.