Broadway Junior Student of the Month: April 2017
Broadway Junior Student of the Month: April 2017
Over the next several months we will be honoring MTI's Broadway Junior Student of the Month.
These students have been selected out of hundreds of outstanding applicants and display the exemplary qualities of dedication, passion, leadership and spirit. Their love of Broadway Junior and desire for learning and growing through musical theatre is palpable and we are proud to honor these Broadway Junior Stars.
Our Broadway Junior Student of the Month for April 2017 is Samantha Banks from Houghton Academy in Buffalo, NY.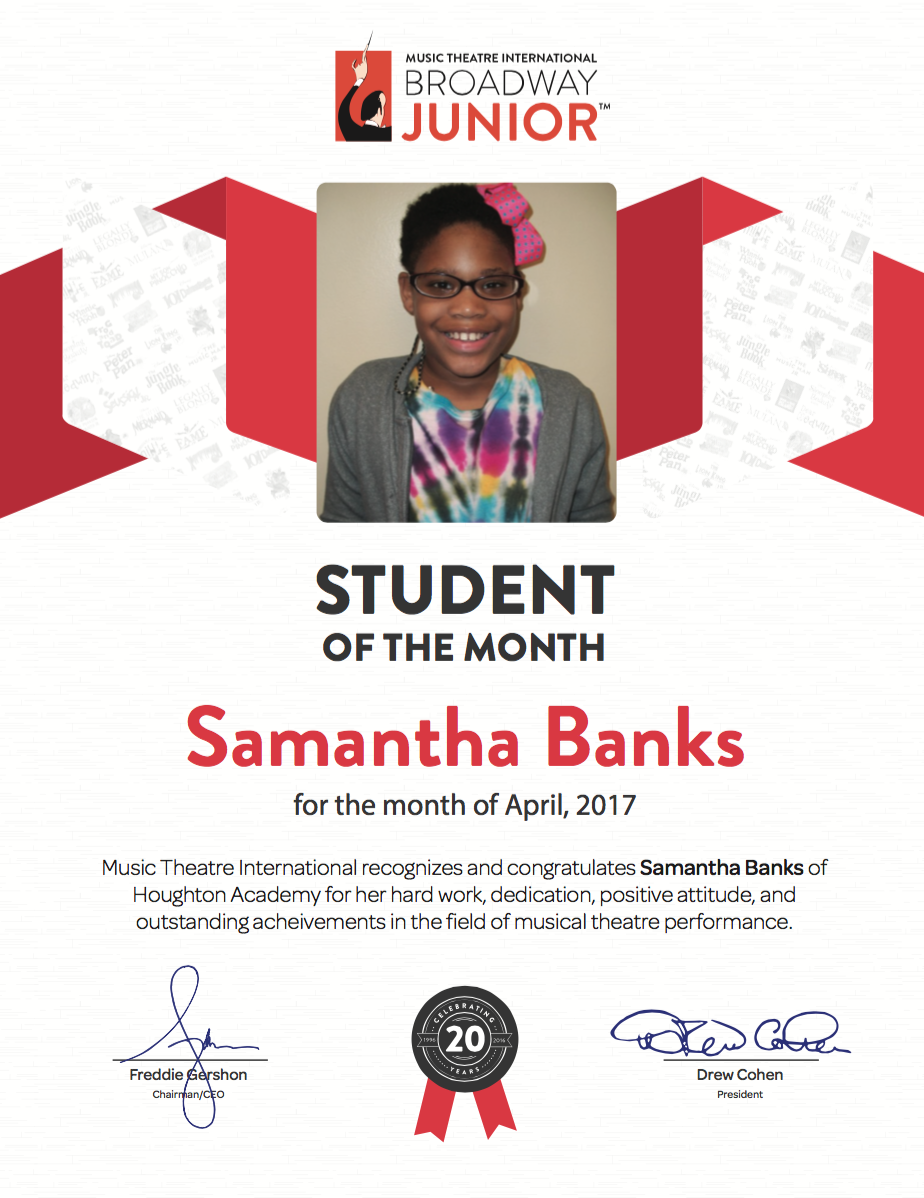 What Broadway Junior Means To Me - By Samantha Banks
I am so excited to be in the play! This is my first year at Houghton Academy, and my first time ever being in a musical. This a new and exciting experience for me. I've never had an opportunity like this before. After this experience with Broadway Junior, I want to become an actress someday and inspire children all around the world! My favorite part about being in Seussical JR. is being with my friends. I was excited and a little nervous when we first started rehearsals. We practice after school twice a week and I love attending. I've worked hard at remembering all my songs and lines (and learning everyone else's). This has been the best year of my entire life. By playing the role of Sour Kangaroo, I've learned to keep my head up, and even if something is bringing me down, I can remember to be happy. I am thankful to be nominated for Broadway Junior's student of the month and proud to be in my first musical. I have learned a lot about myself through this experience and know when I set my mind to do something, I can do it!
Nominating Essay - By Andrea Blakeslee
Samantha Banks is a ten year old, fifth grade student at Houghton Academy BPS #69. This is her first year at Houghton Academy and her first time ever being in a musical. Samantha is classified as a student with Autism and is a pure joy to be around. Samantha was cast as the Sour Kangaroo in our 2016-2017 production of Seussical JR. Her positive attitude and energy is contagious to all she comes in contact with. Her enthusiasm and dedication is unlike any other. In addition to learning her speaking/singing parts, she has also learned the rest of the parts and assists her fellow cast members when needed. She is the first to jump in and give support and positive feedback. Her dedication, passion, and kindness is refreshing. We are confident that she will steal the show with her dynamite talent. You can't help but smile whenever Samantha is around – she lights up the stage and is an inspiration to all.