Broadway Junior Student of the Month: August 2016
Broadway Junior Student of the Month: August 2016
Over the next several months we will be honoring MTI's Broadway Junior Student of the Month.
These students have been selected out of hundreds of outstanding applicants and display the exemplary qualities of dedication, passion, leadership and spirit. Their love of Broadway Junior and desire for learning and growing through musical theatre is palpable and we are proud to honor these Broadway Junior Stars.
Our Broadway Junior Student of the Month for August 2016 is Jessica Harris from DMR Adventures in Charlottesville, VA.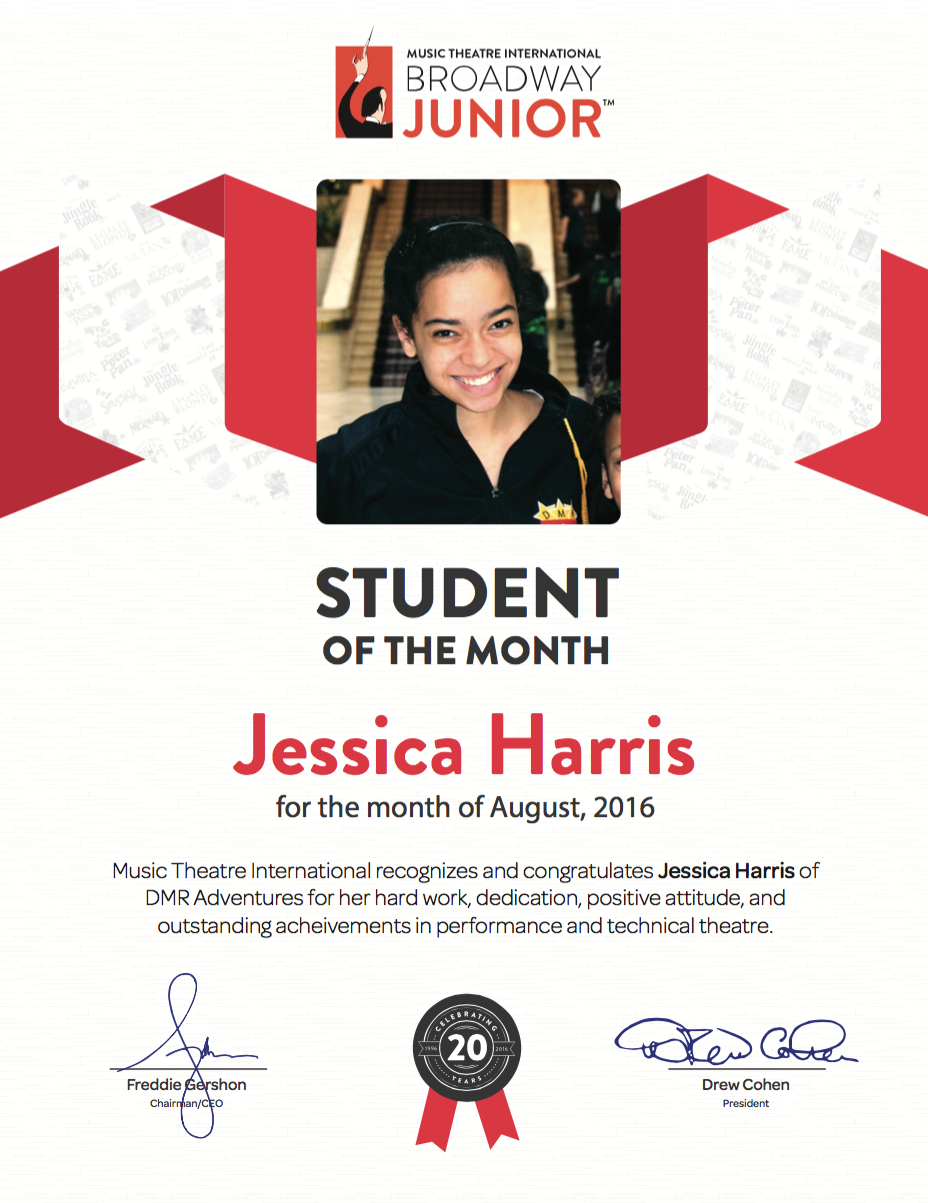 What Broadway Junior Means To Me - By Jessica Harris
For as long as I can remember, I have been blessed with tremendous exposure to the arts, and performing has been my biggest passion. Particularly through my recent work with DMR Adventures and Melissa Charles, I have been able to share with others this wonderful and unifying art form.
Likewise, Broadway Junior is an amazing tool for sharing this craft. It means having the opportunity to perform with friends, pouring my heart and soul into a product of which we can be proud. It allows me to share my love of musical theater with audiences, but also with other cast members, through our united efforts to produce the best show possible.
Recently, I formed a youth theater-outreach group, Empowered Players. The plan for Empowered Players is to stage Broadway Junior shows in rural areas with children who do not have easy access to the arts. Exposing underserved youth to family-friendly Broadway Junior shows allows me to introduce students to traditional and contemporary musical theater in a meaningful and fun way. Sharing the arts and Broadway Junior shows with these kids enables me to work towards my goal of building a better world through the arts, one child at a time. 
Nominating Essay - By Melissa Charles of DMR Adventures
Jessica Harris has been a creative and logistic "right hand man" for me in running DMR Adventures, our troupes, and productions. Jessica first worked with us in late 2014 as a member of our group which traveled to the Junior Theater Festival, playing the Witch in a presentation of Into the Woods JR. (for which she won an Individual Performance award).  In addition to this challenging role she also took on the responsibility of Music Director and Assistant choreographer for our JTF piece, and eventually did the same in our full length production. At the same time she choreographed and music directed our production of Winnie the Pooh KIDS.  This summer, she helped to mount a production of Once on This Island JR., acting as assistant music director and taking on the role of Asaka. She continued as the student leader for our newest troupe, the DMR Dream Team, in helping to run rehearsals and direct the piece that we workshopped at the VTA Junior Theater Celebration. This troupe went to NYC for the first time in January, and Jessica led warm ups and helped direct every rehearsal, stepping in for me any time I had to step away. Jessica has managed all of this and more, while finishing up her senior year of homeschooling, attending classes at a local community college, and applying to college (did I mention she just turned 16 in January?)  In addition to the work she does with DMR Adventures, she has also volunteered with Live Arts, Four County Players, the Autism Theatre Project and Peabody School! Jessica is a force to be reckoned with and deserves to be student of the year, not just student of the month! Thank you for considering Jessica for this honor.