Broadway Junior Student of the Month: December 2016
Broadway Junior Student of the Month: December 2016
Over the next several months we will be honoring MTI's Broadway Junior Student of the Month.
These students have been selected out of hundreds of outstanding applicants and display the exemplary qualities of dedication, passion, leadership and spirit. Their love of Broadway Junior and desire for learning and growing through musical theatre is palpable and we are proud to honor these Broadway Junior Stars.
Our Broadway Junior Student of the Month for December 2016 is Liris Khan from Ramblewood Middle School in Coral Springs, FL.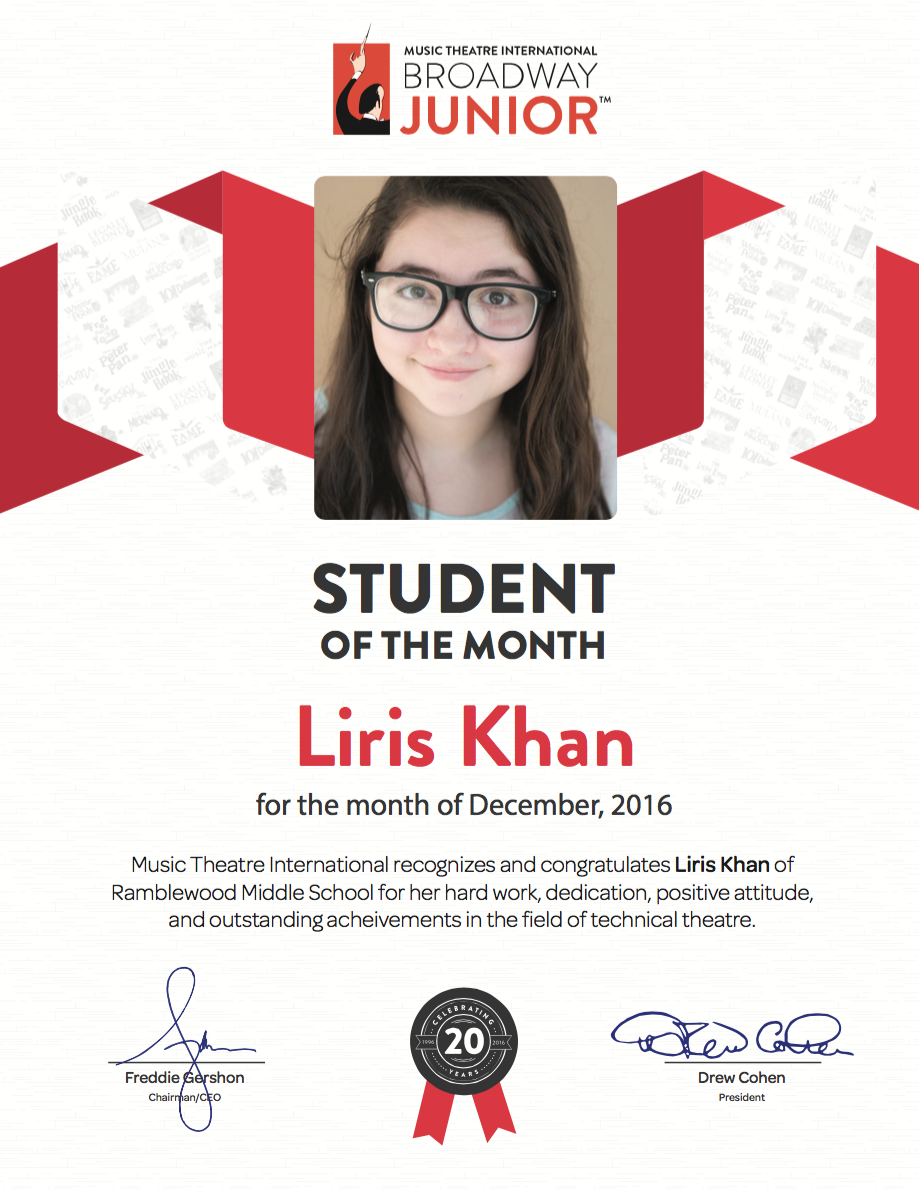 What Broadway Junior Means To Me - By Liris Khan
Words cannot describe what MTI Broadway Junior means to me. Broadway Jr. is like being one step closer to becoming a successful stage manager and having a future of my choosing.
Having the unique experiences in MTI Broadway Junior productions of Guys and Dolls and Hairspray, I feel an excitement for my road ahead.
Luckily, my father is also blessed with god like stage manager skills. He has worked backstage on many MTI productions, including Fiddler on the Roof, Beauty and the Beast, and The Lion King, all of which having Jr. versions of their own.
With a family of actors including my grandfather, grandmother, aunt, father, and mother, I feel fortunate to have my own board of advisors. They give me the hope and inspiration to one day, grow-up and follow in their footsteps.
I can definitely affirm that spending my childhood weekends at theaters, as part of the audience, and back stage, has contributed to my fascination with this amazing world of entertainment.
For decades upon decades, my family has been involved in show biz, and that is something I want to continue. MTI gives me the opportunity to do just that, and be able to live that Broadway dream.  
Nominating Essay - By Meagan Nagy
Three hundred words seems like an incredibly small number to explain why Liris Khan deserves to be MTI's Broadway Junior's Student of the Month. Since the first time I met Liris, she has shown qualities that put her above the rest of the young students that participate in the arts. She continually grows and excels as Stage Manager here at Ramblewood Middle School (RMS), and at just 13 years of age, shows a sense of passion, work ethic, and dedication for her work greater than any adult professional I know of, let alone any other one of my theatre students. Over the past few months, Liris has led our Thespian Troupe to victory in winning multiple awards. Not only did she help lead our Troupe in multiple Superior ratings, but also received Best Technical Crew for the entire One-Act competition at both the district, and state level. Liris was also nominated by the District and State adjudicators as being Best in Troupe, calling her "one of the youngest, most professional Stage Managers they have ever seen." Liris continuously strives to learn and improve her craft by spending extra time out of the school to shadow a professional Stage Manager who works for Slow Burn Theatre Company, one of South Florida's premier regional theatre companies. But I have to say, what impresses me the most is the way Liris shows respect to each and every one of her crew and cast members. In return, the students look up to her and return the respect ten-fold. So this Spring, Liris will lead, for the first time ever at RMS, her very own technical program with over 36 students, for our production of Hairspray Junior. Just imagine what kind of Stage Manager she will be in the years to come. Watch out Broadway, because you are going to want to have this kid on your team.