Broadway Junior Student of the Month: July 2016
Broadway Junior Student of the Month: July 2016
Over the next several months we will be honoring MTI's Broadway Junior Student of the Month.
These students have been selected out of hundreds of outstanding applicants and display the exemplary qualities of dedication, passion, leadership and spirit. Their love of Broadway Junior and desire for learning and growing through musical theatre is palpable and we are proud to honor these Broadway Junior Stars.
Our Broadway Junior Student of the Month for July 2016 is Andrew Freeman from Springfield High School in Springfield, VT.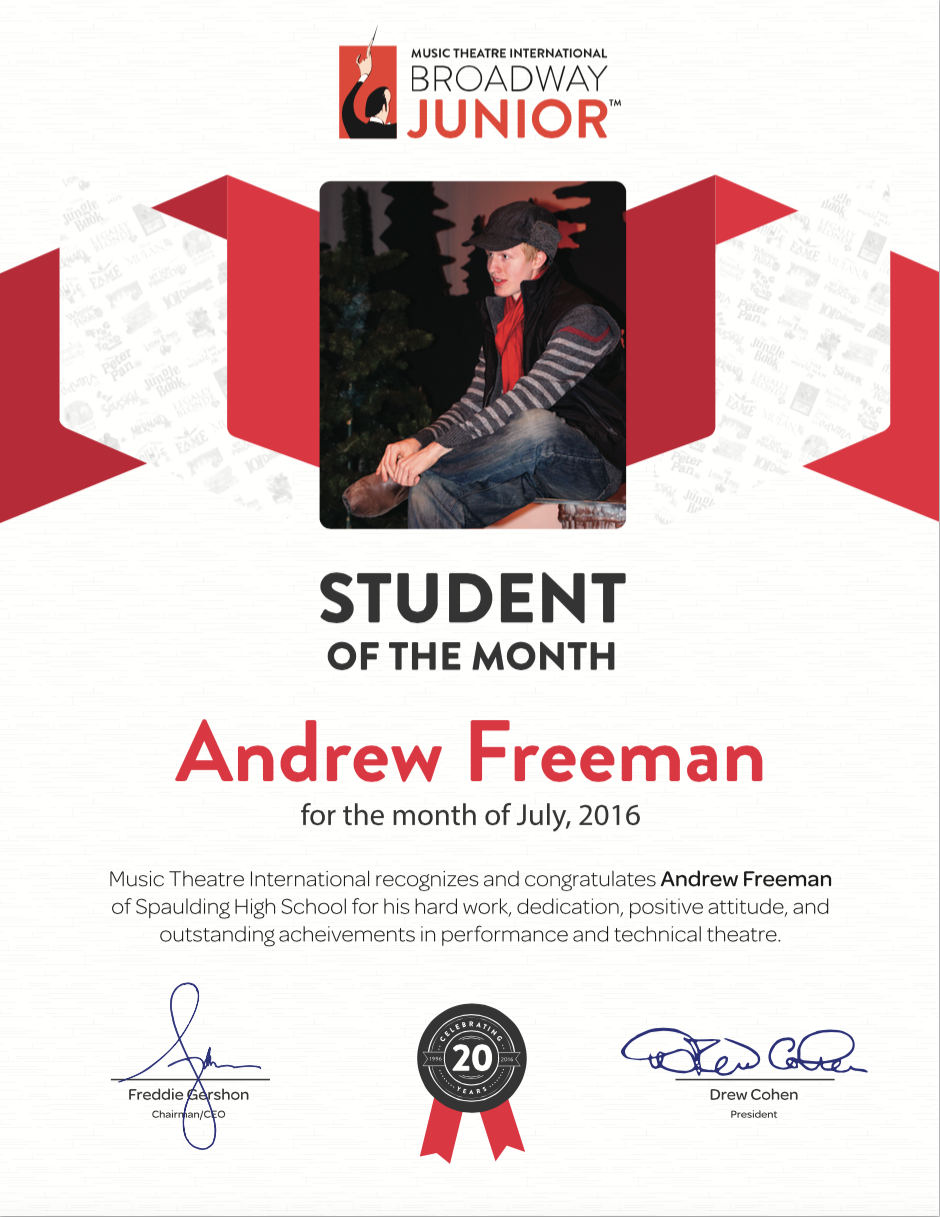 What Broadway Junior Means To Me - By Andrew Freeman
I first became familiar with Broadway Junior while readying myself to audition for the Rutland Vermont's Youth Theater performance of, Beauty and the Beast JR. I certainly noticed some difference from the original source material, but they had done an excellent job changing what they had. Unfortunately, as things came to pass, my family could not afford to audition so I had to pass. However, just this past year, Broadway junior was re-introduced to my life with the musical, Guys and Dolls JR. and I loved it, I was cast as Nathan Detroit; it was my first real leading role, and chance to play a sincerely comedic character. So, for me, Broadway Junior is the beginning of what I hope to be a very lucrative career in stage and film. A beginning I will never forget.
Nominating Essay - By Rebecca Skrypeck of Springfield High School
Andrew started off in the chorus in his Freshman year of high school.  But that didn't stop him.  He kept helping and volunteering in each and every production SHS did.  Now a Senior, he has taken 3 Theater classes here at SHS and he spent summers participating in Shakespeare Summer camps.  In between working on stage, he has worked on student films (acting and directing).  He has created "trailers" for the last 2 productions we worked on to promote them to the school and community.  He has acted in 8 shows here at the high school and is currently acting and directing our Festival one act.  He is also directing a small portion of our spring play (the part where he cast another teacher and myself).  He has been a part of the Weston Playhouse Young Playwrights Workshop for 2 years. Last year his play was in the top 5 chosen to be presented.  Over, I have been very proud of all of the hard work and dedication Andy has put into his time in Theater.