Broadway Junior Student of the Month: July 2017
Broadway Junior Student of the Month: July 2017
Over the next several months we will be honoring MTI's Broadway Junior Student of the Month.
These students have been selected out of hundreds of outstanding applicants and display the exemplary qualities of dedication, passion, leadership and spirit. Their love of Broadway Junior and desire for learning and growing through musical theatre is palpable and we are proud to honor these Broadway Junior Stars.
Our Broadway Junior Student of the Month for July 2017 is Amare' Grayson from The School of the Arts at Jackson Elementary School in Jonesboro, GA.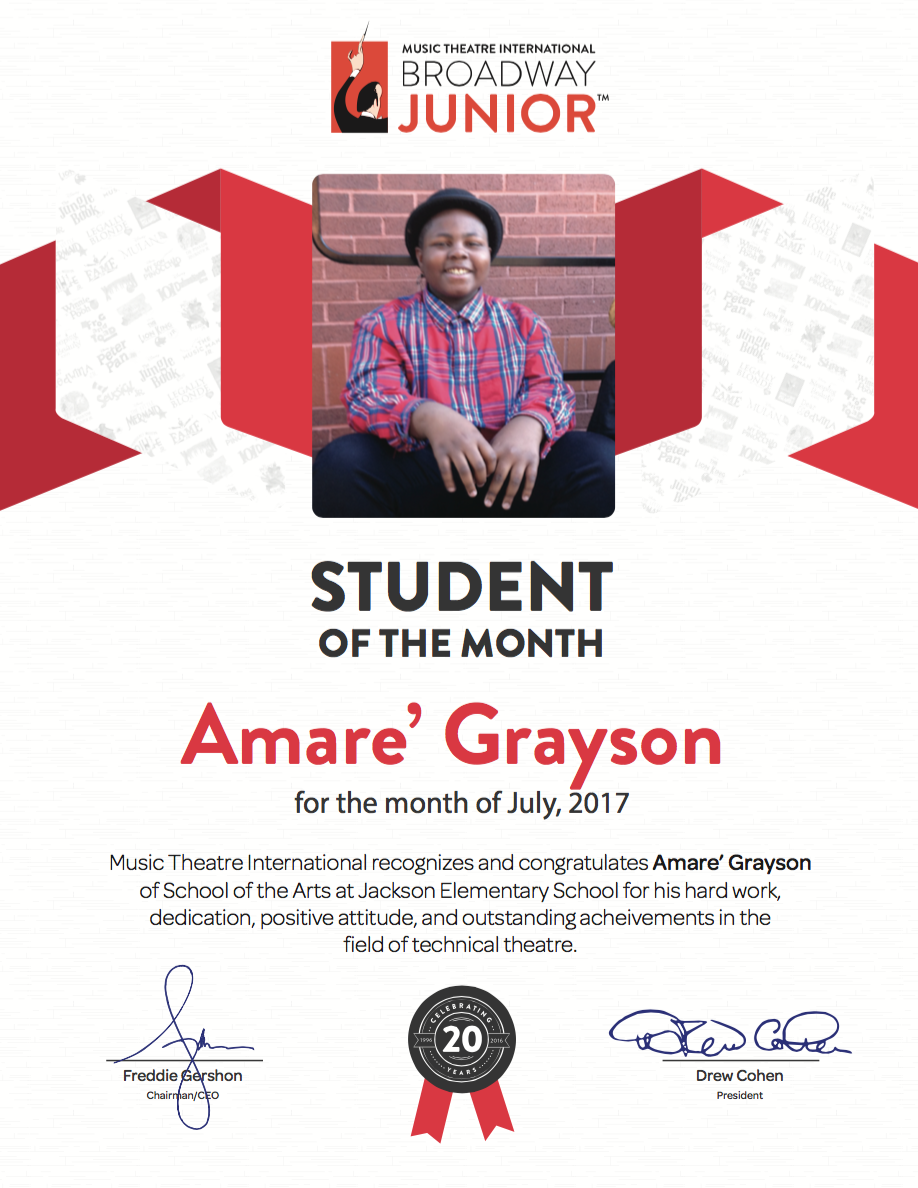 What Broadway Junior Means To Me - By Amare' Grayson
Broadway Junior is a great opportunity for young actors, singers, dancers, and technicians who have a passion for theatre.  It has helped many children to believe in themselves and to follow their dreams. Broadway Junior has provided many avenues for teachers in the arts, to find plays that are appropriate for school age kids.  I have had the pleasure to have been in the technical crew for two years in my school plays.  As the stage manager, it has given me the chance to learn the different aspects that are needed to be done backstage in order to run a successful production.  Broadway Junior provided me with the skills such as running cues, setting up props, and assisting the director; that can help me continue in other productions in the future. I feel Broadway Junior makes it fun for theater students but it also challenges us to be better in all areas of the arts. I know that it has motivated me to become a leader not only in the arts but in academics as well. 
Nominating Essay - By Mary Knowles
Amare' is a dedicated, determined 5th grader with a passion for technical theatre. His dedication to improving the show and his leadership make him an excellent candidate for MTI student of the Month. Amare' has been on technical crew for several years. Last year, he served as the Curtain Captain for The Lion King JR. He was very dedicated to his job. This year Amare' served as our Student Stage Manager for Seussical JR. He oversaw over 30 students while running the backstage crew. He helped organize props, set pieces, lights and sound cues. He took notes in rehearsals and began acting as the Assistant Director for our actors as well.  When you look at Amare' you would not assume that this student would excel at theatre. Amare' is typically more comfortable on the football field than on the stage. However, Amare' has found his place in technical theatre. It has been so wonderful to see Amare' grow as a leader among his peers. He consistently looks for opportunities to improve both his technical craft and the overall production. You will often see him instructing other students on how to operate equipment, run a curtain or move a set piece. He is always looking for ways to teach other students the knowledge he knows about backstage. Everywhere Amare' goes, his script goes to. He is constantly making notes on ways to improve the backstage area. He knows the cues for the play as well or better than some of our adult staff members. Amare' is dedicated to making sure he and his team do everything possible to ensure the success of the production. Amare' has grown into his role as stage manager. When he is backstage, he commands attention and easily runs his 'team' to guarantee success for Seussical JR.