Broadway Junior Student of the Month: June 2016
Broadway Junior Student of the Month: June 2016
Over the next several months we will be honoring MTI's Broadway Junior Student of the Month.
These students have been selected out of hundreds of outstanding applicants and display the exemplary qualities of dedication, passion, leadership and spirit. Their love of Broadway Junior and desire for learning and growing through musical theatre is palpable and we are proud to honor these Broadway Junior Stars.
Our Broadway Junior Student of the Month for June 2016 is Michael LaBella from Shaler Area Middle School in Glenshaw, PA.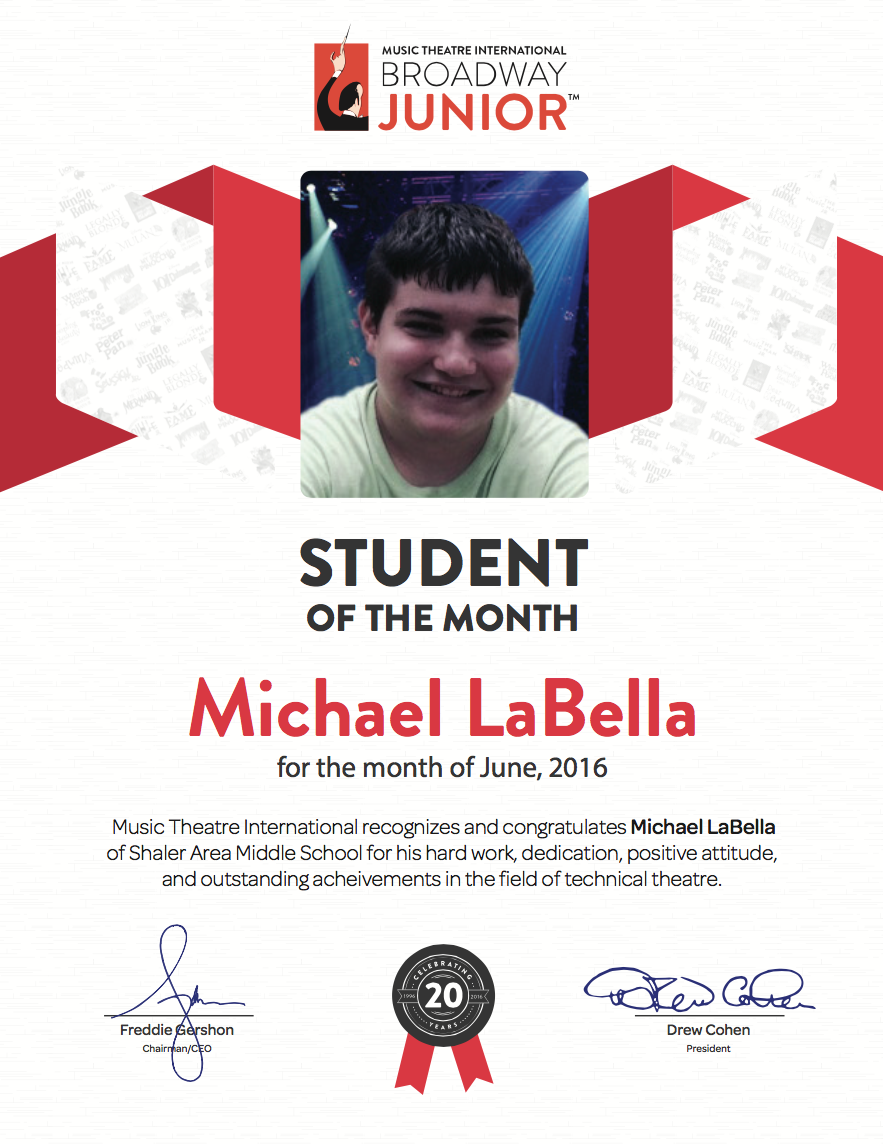 What Broadway Junior Means To Me - By Michael LaBella
Broadway Junior is one the most important parts of my life that I will never forget. This program has helped me learn more about who I am, as well as who I may become. Also, as of now, this program has helped me start planning my future, I really want to go to school for technical theatre. I have found out things about myself that I have never noticed before, such as my passion for music and musicals/plays.
Because my school has done Legally Blonde JR. the musical, I have developed my people skills. The people I was working with might have been having a bad day and needed an extra boost. If I saw someone that was in distress, I would try to do anything to help them so they can get back up and continue.
Now, I have truly realized that Broadway Junior is an incredible tool for teachers. It allows teachers to help kids find who they are.  It helps kids find a way to express themselves and do something different.  Broadway Jr. gave me this opportunity, along with my mentor and director, Mrs. Ellen Spondike, and stage manager, Mrs. Jill Millard.
Nominating Essay - By Ellen Spondike of Shaler Area Middle School
Michael LaBella is an 8th grader at Shaler Area Middle School and member of our stage crew for our spring production of Legally Blonde JR. He is by far more dedicated to a production than any student I have ever worked with. He has bought and read three books on stage management. He comes to every rehearsal and takes notes on blocking and sets. He has spiked the entire stage for each scene, and has not complained once when I've changed my mind and had him rip everything off and re-do it (I did feel badly about that).
Not only has Michael studied the script and memorized the order of scenes, but he has also stood in for absent students in the cast, even though he would much rather be behind the scenes. He ended up being our "Jet Blue Pilot" when a student in the cast couldn't attend a performance. He has brought in props that he knew we needed (I think he has spent his own money on some, even though I told him not to). Michael also arranged for his aunt, a professional make-up artist, to volunteer her services for our leads for opening night, which was such a treat for them!
Michael is an all around positive person and has been nothing but helpful from day one of our rehearsals. His help with the show and enthusiasm has been invaluable to me as a director. I would love for him to be recognized for his efforts and dedication to theater. I would actually love for him to fail 8th grade so he can remain on middle school stage crew, but that most likely won't happen.
Thank you again so much for helping to acknowledge Michael's hard work and dedication. This is a student who is such a great team player, but really never gets the spotlight. My cast was phenomenal and they really shined on stage, but it's great to see something like this for one of the kids (who was so amazingly into stage crew) that wouldn't normally get any recognition other than his name in the program and a bow at the end.