Broadway Junior Student of the Month: June 2017
Broadway Junior Student of the Month: June 2017
Over the next several months we will be honoring MTI's Broadway Junior Student of the Month.
These students have been selected out of hundreds of outstanding applicants and display the exemplary qualities of dedication, passion, leadership and spirit. Their love of Broadway Junior and desire for learning and growing through musical theatre is palpable and we are proud to honor these Broadway Junior Stars.
Our Broadway Junior Student of the Month for June 2017 is Ally McLean from The Academy at Lincoln in Greensboro, NC.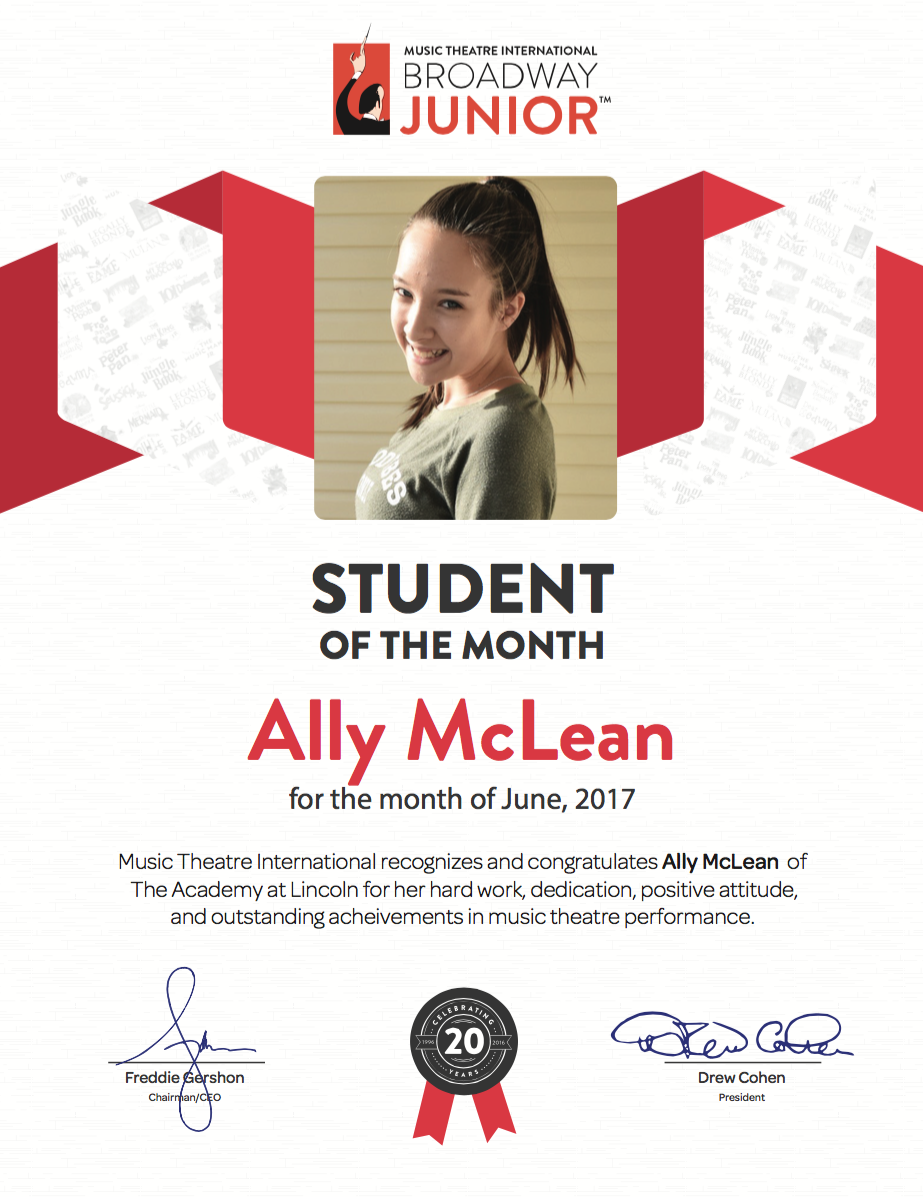 What Broadway Junior Means To Me - By Ally McLean
Broadway, a place for actors to inspire and create a story by doing what they love. Broadway Junior, the chance for young aspiring actors to perform, create and learn about the theater world. If it had not been for Broadway Junior I would not be writing this right now. The first musical I was ever part of was a Broadway Junior play. The very day I was cast in this musical, was also the day I knew what I wanted to do with my life, I wanted to tell a story, I wanted to make people feel what the character felt. I wanted to be the person on stage, the person who could make someone cry or laugh by only a line, a word, a look. Theater is my life and my life would not be the same without it. If I had not found Broadway Junior, I know I would not be who I am today.
Nominating Essay - By Cassy Whitley
I have never taught a person who is as dedicated and professional as Ally. She always strives to do her best while staying humble.  I am very lucky Ally agreed to be my choreographer and an actor for Into the Woods JR. (Witch) as well as Shrek the Musical JR. (Donkey) . I am always blown away by the amount of time and dedication she puts into her work.  She pours so much of herself into making sure every step is flawless and every person is comfortable with what they are doing. Ally is truly a team player, but will also have a voice when she doesn't think something will work as well as we plan. However, she is always willing to try every idea to be sure. Last summer, she also gave up a couple weeks to help me teach a summer camp to some of the younger students in Guilford County. What a leader! She came into the camp with ideas, lessons, games, just so many ideas on how to make it better and more fun.  I wish I could keep her for many more years and truly am inspired by the work she does. Ally  is truly a diamond in the rough who probably doesn't realize how wonderful and talented she truly is.  Ally inspires me to be a better teacher.