Broadway Junior Student of the Month: March 2017
Broadway Junior Student of the Month: March 2017
Over the next several months we will be honoring MTI's Broadway Junior Student of the Month.
These students have been selected out of hundreds of outstanding applicants and display the exemplary qualities of dedication, passion, leadership and spirit. Their love of Broadway Junior and desire for learning and growing through musical theatre is palpable and we are proud to honor these Broadway Junior Stars.
Our Broadway Junior Student of the Month for March 2017 is Sierra Bunting-Allen from Veterans High School in Kathleen, GA.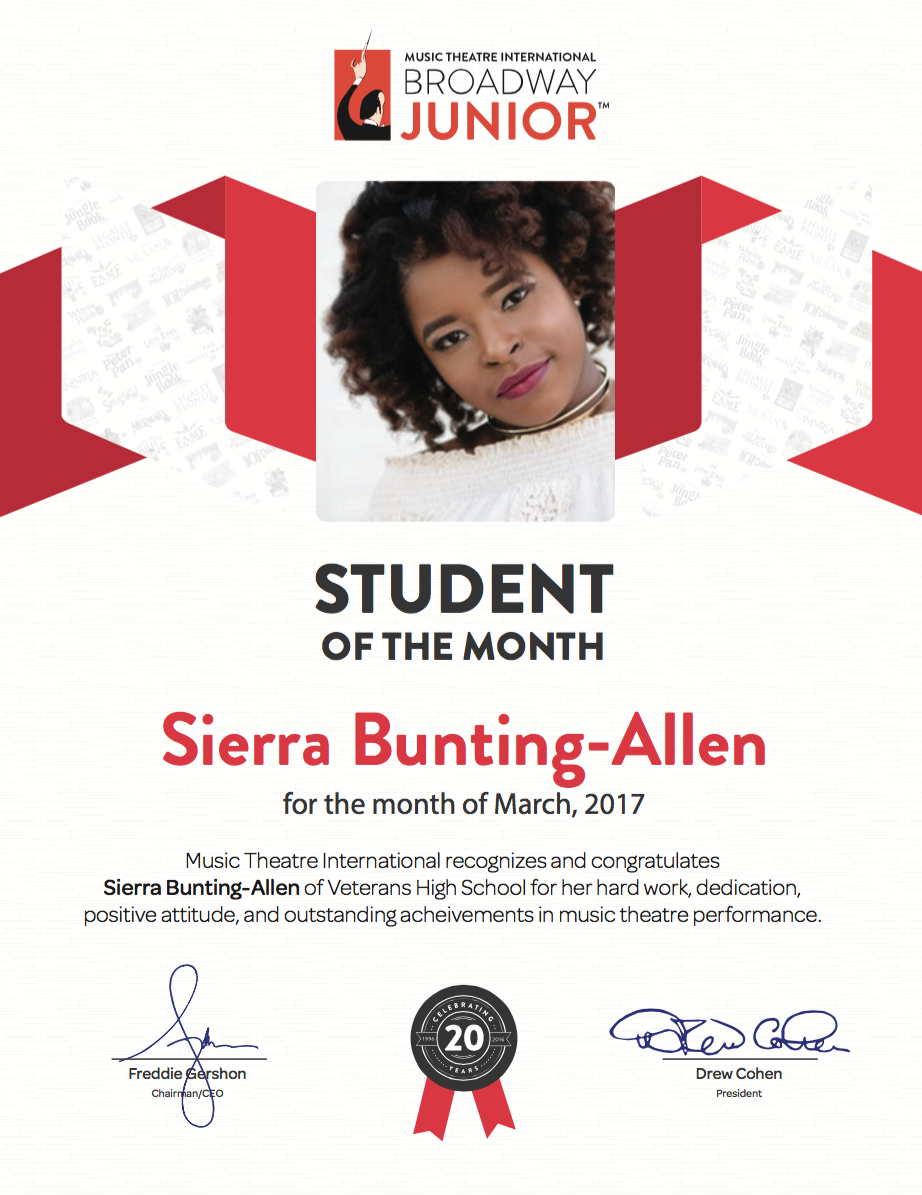 What Broadway Junior Means To Me - By Sierra Bunting-Allen
Broadway Junior has been with me since my interest in theater peaked in middle school. It is something very close and dear to my heart because it sparked my passion for theater, and my interest in it grows day by day. The scripts that Broadway Junior provides are fun and interactive while still giving broader aspects of all components of theater. When I was exposed to theater at the age of 11, I had no interest in doing other things except for acting, singing, and dancing. Now, I enjoy every bit of theater including the parts many don't know about off stage. A good bit of what I know about theater today came from Broadway Junior teaching young thespians about an art form they all love. Without that being done, I don't know if I would love theater as much as I do right now.
Nominating Essay - By Cindy Sams
Sierra Bunting-Allen embodies the very ideals of theater -- inclusiveness, generosity, and talent. She is a triple threat who sings, dances, and acts with equal aplomb. Furthermore, she shares her gifts with her fellow cast members by teaching choreography and helping with music and blocking rehearsals. She is lovely, extremely talented, and so very engaged in the full process of bringing a piece of musical theatre to the stage. She enriches every experience through her leadership, passion, and willingness to learn and share.