Broadway Junior Student of the Month: November 2016
Broadway Junior Student of the Month: November 2016
Over the next several months we will be honoring MTI's Broadway Junior Student of the Month.
These students have been selected out of hundreds of outstanding applicants and display the exemplary qualities of dedication, passion, leadership and spirit. Their love of Broadway Junior and desire for learning and growing through musical theatre is palpable and we are proud to honor these Broadway Junior Stars.
Our Broadway Junior Student of the Month for November 2016 is Justin Littrell from Nashville Christian School in Nashville, TN.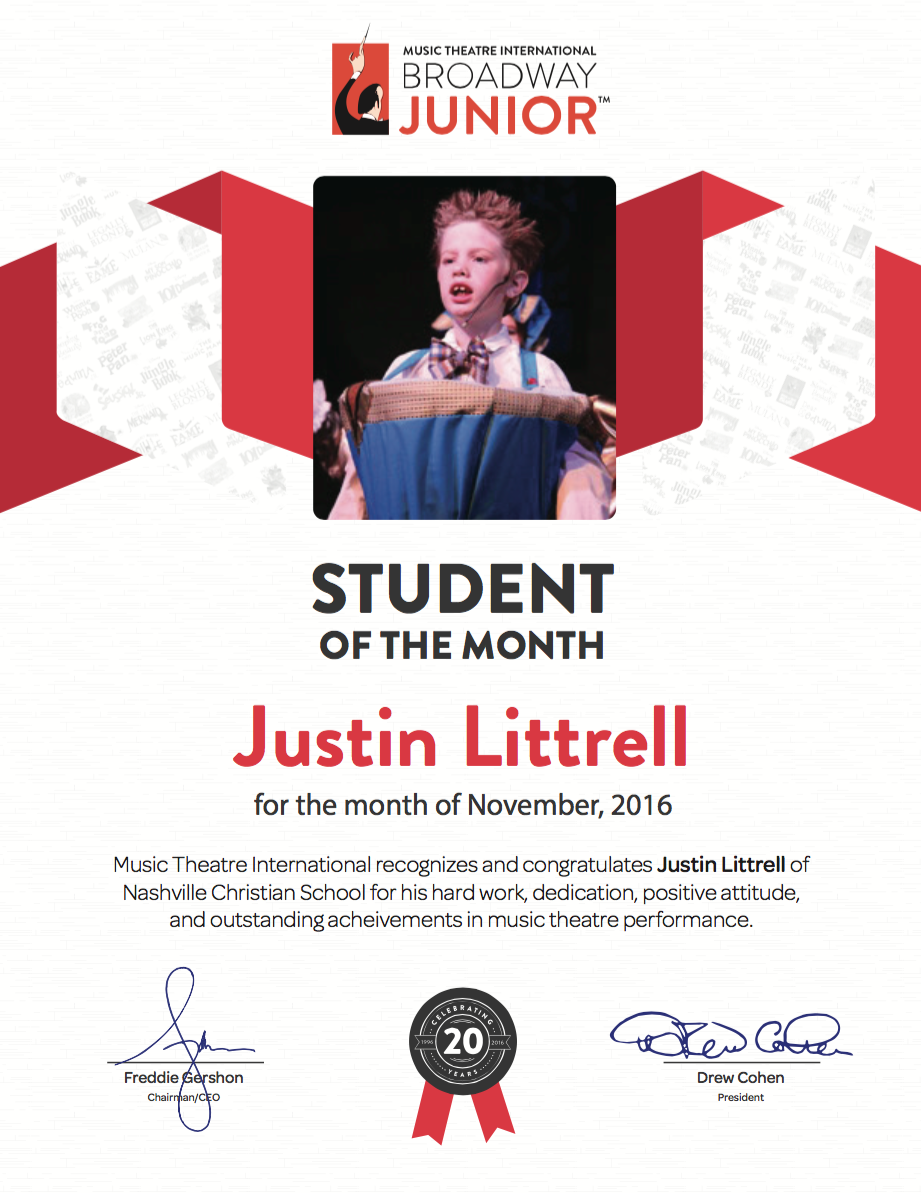 What Broadway Junior Means To Me - By Justin Littrell
Broadway Junior is fun!  I get to be in a show that is so much bigger than myself.  We work hard for several weeks to make the show the best we can make it.  When we finally put it all together it is a masterpiece.  Being in plays makes me feel happy.  When I am in a play I can never feel down, there are always people there to help.  I like doing plays with my friends.  Being in plays gives me confidence.  When I am in plays I feel this boost of energy and I feel like I can do anything.  Broadway Junior gives me JOY!
Nominating Essay - By Nicole Arnold
Justin has a passion for theater that has survived bullying, cancer, and delayed development due to his illness!  Although he is in remission, the leukemia he suffered as a young child delayed his muscle development.  Choreography is difficult for him.  He never learned to skip or ride a bike.  However, Justin never quits striving to become a better actor.  As we prepared for JTF 2016, I had the blessing of watching him push his personal bar higher and higher as he worked with the ensemble on our adjudication piece.  He came back with a renewed fire to accomplish things he hadn't done before that he knew would help him as an actor.  Justin knew that choreography was going to be a big part of our new show so he and his mom started working on skipping to build his coordination and agility!  He is an inspiration to students and adults alike.