Broadway Junior Student of the Month: October 2016
Broadway Junior Student of the Month: October 2016
Over the next several months we will be honoring MTI's Broadway Junior Student of the Month.
These students have been selected out of hundreds of outstanding applicants and display the exemplary qualities of dedication, passion, leadership and spirit. Their love of Broadway Junior and desire for learning and growing through musical theatre is palpable and we are proud to honor these Broadway Junior Stars.
Our Broadway Junior Student of the Month for October 2016 is Mimi Bair from Colquitt County Arts Center in Moultrie, GA.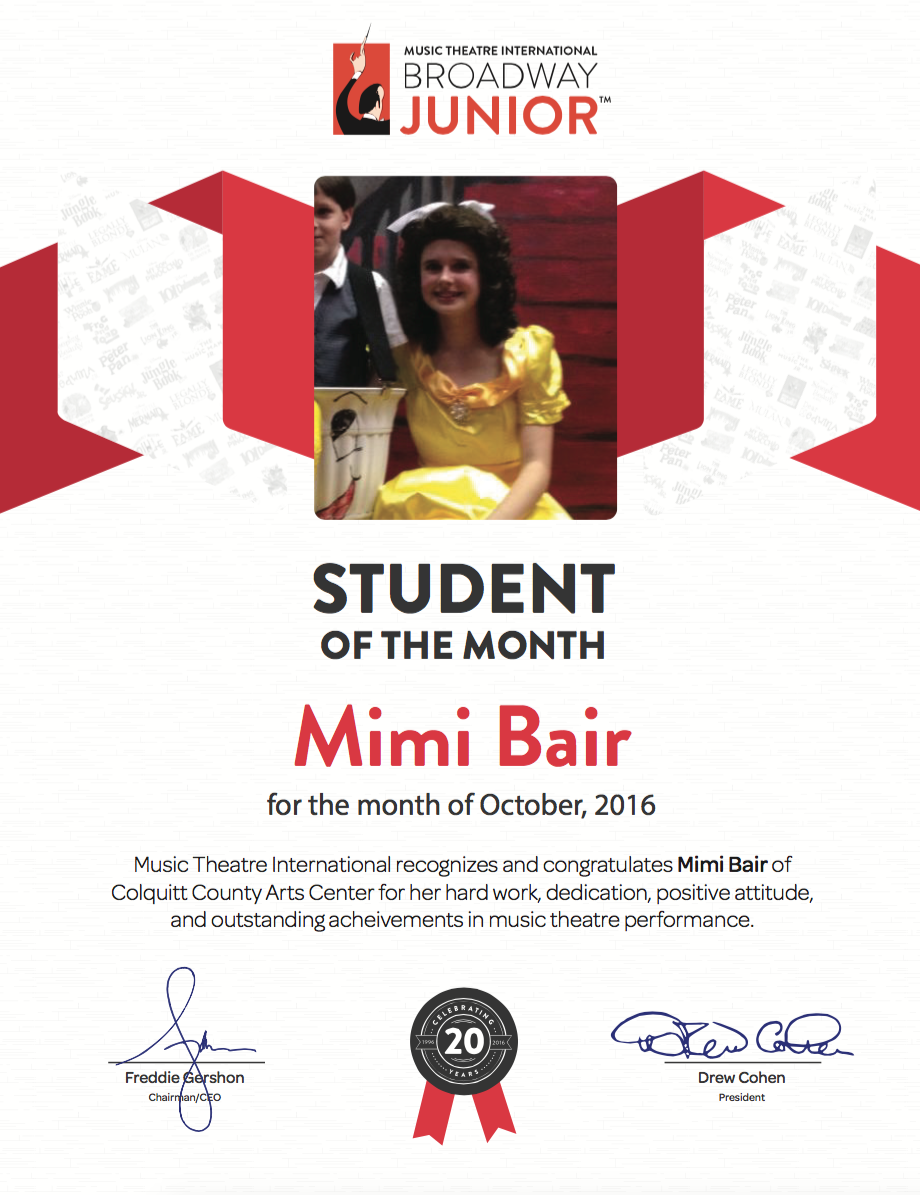 What Broadway Junior Means To Me - By Mimi Bair
Growing up I can't remember a time I was not on stage. From the time I was three years old I was working on a show and always wondering what the next show would be. I didn't have the sports ability other children my age had. I could not kick a ball or even throw one but I could do something other kids my age couldn't  - I could act and sing and dance. While other girls played soccer, l practiced my box step. I was cast in my first lead role as Belle in the Colquitt County Arts Center youth production of MTI's Broadway Junior Beauty and the Beast. I had never felt as confident as I did opening night of that show. It was the moment I was sure that acting would be a part of me for the rest of my life. I have performed in MTI's Aladdin JR., Alice In Wonderland JR., choreographed The Aristocats KIDS, 101 Dalmatians KIDS and am currently cast as Ariel in the full version of MTI's The Little Mermaid. Broadway Junior shows are at the center of my fondest memories from first leads to the first dance I ever choreographed. Broadway Junior is at the center. I would not have the performance skills I have today if not for MTI's Broadway Junior.
Nominating Essay - By Connie Fritz
Mimi Bair has been on stage since she was 3 years old, making her first appearance as shrinking Alice in Alice in Wonderland JR. She has been on the stage for at least two, sometimes up to four productions a year. She has carried lead roles including Belle in Beauty and the Beast JR. and last year played the Magic Carpet in Aladdin JR. She is content with any role given, she just wants to be part of the show and she brings grace and talent to every role. This past year she was also a cast member in our Georgia Theater Conference competition community production of See Rock City. She has costumed, served as props mistress, stage manager, student director, designed sets, done makeup, and when needed stepped in at the 11th hour and taken a role. She is a leader and a team member at the same time. Since she was 15 Mimi has been the choreographer for our children and youth productions and is constantly watching you tube instructional videos, attending workshops and conferences when she can to strengthen her skills to bring to the next show. Mimi is currently our choreographer for 101 Dalmatians KIDS. She is patient, loving, supportive and nurturing and the children adore her. Mimi is a theater student at Colquitt County Arts Center and hopes to attend Valdosta State University with a double major in Theater and Sign Language.