Broadway Junior Student of the Month: September 2016
Broadway Junior Student of the Month: September 2016
Over the next several months we will be honoring MTI's Broadway Junior Student of the Month.
These students have been selected out of hundreds of outstanding applicants and display the exemplary qualities of dedication, passion, leadership and spirit. Their love of Broadway Junior and desire for learning and growing through musical theatre is palpable and we are proud to honor these Broadway Junior Stars.
Our Broadway Junior Student of the Month for September 2016 is Ibukun Ope from North East High School in North East, MD.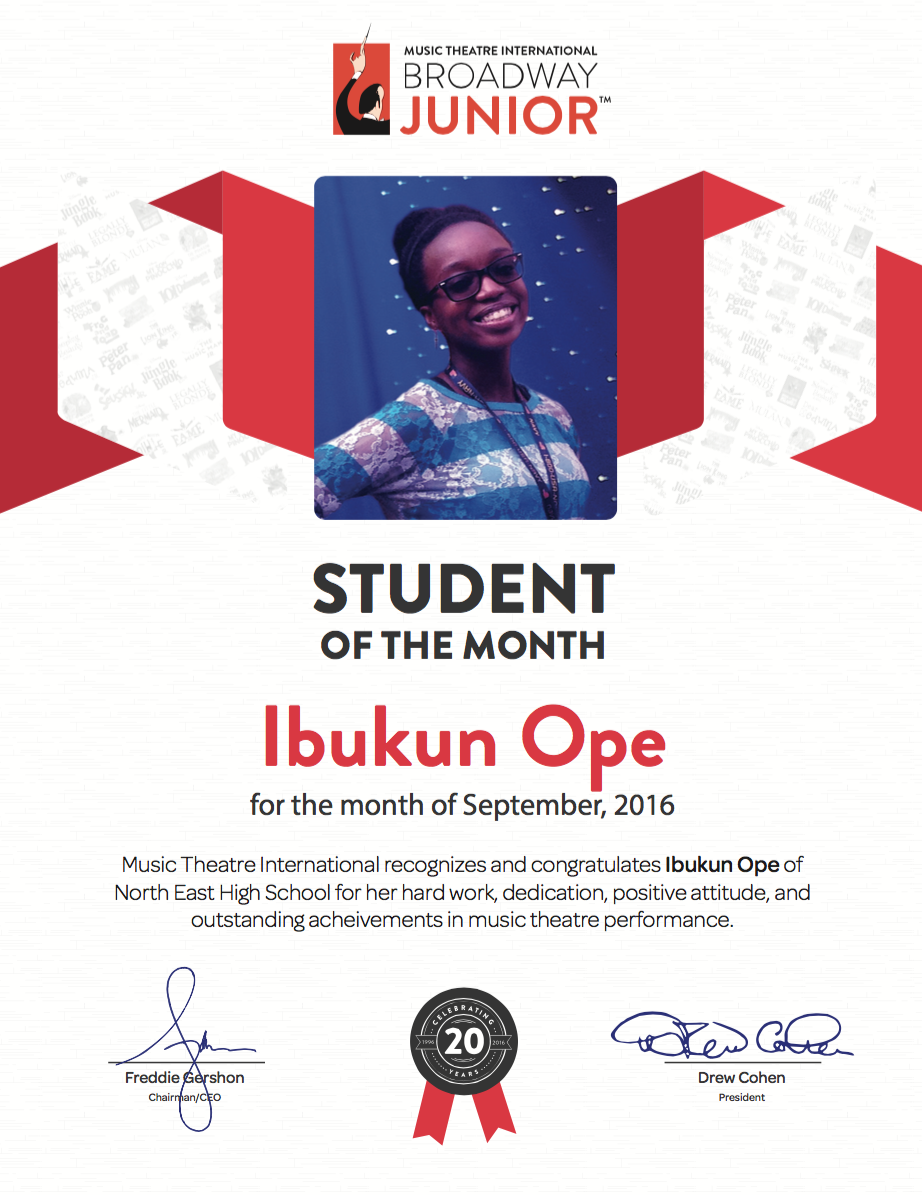 What Broadway Junior Means To Me - By Ibukun Ope
Broadway Junior means family. It means being surrounded by people who are all working together towards a bigger picture. Broadway Junior means development. It means finding myself, my talents, and my weakness. Broadway Junior means rainbow diversity. From the scenery to the people around me, all I see is the beauty of creation and the wonderful feeling of being immersed in a story that's not my own. Broadway Junior means the freedom to express myself and let loose without fearing judgment. Broadway Junior means happiness. It brings a smile to my face after a strenuous day. Even more rewarding is being in the position to bring a smile to someone else's face after a strenuous day. Having the opportunity to perform Seussical Jr. for elementary students and seeing the wonder and excitement in their eyes is a feeling that cannot be easily replicated. Broadway Junior is an art that draws out one's confidence, evokes emotions, and connects people. Broadway Junior means the world to me.
Nominating Essay - By April L. Fritts
I first met Ibukun in my English 10 class. She almost never said a word, but turned in all of her work and was at the top of the class. The following year (last year), she auditioned for our first musical in 10 years, Little Shop of Horrors. She had a lovely small voice and a nervous manner about her and  was cast in the ensemble initially. As we moved through the process, Ibukun stood out more and more. She was always 100% prepared, took direction perfectly, and never missed a single rehearsal. We had a cast member drop out and I bumped Ibukun up to a Doo-Wop Girl, a big jump for her. Even with all of her improvement, there was still the problem of her tiny little voice; she just was not able to project for a lead role. However, she obviously worked many hours at home to overcome her reluctance to belt and BAM! One day at rehearsal she just let it loose and it was amazing! Her voice was there all along, she just had to commit to overcoming her fear. This past fall, Ibukun was cast as Gertrude in Seussical JR. and she brought the house down with her performance. She was, as usual, prepared and ready for every single rehearsal, but even more so, she truly found her soul onstage. Her willingness to commit to breaking herself out of her shell, despite her discomfort, has made her a star of our program. She is currently playing Motormouth Maybelle in our production of Hairspray and as a senior, she is the role model for the other actors. On top of all of her stage talent and dedication, Ibukun is our Valedictorian this year and was recently accepted into Princeton. She is an amazing young woman!