Broadway Junior Student of the Month: September 2017
Broadway Junior Student of the Month: September 2017
Over the next several months we will be honoring MTI's Broadway Junior Student of the Month.
These students have been selected out of hundreds of outstanding applicants and display the exemplary qualities of dedication, passion, leadership and spirit. Their love of Broadway Junior and desire for learning and growing through musical theatre is palpable and we are proud to honor these Broadway Junior Stars.
Our Broadway Junior Student of the Month for September 2017 is Christian Becker from Hilton Head Christian Academy in Hilton Head Island, SC.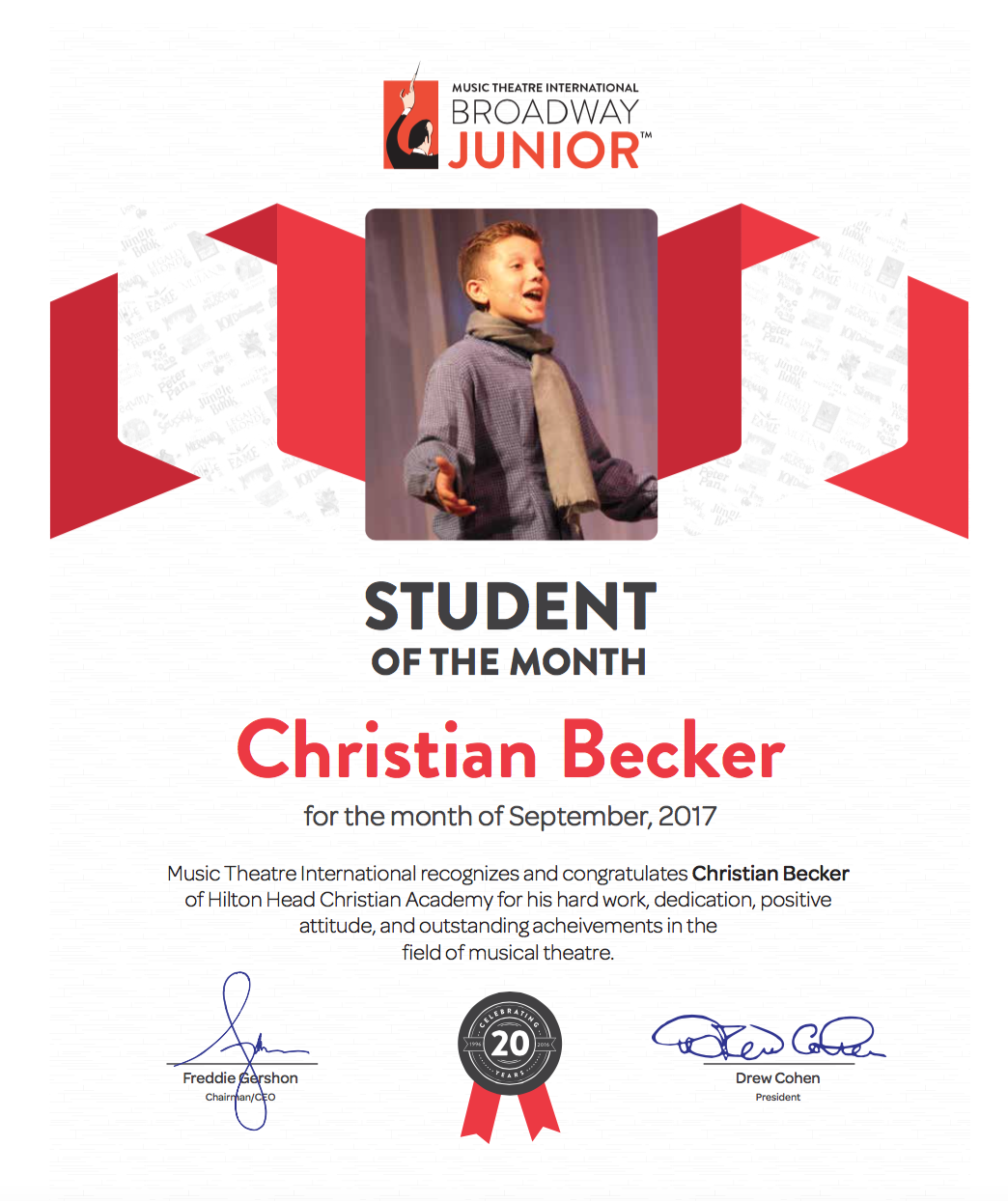 What Broadway Junior Means To Me - By Christian Becker
Being in theater has been so much fun for me! When I first started doing theater I didn't know how to feel. At first I was very shy but the people doing theater have been very welcoming and nice. With me doing three sports, Broadway Junior has opened another door for me. I have always thought of myself as an athlete which satisfied my competitive nature. Through theater I have discovered I have a creative side as well. I really enjoy exploring this creativity and I especially appreciate how Broadway Junior provides materials in a way that helps me understand the roles better. I am so glad I decided to give theater a try and hope to be involved in many more productions!
Nominating Essay - Michelle McElroy
Christian participated in our fall production of Willy Wonka JR. in the fall of 2016 and was selected to play the role of Charlie Bucket, even though he had no theatrical experience. He had watched his older brother participate in our productions for years and as a 6th grader, Christian was finally eligible to audition. From the moment he walked in the audition to closing night of the show, he gave 100% and stole all of our hearts with his heart-warming delivery and mesmerizing vocals. Our cast had 6th-12th grade students, and Christian, being one of the youngest, was admired by all for his dedication, talent and positive attitude. In addition to being a lead in our production, Christian is also a tri-sport athlete; but he balanced his schedule and managed his time in a manner many high school students have yet to master. He was constantly running from our rehearsal to a soccer or basketball practice, but he never once complained and truly seemed to enjoy every second of his theatrical experience. He has now been cast as Young Tarzan in our upcoming production of Tarzan the Stage Musical this spring, but his passion and love for theater began with Willy Wonka JR. He is one of the most talented middle school students I have worked with and I hope his talent and love for theater continues to grow.