Broadway's Original Mayzie LaBird and Gertrude McFuzz "Return" to SEUSSICAL
Broadway's Original Mayzie LaBird and Gertrude McFuzz "Return" to SEUSSICAL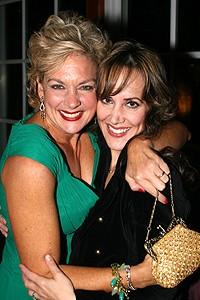 Michele Pawk and Janine LaManna
Michele Pawk and Janine LaManna are no strangers to the world of
SEUSSICAL
. In 2000, Michele and Janine shared the distinct pleasure of starring side-by-side, as Mayzie LaBird and Gertrude McFuzz, in the original Broadway production of the Dr. Seuss-inspired musical conceived by
Eric Idle
and crafted by the incomparable team of
Ahrens
&
Flaherty
. Now, over 10 years later, they are both reliving the experience...in their own unique way.
Michele is a first-year Associate Professor of Theatre Arts at Wagner College, located on Staten Island, and is directing the spring main stage production of
SEUSSICAL
- it opened on the eve of Wednesday, April 13, and continues through to May 1. Janine, Michele's long-time friend and "feathery" co-star, will be attending the first performance weekend and visiting with cast and crew following one of the performances. In a one-of-a-kind coincidence, it is Janine who will be returning to Wagner College as a proud alum; she graduated from the Theatre Arts program in 1988.
Dr. Felicia Ruff, Chair of the Theatre Department at Wagner, noted, "I absolutely feel there is an inter-generational connection between the Broadway production and ours because of Michele and Janine's original work. 
SEUSSICAL
is popular to produce these days, but how many amateur productions can boast of this genealogy to the original Broadway cast, one that connects to Flaherty and Ahrens very directly. This absolutely inspires and influences our current student cast and crew."
Ahrens and Flaherty's
SEUSSICAL
is one of the most produced titles among schools, amateur companies, and other theatre organizations, and it continues to enjoy regional success through many professional mountings and tours. Michele Pawk believes it just has that magical mix of joy and fun, "The fact that Lynn and Steve drew from dozens of Dr. Seuss stories and crafted a cohesive, fantasy-filled tale full of love and adventure is a bit of an Olympic event in itself. The show is so full of joy and wonder, and reminds both young and old how truly important it is to trust and follow one's heart." Janine agrees, "Seussical has the ability to reach its younger audiences with a story line that they can relate to, but it also touches the older audience member thru the sheer nostalgia of growing up with Dr. Seuss. Everyone can relate to themes of growing up and becoming true to yourself."
As Michele and Janine return to the musical, in similar capacities, they look back at their experience in
SEUSSICAL
with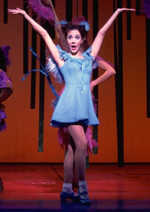 fondness. Pawk hopes to bring her past experiences with her, to her new students and actors, and LaManna looks forward to sharing her stories with the cast and crew at Wagner College. "Returning to SEUSSICAL in this capacity has been an amazing adventure in itself for me. I've rediscovered 'thinks' in the show and found so many new ones," says Michele. Janine adds, "The students are in great hands and I hope they know that! What an opportunity for them!"
SEUSSICAL is being performed at Wagner College Theatre's Main Stage, from April 13 to 16 and 27 to 30 at 8:00 p.m. & April 16, 30, and May 1 at 2:00 p.m. For tickets, call the Box Office at (718) 390 - 3259. For more information, visit www.wagner.edu.